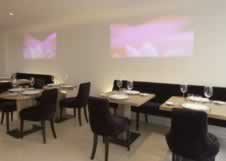 "When staff used to leave The Grand Vefour they always said if I ever had another project please let them know", said Guy Martin, telling why he's taken over the famous Russian restaurant Dominique, Montparnasse. "It is a very special address Dominique is a friend so I thought, why not?"
The result SENSING, the very minimal décor by Jérome Faillant-Dumas with video wall, stunning sycamore tables and six- meter long Alabaster bar. GM, passionate about cuisine and art, explains, "Sensing is about a moving canvas combining décor, cuisine and atmosphere". Above the alabaster bar there's a tall smoked glass cabinet, check out the decanters, on loan from the Baccarat museum. There's a lovely old-fashioned welcome from Sophie Jousseaume (ex-chez Dominique) and Arnaud Kalicinsky (ex-Grand Vefour).
On the next table to BUZZ, the Picasso of chocolate, Pierre Herme and friends are lunching. "I'll have what he's having", I tell Sophie. On other tables, a mixed crowd of locals, come for a bit of "snacking", a little Quatrehomme cheese, a glass of Mercurey 2002. You don't have to have the full monty, GM's idea is to feed people the way they want to be fed. Add a few ladies who lunch, word gets round fast when the fat factor is low. Some businessmen discuss stuff in hushed tones, the tables are well spaced,  I couldn't decide whether to buy or sell.
The menu is short and different. While you're choosing what you want get SNACKING, what's that then? Actually it's a bit of a nosh; intriguing little jewels created by chef Remi Van Peteghem (ex-Grand Vefour) nice with a flute of champagne. Milles-feuilles of raw and cooked beetroot. Tartare of tuna, emulsion of tomates (all hovered up with your fingers if you want). Bouchées of crunchy vegetables, a nod and a wink to Dominique, Cromesquis de foie gras. A tiny bowl of chicken soup with mushrooms and  curried fruit chutney with a juicy fat prawn. Take them all for 8€ or at 5€ a snack.
This may rule out a starter, but if you're hungry there's herbed foie gras. Tart of Lisette (baby mackerel, not my friend Lisette Brady I hope).
Legumes, croquante en Coeur de salade, crème au raifort (PH had this AND the SNACKING!). A superb rouget, en gelée, tartare de tomate. Follow with four fish mains:
Bar au Coquillages (PH had this), Daurade, snackée en croute de poivre, fennel and tomato. Tuna with foie gras and artichokes and a sublime Saint Pierre, aux carottes et fleurs de capucine. Or, Correze Veal (homage to Jacques Chirac who may have dined here, they're not saying) in herb crust with mushroom macaroni. Roast free-range cochon from Cotes'Armor with garlic et charlotte.

Moscovado baked piegeon from Anjou with glazed turnips and a handsome Boeuf blonde (for Bernadette), au saté d'herbes, gnocchis de pomme de terre.
It was worth waiting to see what PH chose for pudd. He took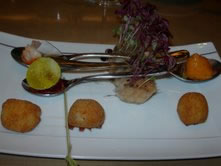 Pamplemousse, en supremes sur sable citron et glace. Or he could have gone for the fresh fruits with a Granny Smith sorbet. Chocolate, en ganache noire et tartelette (but he's been tasting chocolate since 4am, give the guy a break). And the classic savarin au rhum with Chantilly, brought to the table and you tell Arnaud how much to cut. Royal! 
As is La Table de Fabrice, a recently opened left- bank address to cuddle up to. A small atmospheric space, in the shadow of La Tour d'Argent, but no way overshadowed. Fabrice Deverly cooked in his mother's kitchen from the age of seven 'til she sent him packing and he learned his craft at Lasserre, Lucas Carton and Robuchon. Now married to Brigitte, the couple run their La Table together, "otherwise we'll never see each other!"
Fabrice is at Rungis early choosing ingredients for his risottos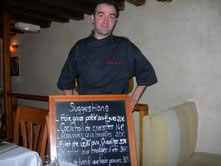 de homard or truffles, millefeuille de crabe,  ris de veau braisé aux agrumes, vegetables for the Rosace de legumes frais and daily specials for the blackboard. Desserts include Tiramisu aux framboises, Fondant au chocolat, Clafoutis aux mangues.  Everything's made from scratch in Fabrice's kitchens even the bases for his sauces. There's some good wines in the cellar, Saint Joseph Red (52€) 2003 Sancerre AOC Alphonse Meltot "Cuvee A" white (46€) or by the glass.
They can do smoking or non-smoking but, here's the skinny, Tables 14 or 15 on the wood-beamed first floor, watch the bateaux go by admire the muddy Seine. Naomi Campbell always sits in the far corner, she won't bother you.     
Address Book:
Sensing
19 rue Brea, 6th (Metro: Vavin)
www.restaurant-sensing.com
Average spend 70€-80€ + wine
La Table de Fabrice,
13 quai de la Tournelle, 5th (Metro: Jussieu or Pont Marie)
T: 01 44 07 17 57
www.latabledefabrice.fr
Average spend Menu 40€ From the blackboard 60€ + wine
And also:
Michel del Burgo @
L'Orangerie,
28 rue Saint Louis en l'Ille, 4th (Metro: Sully Morland)
T: 01 46 33 93 98
Jean Claude Arabian @
Chameleon,
6 rue de Chevreuse, 6th (Metro:Vavin)
T: 01 43 27 43 27
Christian & Catherine Constant @
Violon d'Ingres
135 rue Saint Dominique, 7th (Metro: Ecole Militaire)
T: 01 45 55 15 05
www.leviolondingres.com