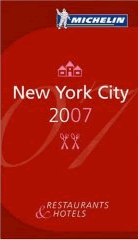 It's that time again, Michelin Guide to New York City publishes this week. The 2007 fat red book evaluates 526 restaurants, 19 more than last year and 50 hotels are rated.
What you need to know is that Alain Ducasse's  *** Essex House is not listed. Don't panic all is well. They're moving and Jean Luc Naret, the Guide Director (otherwise known as God) decided to put The Essex House on hold. Seems a bit odd, just because he's changing ovens and moving to the achingly posh (Starwood Hotels & Resorts) St. Regis in March 2007, doesn't mean the Ducasse concept will suffer, but ours is not to reason why. "That's their choice, they need to be fair to their readers", says Ducasse. " At the St. Regis we intend to create a wine and culinary experience with a resolutely unique approach. The goal will always be to create an unforgettable culinary experience", explains Ducasse".   
In the meantime, while waiting for Ducasse you'll have to make do with Jean-George's, Le Bernadin and Per Se. No other new *** this year then.
Now here's what makes the Michelin purchase really worth while: A new listing of Inspectors' favourite canteens, for good value, has been added, that's 44 interesting addresses.

Spot them by looking for the Bibendum logo: Mr Michelin man's fat head. 
The recently opened bling-bling palace, Mario Batali and Joe and Lidia Bastianich's, Del Posto, gets two stars. David Bouley's Bouley keeps his **. But, hang on, his very expensive take on Austrian cuisine, Danube now only has *. Maybe Michelin just don't get the Vienna of Schnitzler and Freud in NYC. Some say it's the most enchanting resto in the city.
Le Cirque, with ringmaster Sirio Maccioni, "re-located" to the Bloomberg Building, so nada  rating for 2007. Too early, or what, to judge chef Pierre Schadelin (although he was at the old Cirque) maybe they don't like the Adam Tihany decor ? "You don't really go there for the food, and if they don't know you forget it", says my NYC best friend DH.
So now we have 32 * stars including Country, Danube (see above), Devi, Sushi of Gari, (order the Omakase and don't miss the fried tempura ice-cream). Perry Street (Jean-George's 8th Manhatten restaurant, another winner, located on the ground floor of one of the three Richard Meier towers) and Andrew Carmellini's, A Voce (get the duck pasta). 
Available from 25th October,
Price: 16€ 95 – Amazon price $11.53.
From 10 Nov in Europe @ 14€50