Seeing Paris Through Children's Eyes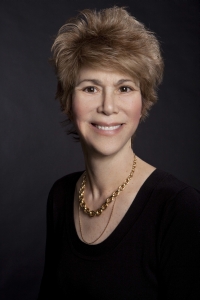 As is always the case, returning to
Paris-Orly International Airport
always provokes some culture shock and makes me aware the world isn't flat; people are so very different. Clearing Customs invariably includes a glimpse into a fascinating, exotic and truly foreign microcosm containing people from all around the world. Simply passing through a European international airport such as
Orly
or
Paris-Charles de Gaulle
, one can't help but notice the differences in the way people look and behave. Such observations and interactions are among my favorite parts of international travel that come to mind as I write with news that my two granddaughters and their parents have arrived in Paris. I'm delighted my grandchildren started world travel while young; it's a privilege I recognize, support and encourage. During my many years of publishing
BonjourParis.com
, I'd be rich if I had a nickel for every comment left by an adult whose eyes were opened after discovering a whole new world upon traveling to Paris, which is hardly a "foreign" culture as seen by most vacation and business travelers who lack the time to fully immerse in any of the foreign communities represented in Paris. Many comments also include regrets about not traveling when they were younger or not learning a foreign language when they were children. The beauty of life, of course, is that it's never too late to learn. My older "baby," now eight, has been here before, but not for a very long time. Her last trips were spent mainly in Provence where she could run, go swimming and work in the vegetable garden. And, oh yes, take a drive up
Mt Ventoux
, where candy trucks awaited her and anyone who wanted and needed a sugar fix. As we were neither biking nor hiking, we couldn't rationalize the purchases of tiny, overpriced bags of candy for an energy boost, but I guess we must have bought some: those candies are indelibly etched into her mind. This is my youngest granddaughter's first trip to France. She's just five. We're staying in Paris with a couple of day trips factored into the schedule. We have an excursion scheduled to Versailles with a guide from
Context Travel
. But we're pretty much going to play things by ear, since my family is the laid-back type, and don't feel as if they need to be tourists on the go. This is family time. Both girls said, "Gran, you live here," which I interpret to mean that they are ready to shuttle back and forth across the Atlantic whenever they feel like it. And yes, that would be just fine with me. They've been reading
children's books
about Paris and already have formulated a must-see list. But the first thing they wanted to do was to have breakfast at a café because "we're in Paris." Even though breakfasts tend to be rip-offs (compared to going to the boulangerie for bread and croissants), who can say no to two children who'd just gotten off a transatlantic flight? Off we went to Café Vavin where I received a wave from the owner, who might have wondered what I was doing there so early in the morning. After pointing to my family, Jacques understood. We meandered to the
Luxembourg Garden
, which took longer than it should have, because the children are little, were tired (as were their parents) and girls will be girls, they were busy window shopping. Which reminds me of something that I tend to forget. Children tend to be shorter than grownups. They don't walk as fast because their legs are shorter, but they also are constantly looking up at things that we look at straight across or down to. This changes their perspective and, I'm convinced, adds a level of awe or amazement. Everything looks so… big, grand and wonderful. Of course they love Paris. They're more than aware the architecture is dramatically different from what they see each day when they're in D.C. The older girl said, "Paris feels more exciting," and—music to my ears—asked her parents why they couldn't all live here? I felt as if I'd done something right, and since they both qualify for U.K. passports (their mother was born in London), my mind did a fast-forward and perhaps it would make sense for them to apply to the 
École active Bilangue
. Recent studies have shown that people who grow up speaking or acquiring more than one language may
delay the onset of dementia
and Alzheimer's. People who take assignments overseas tend to climb the job ladder higher and more quickly. This is especially true for females. This seems to be a wonderful argument to use on my son and daughter-in law, if you ask me. And there's always the multicultural argument, which is less personal and much more politically correct. As soon as I arrived in Orly on
OpenSkies Airline
, returning from my most recent trip to Washington, it was starkly apparent I was in a different world. It encompasses people who look different, wear non-Western clothes, clearly possess different religious beliefs and even smell different. How I'd love for the girls to benefit from such diversity, where you can be in various countries simply by exiting a different Paris Métro stop. This is getting heavy. Perhaps I should awaken my family before I've called the movers. They've had their nap—and it's time to get up and go. Since it's so lovely, perhaps we'll take the…
SUBSCRIBE
ALREADY SUBSCRIBED?
BECOME A BONJOUR PARIS MEMBER

Gain full access to our collection of over 5,000 articles and bring the City of Light into your life. Just 60 USD per year.

Find out why you should become a member here.

Sign in

Fill in your credentials below.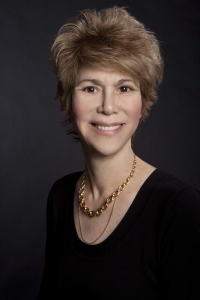 As is always the case, returning to Paris-Orly International Airport always provokes some culture shock and makes me aware the world isn't flat; people are so very different. Clearing Customs invariably includes a glimpse into a fascinating, exotic and truly foreign microcosm containing people from all around the world.
Simply passing through a European international airport such as Orly or Paris-Charles de Gaulle, one can't help but notice the differences in the way people look and behave. Such observations and interactions are among my favorite parts of international travel that come to mind as I write with news that my two granddaughters and their parents have arrived in Paris.
I'm delighted my grandchildren started world travel while young; it's a privilege I recognize, support and encourage. During my many years of publishing BonjourParis.com, I'd be rich if I had a nickel for every comment left by an adult whose eyes were opened after discovering a whole new world upon traveling to Paris, which is hardly a "foreign" culture as seen by most vacation and business travelers who lack the time to fully immerse in any of the foreign communities represented in Paris. Many comments also include regrets about not traveling when they were younger or not learning a foreign language when they were children. The beauty of life, of course, is that it's never too late to learn.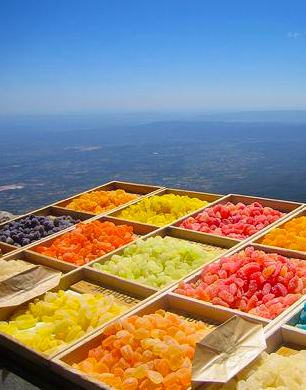 My older "baby," now eight, has been here before, but not for a very long time. Her last trips were spent mainly in Provence where she could run, go swimming and work in the vegetable garden.
And, oh yes, take a drive up Mt Ventoux, where candy trucks awaited her and anyone who wanted and needed a sugar fix. As we were neither biking nor hiking, we couldn't rationalize the purchases of tiny, overpriced bags of candy for an energy boost, but I guess we must have bought some: those candies are indelibly etched into her mind.
This is my youngest granddaughter's first trip to France. She's just five. We're staying in Paris with a couple of day trips factored into the schedule. We have an excursion scheduled to Versailles with a guide from Context Travel. But we're pretty much going to play things by ear, since my family is the laid-back type, and don't feel as if they need to be tourists on the go. This is family time.
Both girls said, "Gran, you live here," which I interpret to mean that they are ready to shuttle back and forth across the Atlantic whenever they feel like it. And yes, that would be just fine with me.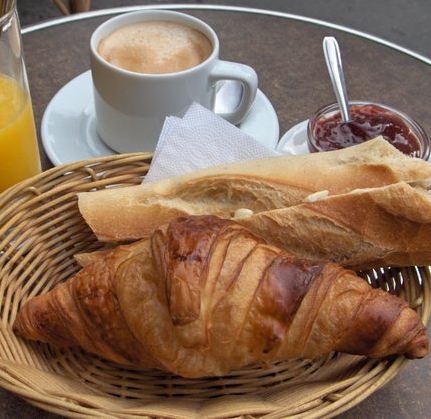 They've been reading children's books about Paris and already have formulated a must-see list. But the first thing they wanted to do was to have breakfast at a café because "we're in Paris." Even though breakfasts tend to be rip-offs (compared to going to the boulangerie for bread and croissants), who can say no to two children who'd just gotten off a transatlantic flight? Off we went to Café Vavin where I received a wave from the owner, who might have wondered what I was doing there so early in the morning. After pointing to my family, Jacques understood.
We meandered to the Luxembourg Garden, which took longer than it should have, because the children are little, were tired (as were their parents) and girls will be girls, they were busy window shopping. Which reminds me of something that I tend to forget. Children tend to be shorter than grownups. They don't walk as fast because their legs are shorter, but they also are constantly looking up at things that we look at straight across or down to. This changes their perspective and, I'm convinced, adds a level of awe or amazement. Everything looks so… big, grand and wonderful. Of course they love Paris. They're more than aware the architecture is dramatically different from what they see each day when they're in D.C.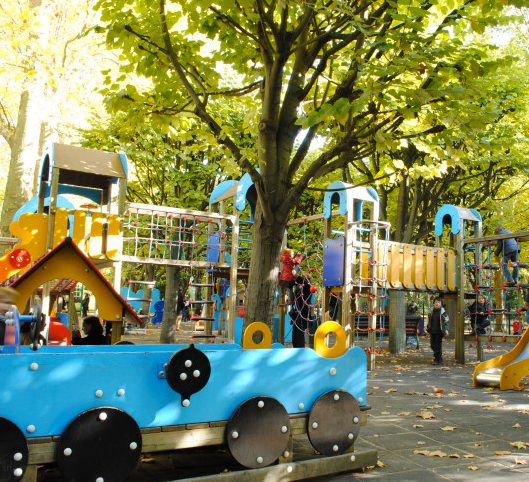 The older girl said, "Paris feels more exciting," and—music to my ears—asked her parents why they couldn't all live here? I felt as if I'd done something right, and since they both qualify for U.K. passports (their mother was born in London), my mind did a fast-forward and perhaps it would make sense for them to apply to the École active Bilangue.
Recent studies have shown that people who grow up speaking or acquiring more than one language may delay the onset of dementia and Alzheimer's. People who take assignments overseas tend to climb the job ladder higher and more quickly. This is especially true for females. This seems to be a wonderful argument to use on my son and daughter-in law, if you ask me.
And there's always the multicultural argument, which is less personal and much more politically correct. As soon as I arrived in Orly on OpenSkies Airline, returning from my most recent trip to Washington, it was starkly apparent I was in a different world. It encompasses people who look different, wear non-Western clothes, clearly possess different religious beliefs and even smell different. How I'd love for the girls to benefit from such diversity, where you can be in various countries simply by exiting a different Paris Métro stop.
This is getting heavy. Perhaps I should awaken my family before I've called the movers. They've had their nap—and it's time to get up and go. Since it's so lovely, perhaps we'll take the Métro to the Seine and go to the beach. We have so much to do and to see including placing locks on one of the two bridges in Paris that express love.
What's better than having my son, daughter-in-law and my grandchildren share the city about which I feel so passionate?
Please do share below if you have a story about seeing Paris through the eyes of children.
© Paris New Media, LLC
Sign up now for your own free subscription to BonjourParis & we'll send you Wednesday & Sunday newsletters that link to original France travel stories, news, recipes and travel photography. 50 original stories monthly from your most complete online France travel & Francophile lifestyle eZine. RSS feed available.
Recommended books for families traveling with children at our

Amazon.com Boutique: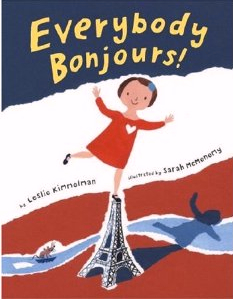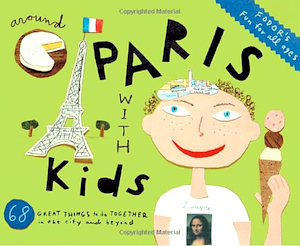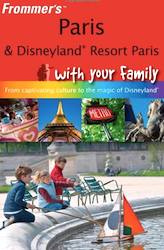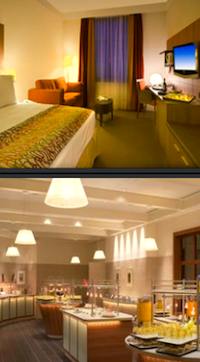 Going to Disneyland Paris?
Radisson-Blu Hotel at Disneyland Paris sits on the Disneyland Paris Golf Course. Contemporary rooms have lovely views of the surroundings, a spa center and 2 restaurants. Guestrooms at the Radisson have flat-screen TVs, tea and coffee facilities and free high-speed Internet access. Breakfast buffet.
Free shuttle service will take guests from the hotel to the Marne la Vallée-Chessy train station and the Disneyland Resort Paris.
The spa center features a fitness area, sauna, hammam and indoor swimming pool. It is available free of charge from 7 a.m. to 11 p.m. for hotel guests only. Massages and beauty treatments are also available upon request, and for an additional fee.
Be smart! Shop around, reserve your hotel at Booking.com…then keep shopping & if you find a better rate for the same deal, contact Booking.com to request your BEST PRICE MATCH GUARANTEE. Start here at Booking.com.

More in cultural differences, French etiquette, French tourism, sightseeing
---
---