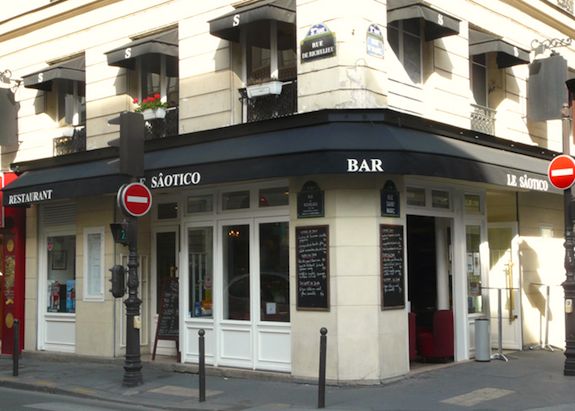 Le Sâotico is a particularly felicitous new beginning for a talented culinary couple. Chef Hughes Gournay and Anne Surcouf owned the intimate and beloved Le Reminet, located in the Quartier Latin, for numerous years. Le Sâotico, located on a sunny corner of rue Richelieu, nicely embodies their current convivial, attractive ode to quality, market-fresh French food. Open since August 2010, the bistro-bar attracts a group of devoted regulars drawn from the largely business-oriented quarter, previous clients and savvy foodies.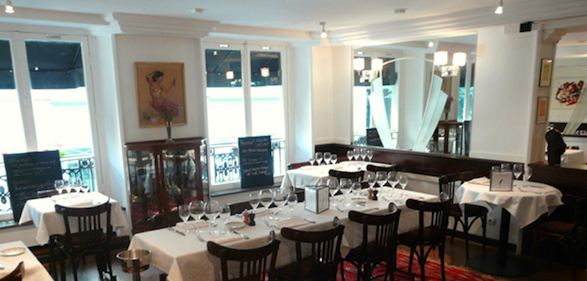 There are many terrific, moderately priced, high-quality bistros in Paris. Le Sâotico is distinctive for several reasons. First, the hours of business: Le Sâotico opens early. Second, the range and flexibility of offerings. This is a bistro, a bar, and a brasserie… meaning that one can come in early for a croissant, coffee and fresh orange juice at the bar or meet for a business breakfast over omelets or other more substantial food.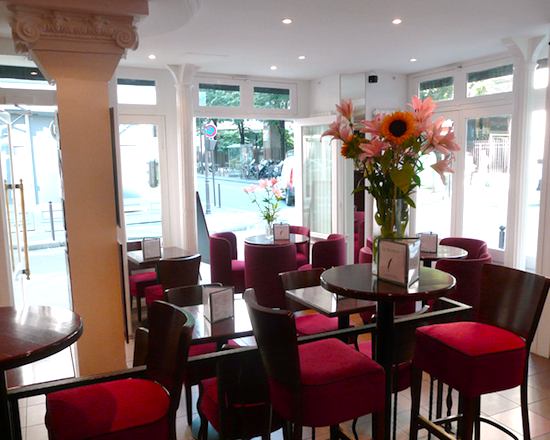 You can order a flute of champagne (7E) with your breakfast or have a charcuterie platter if you wish. As the day moves along, sandwiches and salads are available in the bar area and full meals in the brasserie-bistro area. Or come in for lunch at 2:30 or 3pm. You can have an early dinner from the brasserie menu that is slightly more limited than the full bistro menu, or enjoy any of those sandwiches, salads, charcuterie or cheese plates, or a glass of wine. Flexibility is key. Quality is omnipresent.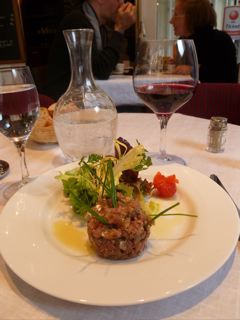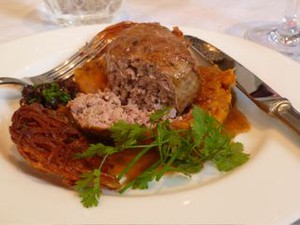 Anne summed their philosophy up by saying that Le Sâotico is committed to offering the best quality food, whether it is a baguette sandwich, an ultra-fresh salad or one of the delicious entreés, plats or desserts that show the hand of an assured, inventive chef. And the price must be fair. The atmosphere must be welcoming and convivial with the background music, the art, and the "feel" creating a sense of engagement and an openness to conversation.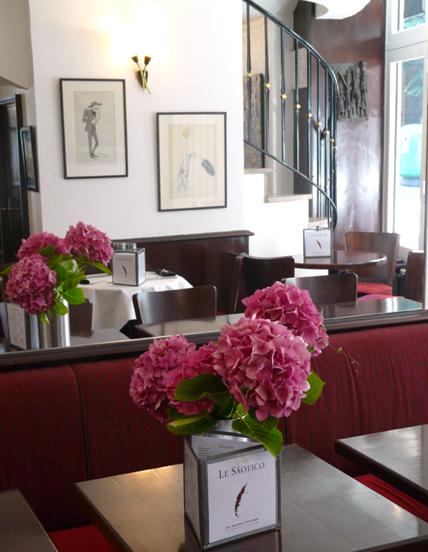 Prices are very fair. The bistro menu offers entrees in the 6-7.5 Euro range. Plats range from 15-20 E. Desserts are 6-7 E. Wines by the glass are a tempting 3.5 E and there are four whites and four reds available in addition to a full carte des vins. There is a nice selection of cocktails for 7 E. Sandwiches are in the 4 E range. There is a single choice entrée-plat-dessert formule for 14.50. Coffee (Illy) is delicious and properly made with a nice crema. Bread is from Eric Kayser. Menus are adapted daily.
Chef Hughes hews to French cuisine, offering a toothsome blend of classic (bavette avec cinq poivres or duck confit) and spins on more contemporary French cooking. There is always a choice of meat and fish dishes available, plus dishes that any vegetarian could embrace. Flavors are clear, pure and fresh, often incorporating a bit of enhancing spice. Hughes is a very good chef. This is food one could happily eat several days a week.
One other thing distinguishes this terrific bistro. Anne and Hughes are welcoming to guests with food allergies or diet issues. Anne has dealt with Celiac disease and Le Sâotico is utterly willing to serve delicious food that is safe for people dealing with such issues. As she said, "When you are serving fresh food you know exactly what you have to work with and it is not hard to make adjustments in the kitchen."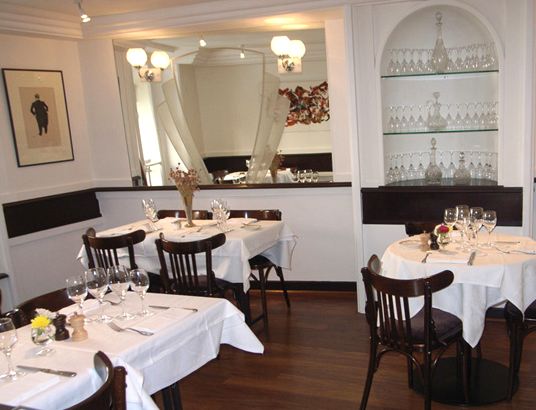 There is a lovely second-floor dining room above the light-filled bistro-bar space on the ground floor. The dining room can be reserved for private dinners for groups of 10 or more. Private dinners or "soirée" evenings are an option. I wondered about the bistro's name, not recognizing the word "Sâotico." It turns out that this is the name for tiny periwinkle-like snails whose shells are found in abundance on the beaches of the remote and gorgeous Cotentin Penninsula in Normandy.
The nearest Métro is Bourse and Le Sâotico is approximately a ten-minute walk up rue Richelieu from the Louvre or Palais Royal. Stop in, say hello to Anne, and have a very good snack, a glass of wine, an excellent coffee, or even better, a meal. Le Sâotico is one of those welcoming places with very good food that makes Paris "Paris."
Tél: 01-42-96-03-20
96, rue Richelieu, Paris 2nd
Métro: Bourse
Open 8:30a-11:30pm Monday through Friday; weekends by reservation
Sally Peabody is a Paris specialist who leads Your Great Days in Paris, small group cultural and culinary tours in France, the Pays Basque, Istanbul and Turkey. Please click on her name to read about her next "France Through Eyes of Faith" tour in March, 2012 and to read her past reviews published in BonjourParis.

Subscribe for
FREE

weekly newsletters with subscriber-only content.

BonjourParis has been a leading France travel and French lifestyle site since 1995.
Readers' Favorites: Top 100 Books, imports & more at our Amazon store
We daily update our selections, including the newest available with an Amazon.com pre-release discount of 30% or more. Find them by starting here at the back of the Travel section, then work backwards page by page in sections that interest you.
Support our site by clicking on this banner for all your Amazon.com browsing. Merci!