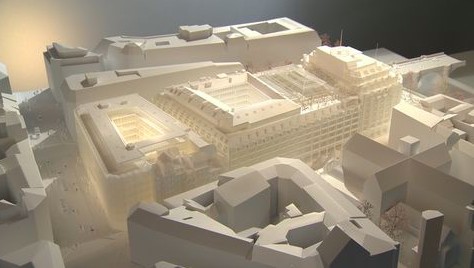 In May 2011 the city of Paris unveiled the latest plans proposed for the former Samaritaine department store building. If approved in public meetings scheduled for September, next year building owner LVMH will start a three-year, 450 million euro ($641.9 million) redesign that owners declared the largest privately funded construction project ever undertaken in Paris, according to LVMH finance chief Jean-Jacques Guiony.
Ernest Cognacq, from street cart vendor to leading retailer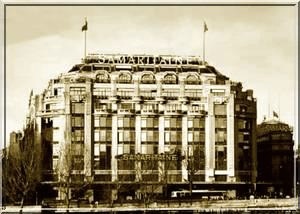 In the late 1860s Ernest Cognacq sold ties from a street cart near the site of the current Samaritaine. His wife, Marie-Louise Jay, worked at Le Bon Marché, then the largest retailer in Paris. Eventually Cognacq rented a small shop on rue de la Monnaie. Inspired by the Paris building boom and success of large department stores like the Bon Marché, in 1883 Cognacq began buying entire blocks of land in the surrounding area. He envisioned a structure large enough to contain a cooperative of independent merchants. In 1900 architect Frantz Jourdain designed an Art Nouveau building and soon Grands Magasins de la Samaritaine was the largest department store in Paris. The business thrived, Cognacq kept acquiring property and in the early 1930s architect Henri Sauvage made structural and architectural changes to create the eleven-story Art Deco building that stands today at the base of Pont Neuf.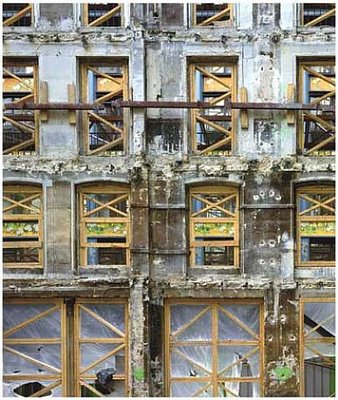 Before their deaths, the wealthy Cognacqs transferred ownership to a charitable foundation and also created a Paris museum named for them. The foundation's mission is to facilitate relations between businesses and society.
LVMH buys the Samaritaine brand and building in 2001
In the mid-1990s Samaritaine experienced a downturn in business when sales fell. To make matters worse, owners faced several costly labor disputes and citations for fire code violations in the aging building with wooden floors and outdated electrical system. In 2001, the Cognacq-Jay Foundation sold majority ownership to LVMH, which initially planned to open a large Louis Vuitton boutique in the rehabbed department store. In 2005 city fire inspectors again issued safety code warnings, but this time officials ordered the building closed until repairs were completed. Majority owners LVMH claimed safety code tags were acts of harassment. A close-out sale was held, LVMH abruptly closed the store in 2005 and it has been deteriorating since.
In the years since, LVMH and minority owner Cognacq-Jay Foundation disagreed publicly about the property's future. LVMH, which held nearly 60% ownership, proposed building a luxury hotel; Cognacq heirs with only 40% ownership fought firmly for a new Samaritaine department store more in line with their founder's mission. No matter; in late 2010 LVMH bought out the Cognacq-Jay Foundation and has been sole owner since.
Today's Samaritaine plan: LVMH Cheval Blanc Hotel and mixed-use center
On May 18 city officials joined architects and LVMH representatives at a public unveiling where a historical video about Samaritaine was shown with architectural plans and large scale models. The plans are startlingly modern.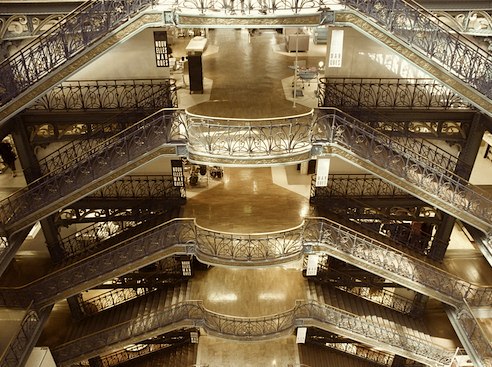 The proposed mixed-use project contains an 80-room luxury hotel, 250 public housing apartments, daycare for 60 children, office and retail space. Tourism, economics, social issues and environmental "green" issues were considered, according to LVMH representatives. Architects Jordan Franz and Henry Savage explained their goal to create a "sustainable metropolis respectful of its heritage, faithful to its history."
The historically significant store canopy and grand staircase will be restored with glass tiles and other elements from the original store. Hotel rooms will overlook Quai du Louvre on the Seine banks.
Japanese architectural firm SANAA will design the building's modern glass exterior. SANAA won the Pritzker Prize in 2010; their past projects include the New Museum of New York City, the O-Museum in Nagano, the Glass Pavilion in Toledo, Ohio, the glass-box Louvre building in Lens, France and several European buildings.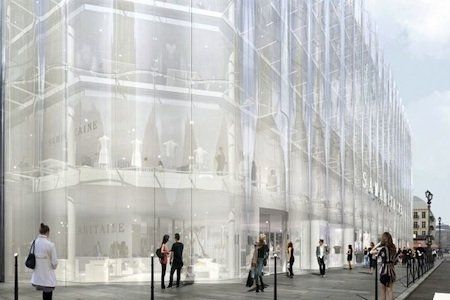 French architect Edouard François, a pioneer in sustainable "green" architecture, will design the back building. François designed the Tower Flower, an apartment complex in the Paris 17th arrondissement completed in 2004. Buildings are notable for exteriors covered with affixed pots containing potted bamboo plants, an early "vertical garden" building.
New plans added additional apartments and daycare, a concession to locals who opposed earlier talk of a potential high-rise they felt did not include enough public housing. The building height now planned will not exceed 38 meters.
Building owners said permits will be filed in June. Public inquiry hearings are scheduled for September, and if all hurdles are cleared permits will be issued in early 2012 with completion planned for mid-2014.
Video clip: history of Samaritaine presented at the public unveiling
Dali Wiederhoft is the executive editor of BonjourParis with many fond memories of dining and shopping at Samaritaine.
Grab your own free subscription to BonjourParis & be first to receive Wednesday & Sunday newsletters linked to 50 original stories monthly with travel tips & the latest from France. Since 1995, BonjourParis has been your most complete online France travel & Francophile lifestyle eZine. RSS feed available.
If it's at Amazon.com, you can get it at our Amazon.com Boutique with new items added weekly. Same competitive prices and speedy delivery & your purchases support costs of keeping BonjourParis your most complete online France travel resource.
Search hint: start at the back pages for the most recent stock.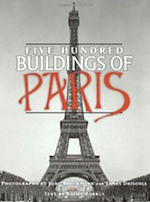 For more about the greatest buildings and monuments in Paris . . .
Five Hundred Buildings of Paris contains photographs and neighborhood tours of the greatest buildings and monuments in Paris. Information includes the building's name, location, year of completion or renovation and historical highlights. [Sept 2010 release]
Many more books about architecture, art and history at our Amazon boutique.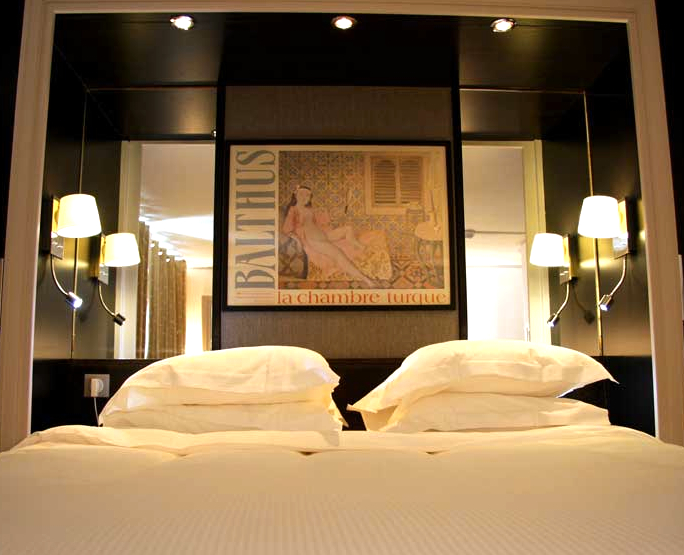 A nearby classic hotel with classic on Île Saint-Louis. . .
Hôtel du Jeu de Paume is a luxurious intimate hotel on nearby Ile Saint-Louis. The 30 suites are beautifully decorated with comfort in mind. Flat-screen TVs and free Wi-Fi in the heart of Paris's oldest district. Garden terrace and on-site bar.Located just steps from Samaritaine, Notre Dame, le Marais, shopping, culture and more. Métro: Saint-Paul is near; RER B/C Saint Michel station is a quick ride to/from Roissy Charles de Gaulle airport. Please don't delay—small hotels with such charm fill quickly.

Be smart! Reserve your hotel at Booking.com…then keep shopping online & if you find a better rate for the same deal, contact Booking.com for your BEST PRICE MATCH GUARANTEE.
Bookmark this link & use it everytime you shop so your preferences are stored & deals are updated when you return: Booking.com.