It's chic to celebrate the Russian New Year. Get into the spirits with flavoured vodkas, caviar, borscht & Co. Yannick Alleno the dynamic young chef at The Meurice is planning a seven-course dinner inspired by the Tsars, and perhaps by Careme the first celebrity chef who worked in the kitchens of Tsar Alexander 1st  who famously admitted, "he taught us to eat". When Careme returned to Paris he  introduced some classic dishes into French cuisine, including borscht and koulibiac. "He was dead by the time he was 50. Burnt out by the flame of his genius", reflects Alleno.
"I am re-interpreting some traditional dishes such as borscht which I will serve with truffles", he reveals. So, expect a trio of musicians to serenade you as you sip an aperitif around zakouski (nibbles of caviar, anchovy, blinis, cheese fish, think Russian tapas) then the beetroot Borscht with a truffle feuilletée. Alleno follows this with jellied Baltic Herring, smoked beetroot and a cream of dill. Scallops are served "comme un Koulibiac" with smoked salmon and caviar.  Next "Pojarski" of foie gras and black truffles. The main is saddle of venison with a brown sugar and red pepper crust, confit of white cabbage and truffle essence. To clean the palate, paper thin
ravioli and a few fresh raspberries. Puddingsky is Pineapple and lime Pavlova, meringues with pink pralines.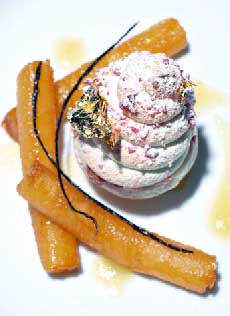 And should this not be sufficient, a caviar menu is available, to choose and eat alongside the above dishes. This night might be the time to discover the many different flavoured vodkas, although the excellent Meurice wine list will provide some suitable Russian Reds. "The idea is that Russians away from home will have a wonderful location to celebrate their New Year, and that Parisians will discover another way to celebrate", explains Alleno. Sounds good to us. See you there then?
The Meurice,

13th January, 2006
228 rue de Rivoli, 8th (Metro: Tuileries)
T: 01 44 58 10 55
e-mail [email protected]
Dinner – 450€ + wine
I'm not paying that!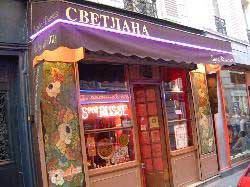 Svetlana –

52 rue d'Orsel, 18th (Metro Anvers-Abbesses)
T: 01 42 23 52 25
e-mail: [email protected]
Located in Montmartre, a little more rough n' ready than the Meurice. "No special menu, our prices start at 19€" says Mr. Svetlana, in heavily accented French. "But you will get authentic Russian food, just like at home", he warns. Along with rousing tzigany music, in a red rococo space.
Rather stay home with a good book?
The Russian Heritage Cookbook by Lynn Visson
Cooking for Kings, the Life of Antonin Careme, the First Celebrity Chef by Ian Kelly
Rather be in Russia:
Fauchon,
1st Tverskaya, Yamska Ulitsa 7. Moscow.
T: 007 095 978 8083
Want to meet a Russian Babe?
www.anastasiaweb.com (good recipes too).
Noivy God.