Roland Garros BUZZ   The French Open (23rd May-5th June), the grand slam tennis tournament, is played out on the magnificent red shale of Stade Roland Garros.  Alert readers will already know that BUZZ loves the eponymous restaurant in the heart of the Bois de Boulogne.  Book now for a table on the terrace and even if you don't like tennis/can't get tickets, the food and atmosphere are well worth it.  Can't be bad with Marc Veyrat, the Michelin multi-starred, black- shepherd-hat wearing super-chef, creating divine summer dishes. Think Asperges vertes, vinaigrette soufflé vert, salade simple sur langoustines fraiches, cassoulette de legumes d' hier aux truffes d'ete, jus d'aujourdhui. My theory is that, being a tennis aficionado, Veyrat knows he can score tickets from the celeb tennis players who come to chill at The Roland Garros!   But who exactly is Roland Garros? Certainly not a chef de cuisine. An aviator (1888-1918) who made the first non-stop flight across the Mediterranean. Maybe he'd heard about some new chic beach/restaurant, wanted to get there before the crowds! Garros introduced a revolutionary method of destroying enemy aircraft by placing a forward-firing machine-gun on his 'plane and metal deflector plates on the wooden propeller. You get the picture, Garros had a jolly good war, was shot down, and later escaped from a German prison camp, rushing back to rejoin the French army. What a hero! No wonder they named a stade after him, right? And a tennis tournament and the airport at Réunion.  The least they could do n'est pas darling.   Some tennis players only play on clay, love to slide, and obviously have partners/maids who don't mind the house full of red dust. The courts at Roland Garros are legendary; they would be with the likes of Federer, Davenport, Myskina and Co., playing there. And here's a tip from the P
resident, Christian Bimes, "Watch Richard Gasquet, he's the successor to Henri Leconte, I call him Henri the second and also Gael Monfils, he reminds me of a young Yannick Noah."   Love tennis, looking for good clay? Neuilly Saint James is the club, minutes from Roland Garros, excellent clay courts plus you can brush up your volley with some excellent coaching by Directeur Sportif, Arnaud Bazin and his team. Front- of- house Marguerite Roquelle goes to any lengths to find a suitable partner, should you need one. Her success rate is impressive, people have married after her introductions, champagne reception at the club, bien sur!   "The French call our club Saint Jams," she explains. The oldest tennis club in Neuilly is named after the historic Chateau de la Folie St. James. No dogs allowed these days (unusual for Paris, n'est pas?) but President Philippe Lugagne points to the shady nook near Court 6 where they buried Cartouche a much loved guard-dog. "Everyone loved that dog and in a way he still guards Saint James," observes Monsieur Le President.   Don't be surprised to see Fabrice Santoro, Patrick Bruel, Michel Polnareff, Julien Clerc, Johnny Halliday, Vincent Lindon and Julie Allard, Philippe Junot, we are after all, Neuilly the  BCBG HQ.   The restaurant, run by Patrick Cameron Darr, does not rival Veyrat, sets out to create healthy calorie-controlled dishes, delicious salads, say, aubergines with tomatoes and fresh sardines, steak, the best chips in Neuilly, and a stunning chocolate cake maison.  Eat outside and watch play in progress, the wine list is short and Patrick mixes exotic cocktails behind his bar watched over by a framed photograph of local tennis maven, Nicholas Sarkozy.    Restaurant Roland Garros,2 avenue Gordon-Bennett, 16th (Metro: Porte d'Auteuil)T: 01 47 43 49 56 – From 45€Valet parking   Tennis Club and Restaurant Neuilly Saint- James,23 Boulevard du Général Koenig,92200 Neuilly-sur-SeineMetro: Pont de NeuillyT: 01 46 24 11 15 Private parking – Terrain de Boules – Menu from 13€
SUBSCRIBE
ALREADY SUBSCRIBED?
BECOME A BONJOUR PARIS MEMBER

Gain full access to our collection of over 5,000 articles and bring the City of Light into your life. Just 60 USD per year.

Find out why you should become a member here.

Sign in

Fill in your credentials below.
Roland Garros BUZZ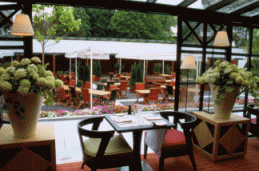 The French Open (23rd May-5th June), the grand slam tennis tournament, is played out on the magnificent red shale of Stade Roland Garros.  Alert readers will already know that BUZZ loves the eponymous restaurant in the heart of the Bois de Boulogne.  Book now for a table on the terrace and even if you don't like tennis/can't get tickets, the food and atmosphere are well worth it.  Can't be bad with Marc Veyrat, the Michelin multi-starred, black- shepherd-hat wearing super-chef, creating divine summer dishes. Think Asperges vertes, vinaigrette soufflé vert, salade simple sur langoustines fraiches, cassoulette de legumes d' hier aux truffes d'ete, jus d'aujourdhui. My theory is that, being a tennis aficionado, Veyrat knows he can score tickets from the celeb tennis players who come to chill at The Roland Garros!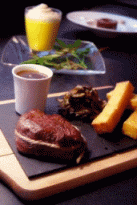 But who exactly is Roland Garros? Certainly not a chef de cuisine. An aviator (1888-1918) who made the first non-stop flight across the Mediterranean. Maybe he'd heard about some new chic beach/restaurant, wanted to get there before the crowds! Garros introduced a revolutionary method of destroying enemy aircraft by placing a forward-firing machine-gun on his 'plane and metal deflector plates on the wooden propeller. You get the picture, Garros had a jolly good war, was shot down, and later escaped from a German prison camp, rushing back to rejoin the French army. What a hero! No wonder they named a stade after him, right? And a tennis tournament and the airport at Réunion.  The least they could do n'est pas darling.

Some tennis players only play on clay, love to slide, and obviously have partners/maids who don't mind the house full of red dust. The courts at Roland Garros are legendary; they would be with the likes of Federer, Davenport, Myskina and Co., playing there. And here's a tip from the P
resident, Christian Bimes, "Watch Richard Gasquet, he's the successor to Henri Leconte, I call him Henri the second and also Gael Monfils, he reminds me of a young Yannick Noah."

Love tennis, looking for good clay? Neuilly Saint James is the club, minutes from Roland Garros, excellent clay courts plus you can brush up your volley with some excellent coaching by Directeur Sportif, Arnaud Bazin and his team. Front- of- house Marguerite Roquelle goes to any lengths to find a suitable partner, should you need one. Her success rate is impressive, people have married after her introductions, champagne reception at the club, bien sur!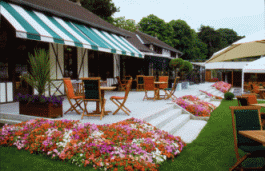 "The French call our club Saint Jams," she explains. The oldest tennis club in Neuilly is named after the historic Chateau de la Folie St. James. No dogs allowed these days (unusual for Paris, n'est pas?) but President Philippe Lugagne points to the shady nook near Court 6 where they buried Cartouche a much loved guard-dog. "Everyone loved that dog and in a way he still guards Saint James," observes Monsieur Le President.

Don't be surprised to see Fabrice Santoro, Patrick Bruel, Michel Polnareff, Julien Clerc, Johnny Halliday, Vincent Lindon and Julie Allard, Philippe Junot, we are after all, Neuilly the  BCBG HQ.

The restaurant, run by Patrick Cameron Darr, does not rival Veyrat, sets out to create healthy calorie-controlled dishes, delicious salads, say, aubergines with tomatoes and fresh sardines, steak, the best chips in Neuilly, and a stunning chocolate cake maison.  Eat outside and watch play in progress, the wine list is short and Patrick mixes exotic cocktails behind his bar watched over by a framed photograph of local tennis maven, Nicholas Sarkozy.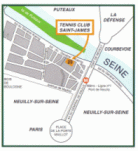 Restaurant Roland Garros,
2 avenue Gordon-Bennett, 16th (Metro: Porte d'Auteuil)
T: 01 47 43 49 56 – From 45€
Valet parking

Tennis Club and Restaurant Neuilly Saint- James,
23 Boulevard du Général Koenig,
92200 Neuilly-sur-Seine
Metro: Pont de Neuilly
T: 01 46 24 11 15
Private parking – Terrain de Boules – Menu from 13€
---
---