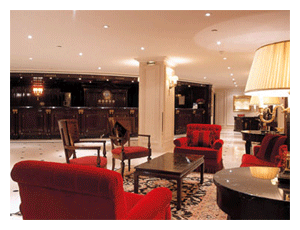 Had
Eliza Doolittle decided to learn French, Professor Higgins would have
taken her to the new InterContinental Grand. It's located just off
avenue de l'Opéra, Paris's only avenue without trees, designed by
Haussmann so that the women's elaborate dresses would not be hidden
when approaching the Opera house in horse-drawn carriages. The hotel is
also home to Café de La Paix, perhaps the most famous café in Paris,
where the rich and famous take their tea.
The
hotel was originally built in 1862 and recently re-opened after an
18-month, multi-million-euro "redecorating" job. It is huge and
impressive, with marble floors, red velvet, gold trim, and concierges
in green uniforms who swarm around a lobby that seems the size of two
city blocks. It is the "Plaza" of Paris.
Located
on the Place d'Opéra with a breathtaking view of the Opera house,
surrounded by all the major department stores that matter—Printemps and
Galeries Lafayette—and just a few small blocks from rue St. Honoré and
Place Vendôme, the hotel provides a wide variety of ways to go bankrupt.
I
once had a 37-euro breakfast fruit cocktail at Café de la Paix: half a
yellow grapefruit and a café crème. I ate in five minutes and dashed
out to an appointment, later to return to a bill the same size as my
monthly student loan payment. In the hotel's defense, it was a buffet
and I was an idiot. I obviously should have realized it not wise to
just take grapefruit. I had assumed that they would charge me the fee
for the Continental breakfast. And what did I learn? Sometimes, a
continental breakfast is the same price as a pair of jeans on sale at
Banana Republic, so….always inquire about the price.
The Lobby:
You
can see your reflection in the perfectly polished white marble floors,
you can see you reflection in the jade check-in counter, you can see
your reflection in the glass vases overflowing with white orchids. With
dark woods, track lightings, and deep greens and reds, the polished and
dapper Intercontinental Grand oozes royalty.
The guest rooms:
Choose
one of the 80 rooms with a view of the Opera house. Lounge on your oak
bed between crisp white bed linens, and day dream about the carriage
that awaits to take you to La Bohème.
438
air-conditioned, spacious (for Paris) guest bedrooms and 107 "Club
rooms" (The club rooms are located on the very exclusive "Club floor,")
and 24 suites boast royal reds, blues and gold. The walls are decorated
with pictures of performers from the world of opera.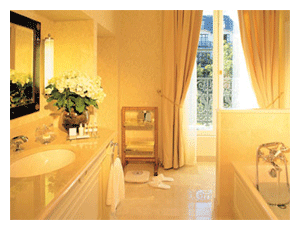 The bathrooms are marble and spacious. Many of the bathrooms have windows that welcome generous natural light.
Standard room: Choose between two beds or one large bed and a view of either the city or courtyard.
Deluxe
room: Larger than a Standard room. Some of the rooms have views of the
Tuileries gardens! Bathrooms are marble and you'll get a real reality
check in the magnifying mirrors. Two-line telephone with voice mail. PC
data ports.
Handicapped room: Wheel accessible bathrooms and removable shower heads.
Business
room: These rooms are specially equipped to fit your every business
need. Desks equipped with fax machines, laser printers, copiers and
ergonomic chairs. Some of the rooms even offer private offices.
Junior Suite: Between 36 and 40 square meters, separate living room and bedroom.
Executive Suite: Between 30 and 40 square meters, these suites offer a corner lounge and large beds.
Victor Hugo Suite: Two bedroom suite.
Presidential
Suite: Two bedrooms with a view of the Tuileries gardens. The suite
allows for private reception—the ultimate place for couples traveling,
as this spacious apartment makes it easy to separate business from
pleasure.
Club lounge: The entire 3rd floor (65
guest rooms) devoted to the business person or those seeking an extra
level of privacy. There are Deluxe and Junior suites available. Private
check in and check out. "Complimentary" continental breakfast.
Cocktails in the club lounge. Robe and slippers.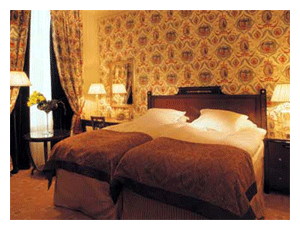 All
rooms offer air-conditioning, safe, hairdryer, TV, double phone lines,
high-speed Internet, videos on demand, mini bar, smoke detector, and
bathrobes.
The restaurant:
Tall pillars
support the high engraved ceilings detailed with carefully painted
flowers and heavenly skies, while natural light floods the low tables,
where ladies take brunch before buying a hat and tall thin men in white
linen suits make million-dollar deals over an ice-cream sundae with a
cherry on top. An exclusive crowd peruses an expensive menu; having no
idea what to choose, they simply choose the most expensive item,
assuming it will be good. It will be. Everything is good at Café de la
Paix. Even the 37 euro grapefruit.
On business:
All
guest rooms are equipped with high-speed Internet access as well as TV
internet. There is also an extensive business center with high speed
computers and fax facilities. It's like your own mini-Kinkos.
There
are 20 rooms in order to host various functions. These include the
Paris's most famous ballroom, the Grand Salon Opéra, an official
historical monument completely restored to it's gold leaf and marble
pillar glory (though it's not real marble). A chandelier from a
production of "Phantom of the Opera" hangs from the ceiling. Be sure to
take a peek in here. You may even see a supermodel, as this venue is
home to many fashion shows.
The bar:
The
bartender will know your name and your drink before you leave. Munch on
olives and aperitifs before an evening out and listen to someone slide
his hands over the ivories of the piano located just outside. Low lit
and quiet, the bar is the perfect spot for sharing an intimate bottle
of champagne with your cherie….you may never make it out for dinner.
Breakfast:
Breakfast
is served at Café de la Paix. It is…..expensive. But it is beautiful.
Long tables coved in linen boast perfectly ripe fruits of every flavor,
cheeses, cereals, pains au chocolat, croissants and an omelet bar, just
to start. It's delicious way to start the day, especially in the
winter—rise early and order a café crème, sit by the window and be cozy.
At
the New InterContinental Grand, you'll find luxury and extravagance and
history alongside the newest and highest technology. It's for those
seeking the service and atmosphere of the older and more prestigious
hotels in Paris but who also yearn for modern conveniences. It's not
cheap. But an evening at the Opera never is.

Special pluses:
* 24-hour room service
* 24-hour laundry/valet service
* Air-conditioning
* Non-smoking floors
* High-speed internet
* Handicapped-equipped rooms
* Double phone lines
Tariffs:
Averages $450 per night.
Contact:
2 Rue Scribe
75009 Paris
France
Tel: +33 1 40 07 32 32, Fax: +33 1 42 66 12 51
E-mail: [email protected] [1]
http://paris-le-grand.intercontinental.com/ [2]