Review: the Hotel Le Sainte-Beuve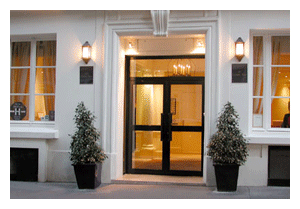 What's in a star? Is it a service? Quality? Location (location, location)? At Hotel Le Sainte-Beuve it is all of the above. Except they've even managed to pack in "charming" and "business friendly" into their modest three-stars. Where is the star for the "working fireplace in the country style (Pottery Barn influenced) living room?" Or the warm smile from behind the reception desk? No doubt about it, Hotel Le Sainte-Beuve does not brag. If they did, the prices would reflect their ego, and these prices are almost self-deprecating. Tucked away behind the grandeur of Boulevard Montparnasse and Boulevard Raspail; a three minute walk from the legendary brasserie, La Coupole; and 6 minutes (including the stops you'll want to take to window shop) are the Luxembourg gardens. This boutique hotel is the ideal place to stay for the adventurous tourist who's craving divine cuisine and long walks in the park. Although the hotel is technically located in the 6th arrondissement of Paris, if you're looking for Saint Germain-des-Prés, this is not the hotel for you. Odéon and rue de Buci are quite the hike away or five metro stops. However, thanks to the speedy trains you can meet a friend for coffee at Les Deux Magots in 7 minutes flat. The rooms are small, as most are on the Left Bank—but they are charming and clean. You'll be cozy in the Hotel Le Sainte Beuve bathrobe, after spoiling yourself in the tub (shampoo, conditioner, etc., provided). The hair dryer is high speed and my personal favorite thing about the hotel (and that's just because I collect boots) are the complimentary shoe sponges. I stole both of them. The rooms are mostly furnished with small wood antiques and white textured bed spreads. Nothing fancy, just quaint with to-the-floor drapes and a night stand with a marble top. If you're feeling cramped or lonely, head downstairs to
the straight out of a Pottery Barn Commercial living room, and bar. Take a chamomile tea by the fire and if you have work to do—bring your laptop, they have Wifi. (25 euros for 24 hours). Some room samples:Room #5, is just as I described above—small and simple. Antique woods and white bed spreads, to-the floor drapes, it has twin beds. Room #6, Décor is similar, but this one has an armoire—brings in even more charm and storage (which is excellent in all of the rooms) but having the armoire does take up more space, therefore making the room seem smaller. Room #7 and room #8, are connecting, 7 has a bit of modern furniture (Ikea looking) mixed in with the antiques and is a bit larger than the other rooms; 8, is a standard, very small, but quite a large bathroom. Room #22, is much like the other rooms except it has a small sitting are at the end of the bed with a love-seat—and the artwork on this wall is particularly colorful. Room#20, a suite, is much bigger, but is still basically one room—it has a vanity, a bigger bed and a little sitting area with two leather chairs and a spacious bathroom. Rates in EurosStandard-130Classic- 168Superior- 185De Luxe- 230Room Sainte-Beuve- 2722 connecting rooms- 325Breakfast- 14 Contact information:9, rue Sainte-Beuve 75006, ParisTel: (33) 1 45 48 20 07Fax: (33) 1 45 48 67 52
[email protected]
www.paris-hotel-charme.com
SUBSCRIBE
ALREADY SUBSCRIBED?
BECOME A BONJOUR PARIS MEMBER

Gain full access to our collection of over 5,000 articles and bring the City of Light into your life. Just 60 USD per year.

Find out why you should become a member here.

Sign in

Fill in your credentials below.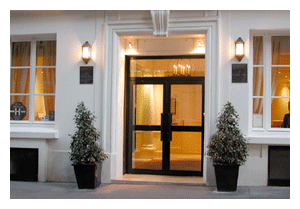 What's in a star? Is it a service? Quality? Location (location, location)? At Hotel Le Sainte-Beuve it is all of the above. Except they've even managed to pack in "charming" and "business friendly" into their modest three-stars. Where is the star for the "working fireplace in the country style (Pottery Barn influenced) living room?" Or the warm smile from behind the reception desk? No doubt about it, Hotel Le Sainte-Beuve does not brag. If they did, the prices would reflect their ego, and these prices are almost self-deprecating.
Tucked away behind the grandeur of Boulevard Montparnasse and Boulevard Raspail; a three minute walk from the legendary brasserie, La Coupole; and 6 minutes (including the stops you'll want to take to window shop) are the Luxembourg gardens. This boutique hotel is the ideal place to stay for the adventurous tourist who's craving divine cuisine and long walks in the park.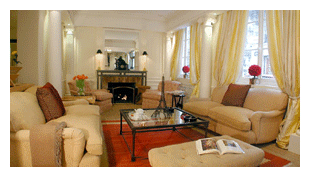 Although the hotel is technically located in the 6th arrondissement of Paris, if you're looking for Saint Germain-des-Prés, this is not the hotel for you. Odéon and rue de Buci are quite the hike away or five metro stops. However, thanks to the speedy trains you can meet a friend for coffee at Les Deux Magots in 7 minutes flat.
The rooms are small, as most are on the Left Bank—but they are charming and clean. You'll be cozy in the Hotel Le Sainte Beuve bathrobe, after spoiling yourself in the tub (shampoo, conditioner, etc., provided). The hair dryer is high speed and my personal favorite thing about the hotel (and that's just because I collect boots) are the complimentary shoe sponges. I stole both of them.
The rooms are mostly furnished with small wood antiques and white textured bed spreads. Nothing fancy, just quaint with to-the-floor drapes and a night stand with a marble top. If you're feeling cramped or lonely, head downstairs to
the straight out of a Pottery Barn Commercial living room, and bar. Take a chamomile tea by the fire and if you have work to do—bring your laptop, they have Wifi. (25 euros for 24 hours).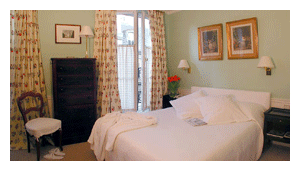 Some room samples:
Room #5, is just as I described above—small and simple. Antique woods and white bed spreads, to-the floor drapes, it has twin beds.
Room #6, Décor is similar, but this one has an armoire—brings in even more charm and storage (which is excellent in all of the rooms) but having the armoire does take up more space, therefore making the room seem smaller.
Room #7 and room #8, are connecting, 7 has a bit of modern furniture (Ikea looking) mixed in with the antiques and is a bit larger than the other rooms; 8, is a standard, very small, but quite a large bathroom.
Room #22, is much like the other rooms except it has a small sitting are at the end of the bed with a love-seat—and the artwork on this wall is particularly colorful.
Room#20, a suite, is much bigger, but is still basically one room—it has a vanity, a bigger bed and a little sitting area with two leather chairs and a spacious bathroom.
Rates in Euros
Standard-130
Classic- 168
Superior- 185
De Luxe- 230
Room Sainte-Beuve- 272
2 connecting rooms- 325
Breakfast- 14
Contact information:
9, rue Sainte-Beuve 75006, Paris
Tel: (33) 1 45 48 20 07
Fax: (33) 1 45 48 67 52
[email protected]
www.paris-hotel-charme.com
---
---