Review revisted: Hotel Caron de Beaumarchais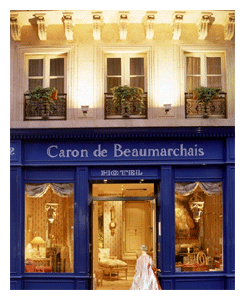 It has occurred to me in the last month that one would have to be absolutely insane to pay hard-earned money to stay in a hotel—especially when 50% of one's salary goes to taxes and with the dollar being so weak. It occurred to me almost immediately after that thought that not everyone has a studio in Paris, an apartment in London, a house in San Francisco and a travel agent for a mom, who takes you to five-star hotels in Italy free of charge. Some people actually have to pay money to stay in a hotel. For those of you who do, I'm sorry. For those of you who don't, it's nice, isn't it? Let's face it: when you're visiting a place you're hardly in the hotel room anyhow, because you're out exploring. I have found the perfect home away from home in Paris, where you won't mind paying a dime. In fact, you'll actually use the phrase that my Grandma does when she buys breath mints for Grandpa: "Money well spent." On the quaint side street of rue Vieille du Temple in the heart of the Marais, next door to the former home of the writer of Marriage of Figaro, a room awaits you in this 19-room, converted 18th-century home. A wood burning fireplace in the lobby warms your hands while you check in, and a card table awaits four corners for bridge. A piano, chandelier and beaucoup des candles contribute to the homey feel of the hotel, and when you come in late at night you'll find yourself whispering as if not to disturb your hosts upstairs.The hotel reflects the essence of its
time, of Beaumarchais and Mozart—parties, classical music and beautiful silk gowns. Taking coffee at an antique desk in your room, you'll find yourself reaching for your letter stamp and blotting the ink with a tissue upon the stationary. At the Hotel Caron de Beaumarchais, you'll have the sense that you're visiting the house for a glamorous party with cigars and velvet curtains.   The bedrooms are small, especially for the Right Bank, but they have so much charm and detail that, rather than crowded, you feel kept and cozy. There are hand-painted tiles in the bathroom, music stands, exposed original ceiling beams, and rich fabrics covering the chairs, closets and windows. Some rooms have a small balcony with a breakfast table set for two—perfect for the spring and summer. A small vase of freshly cut flowers sits on your writing table, above it is a small, but up-to-date television that you can watch the news on while you're checking your email using the complimentary Wifi—which is practically unheard of; in most hotels they'll charge you up to 30 euros for a 24-hour pass.   There's more than enough closet space and shelves for two people, and you'll find a safe inside the wooden doors with the gold knob. An antique lantern hangs above the bed and a small lamp rests to the side of each pillow.   The bathrooms offer robes, shower gel, a powerful-enough hair dryer and, best of all, an American style shower. The face towels slide over your hands like mittens and the towels are big enough to fit around a normal sized person, thank goodness.   You'll feel a little lazy in this hotel, tempted to stay and enjoy the ambiance of your room rather then head out at the crack of dawn with your camera, so take your coffee in the room in the mornings. It will arrive on a wicker breakfast tray lined with floral fabric and a Herald Tribune. You can also take the full breakfast in your room or venture downstairs to the breakfast room, which is as inviting as the rest of the hotel. The room is a soothing peach-pink, and all of the tables are dressed for a high tea. The service could not be friendlier or more efficient.   As much as you might like to stay in and enjoy the fire in the lobby, get yourself out there and take a walk to Place des Vosges, the Louvre or Bastille. The hotel is seconds away from Hotel de Ville and a five-minute walk to the art galleries beneath the monumental arches of the Place des Vosges. The metros could not be more conveniently located, both Saint Paul and Hotel de Ville metros are in equal walking distance, amounting to about a brisk two-minute walk.   Be sure to call early to make your reservation at Hotel Caron de Beaumarchais—there are only 19 rooms and they are generally fully booked. Renovated in 2004. Air conditioning and free Wifi access in every room.   Hotel rates run from $148-$190
SUBSCRIBE
ALREADY SUBSCRIBED?
BECOME A BONJOUR PARIS MEMBER

Gain full access to our collection of over 5,000 articles and bring the City of Light into your life. Just 60 USD per year.

Find out why you should become a member here.

Sign in

Fill in your credentials below.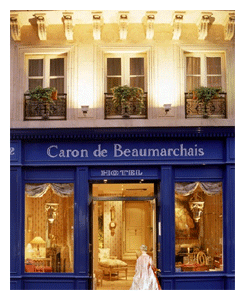 It has occurred to me in the last month that one would have to be absolutely insane to pay hard-earned money to stay in a hotel—especially when 50% of one's salary goes to taxes and with the dollar being so weak. It occurred to me almost immediately after that thought that not everyone has a studio in Paris, an apartment in London, a house in San Francisco and a travel agent for a mom, who takes you to five-star hotels in Italy free of charge. Some people actually have to pay money to stay in a hotel. For those of you who do, I'm sorry. For those of you who don't, it's nice, isn't it?
Let's face it: when you're visiting a place you're hardly in the hotel room anyhow, because you're out exploring. I have found the perfect home away from home in
Paris
, where you won't mind paying a dime. In fact, you'll actually use the phrase that my Grandma does when she buys breath mints for Grandpa: "Money well spent."
On the quaint side street of rue Vieille du Temple in the heart of the Marais, next door to the former home of the writer of Marriage of Figaro, a room awaits you in this 19-room, converted 18th-century home. A wood burning fireplace in the lobby warms your hands while you check in, and a card table awaits four corners for bridge. A piano, chandelier and beaucoup des candles contribute to the homey feel of the hotel, and when you come in late at night you'll find yourself whispering as if not to disturb your hosts upstairs.
The hotel reflects the essence of its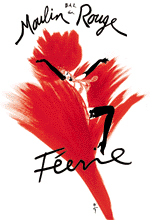 time, of Beaumarchais and Mozart—parties, classical music and beautiful silk gowns. Taking coffee at an antique desk in your room, you'll find yourself reaching for your letter stamp and blotting the ink with a tissue upon the stationary. At the Hotel Caron de Beaumarchais, you'll have the sense that you're visiting the house for a glamorous party with cigars and velvet curtains.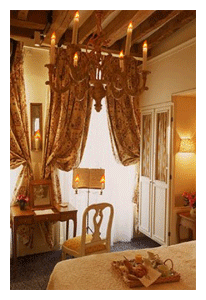 The bedrooms are small, especially for the Right Bank, but they have so much charm and detail that, rather than crowded, you feel kept and cozy. There are hand-painted tiles in the bathroom, music stands, exposed original ceiling beams, and rich fabrics covering the chairs, closets and windows. Some rooms have a small balcony with a breakfast table set for two—perfect for the spring and summer. A small vase of freshly cut flowers sits on your writing table, above it is a small, but up-to-date television that you can watch the news on while you're checking your email using the complimentary Wifi—which is practically unheard of; in most hotels they'll charge you up to 30 euros for a 24-hour pass.

There's more than enough closet space and shelves for two people, and you'll find a safe inside the wooden doors with the gold knob. An antique lantern hangs above the bed and a small lamp rests to the side of each pillow.

The bathrooms offer robes, shower gel, a powerful-enough hair dryer and, best of all, an American style shower. The face towels slide over your hands like mittens and the towels are big enough to fit around a normal sized person, thank goodness.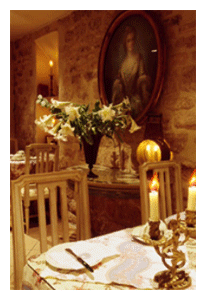 You'll feel a little lazy in this hotel, tempted to stay and enjoy the ambiance of your room rather then head out at the crack of dawn with your camera, so take your coffee in the room in the mornings. It will arrive on a wicker breakfast tray lined with floral fabric and a Herald Tribune. You can also take the full breakfast in your room or venture downstairs to the breakfast room, which is as inviting as the rest of the hotel. The room is a soothing peach-pink, and all of the tables are dressed for a high tea. The service could not be friendlier or more efficient.

As much as you might like to stay in and enjoy the fire in the lobby, get yourself out there and take a walk to Place des Vosges, the Louvre or Bastille. The hotel is seconds away from Hotel de Ville and a five-minute walk to the art galleries beneath the monumental arches of the Place des Vosges. The metros could not be more conveniently located, both Saint Paul and Hotel de Ville metros are in equal walking distance, amounting to about a brisk two-minute walk.

Be sure to call early to make your reservation at Hotel Caron de Beaumarchais—there are only 19 rooms and they are generally fully booked. Renovated in 2004. Air conditioning and free Wifi access in every room.

Hotel rates run from $148-$190

Hotel Caron de Beaumarchais
12 rue Vieille du Temple
75004, Paris
011-33-1-4272-3412

---
---
---
Comments