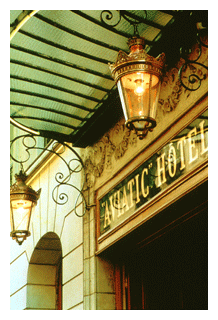 Staying at the Aviatic is like staying with your favorite aunt, who happens to live on the left bank of Paris. The hotel, located on the fringes of the Saint Germain des Prés neighborhood, isn't exactly in the heart of the action. You will have to walk one block to get to the busy commercial street of rue de Rennes, a few blocks to get to the Montparnasse train station and crêperies and about 15 minutes to reach the Église Saint-Sulpice in one direction or the Jardin du Luxembourg in another. These being some of the major landmarks in the old-world hip quartier where Hemingway and Sarte were known to boire un coup. However the Aviatic offers beaucoup de charme and an impressive attention to detail. And with cause. The reins of this establishment are held firmly in the hands of two French sisters, third generation hôtelières. They have been at work transforming this 43-room hotel into a sophisticated yet homey boutique establishment since 2000. And their success is evident. The décor is in a distinctive style with luxe, richly textured Pierre Frey fabrics. The quintessential 18th and 19th century French motifs blanket the rooms from floor to ceiling in rich hues of reds, greens and creams. Add to that eclectid antique furnishings and accents collected from the flea markets of France and you've got the basic idea of what to expect. The public areas include the small marble tiled lobby, a girlishly charming reading room done up in green gingham, and a garishly cheery breakfast room papered in Lautrec posters and old advertisement for French household products. You'll either love it or hate it. (Croissants and artisanal jellies and marmalades are served from 7 to 11, and you can get a picnic lunch if you order it early enough the day before.) There is also a minuscule Internet room just past the front desk. However, most of this will change over the next few months because a major interior redesign is in the works. Take the phonebooth-sized elevators up to your proper étage and you'll have three different types of rooms to choose from. The Chambres Millénium are the most expensive at 165 to 210 euros and cater to the business traveler. This is where they stash all the best antiques and the biggest beds. And by all means lie back on the comfy quilt and enjoy your Web TV. Or even better, take a bubble bath while listening to the latest CNN news, as there are TV speakers in the bathroom. Les Chambres Supérieures at 155 to 199 are a good choice for families. They are perfectly comfortable and offer you a little bit of elbow room. While you won't get the fancy TV and speakers you will be able to console yourself by snuggling up in one of the posh robes that the Aviatic provides in such upper-end rooms. For the bargain traveler the hotel proposes the Chambre Tradition, which is rather petite but none too shabby. For 130 to 170 euros you get none of the perks as in the more expensive rooms but that's OK because even the basic rooms have special touches. Each room comes with perfectly fluffy pillows, but a peek in the closet will reveal an extra stash, en plume. You also get the basics like in-room controls for heat and air-conditioning, a safe and a mini-bar. Even better, though, are the less than obvious essentials, such as soundproofed windows with blackout curtains tucked discreetly between the sheers and jolis rideaux. And let's just confess right now that a hotel room is only as good as its bathroom. Here the Aviatic gets my personal gold star. Spacious, super clean, well-lit, mirrors everywhere, plenty of embroidered towels and cute, French toiletries for your goodie bag! (This is where you can really tell that women are running things.) And for those of you who require a blow-dryer for your coiffé-décoiffé look, there is one in each room–1400 watts, if you need specifics. Overall I would have to say that this 3-star is a good place for you to call base camp during your next stay in Paris. Like a visit to your favorite aunt's, not everything is ideal. You might not be in the heart of the city and the view out your hotel room window will be nothing for postcards but there is heart and soul in every aspect of the decor that makes you feel like a cherished member of the family. In addition, you can share in the delicious bit of scandalous history that spices up the the annals of the Aviatic. Way back in the 17th century when the building was a hôtel particulier, Louis the XIV's 8 love-children were stashed here, along with their nanny, the Marquise de Maintenon. Apparently the slightly out-of-the-way location served his purpose just fine, as he was able to keep his kiddies safe from the prying eyes of the court. 10% off the Aviatic and its sister hotel, the Edouard VII (
www.edouard7hotel.com
) for Bonjour Paris Premium members-book now to avoid being disappointed! (Not applicable via the online booking service; send the hotel a mail.) Aviatic Hotel 105, rue de Vaugirard 75006 Phone: 01-53-63-25-50Fax: 01-53-63-25-55 E-mail:
[email protected]
www.aviatic.fr
(in French and English)
SUBSCRIBE
ALREADY SUBSCRIBED?
BECOME A BONJOUR PARIS MEMBER

Gain full access to our collection of over 5,000 articles and bring the City of Light into your life. Just 60 USD per year.

Find out why you should become a member here.

Sign in

Fill in your credentials below.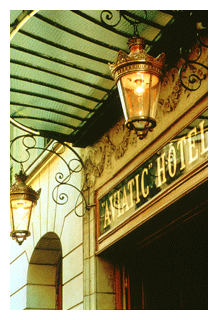 Staying
at the Aviatic is like staying with your favorite aunt, who happens to
live on the left bank of Paris. The hotel, located on the fringes of
the Saint Germain des Prés neighborhood, isn't exactly in the heart of
the action. You will have to walk one block to get to the busy
commercial street of rue de Rennes, a few blocks to get to the
Montparnasse train station and crêperies and about 15 minutes to reach
the Église Saint-Sulpice in one direction or the Jardin du Luxembourg
in another. These being some of the major landmarks in the old-world
hip quartier where Hemingway and Sarte were known to boire un coup.
However the Aviatic offers beaucoup de charme and an impressive
attention to detail. And with cause. The reins of this establishment
are held firmly in the hands of two French sisters, third generation
hôtelières.
They
have been at work transforming this 43-room hotel into a sophisticated
yet homey boutique establishment since 2000. And their success is
evident. The décor is in a distinctive style with luxe, richly textured
Pierre Frey fabrics. The quintessential 18th and 19th century French
motifs blanket the rooms from floor to ceiling in rich hues of reds,
greens and creams. Add to that eclectid antique furnishings and accents
collected from the flea markets of France and you've got the basic idea
of what to expect.

The public
areas include the small marble tiled lobby, a girlishly charming
reading room done up in green gingham, and a garishly cheery breakfast
room papered in Lautrec posters and old advertisement for French
household products. You'll either love it or hate it. (Croissants and
artisanal jellies and marmalades are served from 7 to 11, and you can
get a picnic lunch if you order it early enough the day before.) There
is also a minuscule Internet room just past the front desk. However,
most of this will change over the next few months because a major
interior redesign is in the works.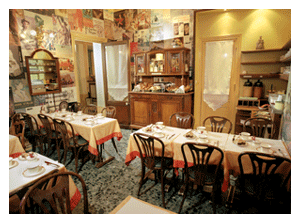 Take
the phonebooth-sized elevators up to your proper étage and you'll have
three different types of rooms to choose from. The Chambres Millénium
are the most expensive at 165 to 210 euros and cater to the business
traveler. This is where they stash all the best antiques and the
biggest beds. And by all means lie back on the comfy quilt and enjoy
your Web TV. Or even better, take a bubble bath while listening to the
latest CNN news, as there are TV speakers in the bathroom.

Les Chambres Supérieures at
155 to 199 are a good choice for families. They are perfectly
comfortable and offer you a little bit of elbow room. While you won't
get the fancy TV and speakers you will be able to console yourself by
snuggling up in one of the posh robes that the Aviatic provides in such
upper-end rooms.


For
the bargain traveler the hotel proposes the Chambre Tradition, which is
rather petite but none too shabby. For 130 to 170 euros you get none of
the perks as in the more expensive rooms but that's OK because even the
basic rooms have special touches.
Each
room comes with perfectly fluffy pillows, but a peek in the closet will
reveal an extra stash, en plume. You also get the basics like in-room
controls for heat and air-conditioning, a safe and a mini-bar. Even
better, though, are the less than obvious essentials, such as
soundproofed windows with blackout curtains tucked discreetly between
the sheers and jolis rideaux.
And
let's just confess right now that a hotel room is only as good as its
bathroom. Here the Aviatic gets my personal gold star. Spacious, super
clean, well-lit, mirrors everywhere, plenty of embroidered towels and
cute, French toiletries for your goodie bag! (This is where you can
really tell that women are running things.) And for those of you who
require a blow-dryer for your coiffé-décoiffé look, there is one in
each room–1400 watts, if you need specifics.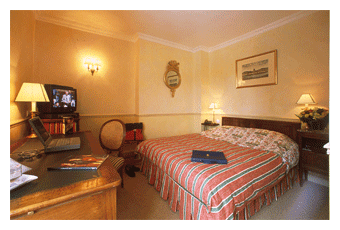 Overall
I would have to say that this 3-star is a good place for you to call
base camp during your next stay in Paris. Like a visit to your favorite
aunt's, not everything is ideal. You might not be in the heart of the
city and the view out your hotel room window will be nothing for
postcards but there is heart and soul in every aspect of the decor that
makes you feel like a cherished member of the family.


In
addition, you can share in the delicious bit of scandalous history that
spices up the the annals of the Aviatic. Way back in the 17th century
when the building was a hôtel particulier, Louis the XIV's 8
love-children were stashed here, along with their nanny, the Marquise
de Maintenon. Apparently the slightly out-of-the-way location served
his purpose just fine, as he was able to keep his kiddies safe from the
prying eyes of the court.
10% off the Aviatic and its sister hotel, the Edouard VII (www.edouard7hotel.com)
for Bonjour Paris Premium members-book now to avoid being disappointed!
(Not applicable via the online booking service; send the hotel a mail.)
Aviatic Hotel
105, rue de Vaugirard 75006
Phone: 01-53-63-25-50
Fax: 01-53-63-25-55
---
---