New Exhibition Shining a Light on Life as a Foreigner
Photographic artist Victor Guerin is striking a chord with expats and locals alike in the City of Lights, with his new exhibition 'Revealing the Shadows– Portraits of the New Parisians'.
These new residents from foreign backgrounds, are the focus of an insightful new photographic series, displaying 50 black-and-white portraits, to explore the daily lives and dreams of expats living in the French capital.
Across each of the unedited portraits is a single word, in light painting, describing the new Parisians' relationship to their adopted city. 
The word chosen can only be read with a hand mirror, kindly provided at the exhibition, and symbolizes the small effort needed to really see and understand these new locals.
"Because the writing is in light painting, the word doesn't really exist," Guerin explains.
"It is only on the camera that we see it, and that is important, because at the time of the photo shoot they were thinking about their word but perhaps today their word has evolved and changed."
Discovering the New Parisians
Over the past year, Guerin has been welcomed into the privacy of his subjects' apartments, to find out how they are finding their place in Paris.
"A photo-shoot lasts 40 minutes tops," he says.
"But sometimes I spent four hours at their houses, talking to them about their word, their life, and being invited to dine with them.
"When I think about Paris, I think about them, so for me they are not foreigners or expats, but Parisians. The use of the word "new" (Parisians) was intended to make the public question themselves about who the Parisians really are."
Kate Herrier, A New Parisian from America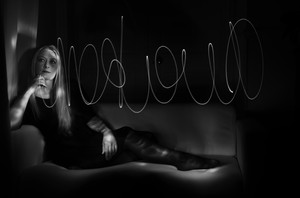 Meet New Parisian, Kate Herrier, English Teacher. In Paris since September, 2012. Originally from Los Angeles, California, USA
Among those photographed for the series, was English Teacher Kate Herrier from Los Angeles, USA, who following a solo-trip to Europe just couldn't shake Paris from her mind.
"Like many people, I had an image of Paris that was pretty close to perfection," she says.
"I viewed this city and the French in general, as the epitome of class and culture and thought that nowhere in the world could ever be more beautiful.
After two years living in Paris, Kate says she still appreciates the city but now recognizes some faults, too.
"It feels exciting, challenging, difficult and enlightening to live in Paris…. One moment can be completely breathtaking where you're pinching yourself that this is your life, and the next you might be close to tears of frustration. One thing is true, it is rarely boring."
Across Kate's dreamlike black-and-white portrait is the word 'Awaken', describing the life-changing effect Paris has had on her life.
"Paris heightens your senses and illuminates the nuances that are easy to overlook in ordinary places. But it's these nuances, these everyday, ordinary things that give life its meaning and its color.
"Paris has awakened me and continues to remind me to open my eyes, appreciate the moment, and really see the beauty of everything that is around me."
Annamari Sipila, A New Parisian from Finland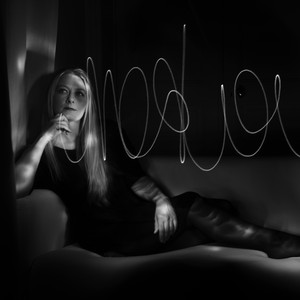 Meet New Parisian Annamari Sipila, Finnish student. BSc in Geography and BSc in Economics, Université Paris I Panthéon-Sorbonne. In Paris since September, 2012.
Finnish student, Annamari Sipila, candidly admits Paris for her, has been a mixed bag, which is why she choose "Volatile" for her portrait in the exhibition.
"My first year in the city was like a rollercoaster ride: I was either really happy or the next day a bit lost," she says.
"The second year was a lot easier, and life seemed to become more normal. When living in a big city your feelings are constantly fluctuating."
Annamari says the language barrier can be difficult and finds it sometimes easier to make friends with other foreigners than with French people.
"Even if Paris is such an international city, and you can get around with English, you will definitely notice that you need to speak French, and it is somehow tiring.
"It feels like I'm never able to fully express myself."
However, Annamari says after living in the city for awhile, getting used to the atmosphere and French social norms, Paris starts to feel like home.
"I've been actually a little bit surprised and amused that quite often I know the restaurants, bars and street names better than my local friends," she says.
An Idea Borne in Australia
Guerin says his idea was borne from his own experience, struggling to integrate, socialize and break the language barrier as a non English-speaking French person, living in Australia five years ago.
"In the beginning it was pretty hard and I had to improve my English to be able to meet people, work and enjoy my time there," Guerin says.
"Here in Paris, almost all my friends are foreigners, and I know from their experiences that they have or had the same problems."
After spending some time in Melbourne, Guerin left to work as a fruit picker on a farm – made up almost entirely of foreigners, and he still, the only French speaker.
"One day, someone was playing some 'Fat Freddy's Drop', my favorite band, in his tent so I came over and said in my really bad English that it was my favorite band. From then, Paul, an Irish guy, helped me improving my English," he says.
"When I was struggling, people were rude with me or not paying attention to me or make jokes about my accent, but I was trying, so I didn't pay much attention to them and their remarks."
How to Make it in Paris
Guerin says that while stereotypes exist between French people and 'Les étrangers' (the strangers), the cultural and social 'shadows' always become clearer with a little light.
"We have clichés in France about the Parisians being rude or foreigners sticking with each other and not make any effort to speak the language," he says.
"My personal opinion is that we are scared of the differences and don't necessarily make the effort to go towards other people, French or foreigners.
"Over the 50 people that I took a photo of, I don't know any who doesn't make effort to speak French, they are all trying, with differences in their levels but still, they try.
"I also chose a word before coming to Paris and it's still the same, after four years, my word is 'Step' and if you really think about it in English, it not a good or a bad (word) but just the way I feel about Paris and my life here."
"Revealing the Shadows – Portraits of the New Parisians' is open until January 3rd, 2015 under the arches of the Convent des Récollects.
48 rue du Faubourg Saint-Martin, Paris, 75010
Métro: Gare de l'Est
Free admission