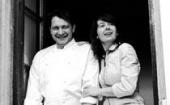 What does Relais de Montmartre, Viré, have in common with Montmartre, Paris?
The two are twinned, cute n'est pas? When Frederic and Marie Carrion bought their Burgundy relais in 2002 they decided it would be fun to name it after their favourite part of Paris. "There's a vineyard just behind the relais, very much like La Butte de Montmartre", explain the couple. 
Two hours from Paris by TGV, Viré is a tranquil picture postcard village in the Saone and Loire region, between Macon and Tournus, at the foot of the Macon vineyards: an ideal halt if you're heading for Southern Europe. "Most people only think of stopping at Beaune, but Viré is less crowded and just as well located", says Frederic Carrion. This years' Michelin guide gives him a star, the gorgeous stone hotel has nine rooms, a suite and mini-spa. Outside, multi coloured street lamps and outsize flower pots, in the style of Jean-Pierre Raynaud, may confuse the locals, but signal a young, edgy and vibrant address to the chic Euro-crowd who've taken Montmartre to their hearts. 
Carrion honed his craft at London's Tante Claire with his Master Pierre Koffman, at Paul Bocuse, Pierre Orsi, Lyon, in NYC and La Tour d'Argent ("I'm not convinced the duck is a great dish", he admits). Married to Marie, with a five-year old daughter, Valentine, to whom he dedicates many dishes, the couple worked long and hard to transform their old stone relais-du-post into a state-of-the-art welcoming halt in the Burgundy vineyards. 
Coté décor, the Carrions worked with architect Nathalie Maureau www.nathalie-maureau.fr The rooms (and suite) are all different, each named for a chocolate region, Guanaja, Palmiera, Nyangbo, Sao Tome, used in the kitchen, offered to guests, with the room keys, on arrival. In the lobby an antique Molteni oven, around the spaces lots of antique flea-market finds from Portugal where Marie Carrion was born and her family still live. Fabrics, textiles and wall-papers are by Designers Guild, London. 
In warm weather breakfast, lunch and dinner are on the terrace. Menus change with the seasons and the wine list is a discovery of Burgundy, a tour de France of top vineyards. And of course you'll try the vibrant local Viré-Clessé, made with Chardonnay grapes, notes of white blossom, fresh butter, hazlenut and citrus fruits. Chef will arrange picnics in the vines if you want, or take bicycles, discover the countryside at leisure. 
From a choice of four menus (and A La Carte) try "Tentation" (44€): Capuccino de foie gras, apples, home-baked bread. Steamed Brittany sea-bass, Thai lemongrass, confit of fennel, ginger risotto. Cheese from Monsieur Bordier and dessert, say, Souffle Grand Marnier or Tarte de chocolats grand cru with pear and sechuan pepper sorbet.

Or "Les Gourmandises de Valentine" (66€) 4 truffle based dishes, the latest inspiration of a talented chef. 
Hotel Restaurant Frederic Carrion,
(Relais de Montmartre)
Place Andre Lagrange, Viré.
T: 03 85 33 10 72
www.relais-de-montmartre.fr 
Rooms from 120€ Suite 450€
Menus 32€ – 66€
Gourmet Picnics to order
Bicycles
Transport arranged from Macon Loché TGV station 
They call Willy Dorr, Monsieur Tout Compris (everything included). This means when you eat in one of his seven Paris bistrots you know before you walk in the door exactly what it's going to cost. For example Bistro de Breteuil, the handsome brasserie on Place de Breteuil, tip, book the terrace. The 38€ menu "tout compris" created by superchef Jean-Jacques Jouteux (of Le 153 Grenelle T: 01 45 51 54 12) includes aperitif, choice of 10 starters, 10 mains, 10 desserts or cheese and salad, 6 choices of a bottle, for two, of red, a rosé, two whites, and coffee. If you want to splash out on a coupe of champagne add 9€ or you want a special wine from the "Vins de Prestige" list they'll see you don't lose out. The food's excellent, Willy Dorr gets up early, buys everything at Rungis. He does the rounds of his magnificent 7 daily, so you'll probably get a chance to have a chat about his concept "tout compris". Ask him when he sleeps? And by the way there's always a starter and dish of the day. An address in gold from Willy Dorr.
Bistro de Breteuil,
3, place de Breteuil, 7th (Metro:Sevre Lecourbe: No. 28 Bus stops outside)
T: 01 45 67 07 27
www.bistrocie.fr