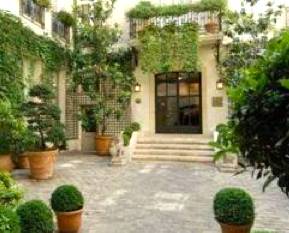 Walking in Paris is always exciting, especially if you're a nosy investigative reporter. Don't tell me you've never come back from a walk without finding treasure at the end of the path to the left; or crossed the cobblestones, and there you see it. Your treasure. Mine was the Hotel Relais Christine, pure magic in the street of the same name, stumbled on by accident.
Enter the former convent/abbey (then private town-house) via the courtyard: it's the full medieval monty. Once poets like Baudelaire and Victor Hugo slept here, as did Picasso, Jean-Paul Sartre, sometimes with Simone, sometimes without. Today they don't give names of celebs, but someone said Umberto Eco.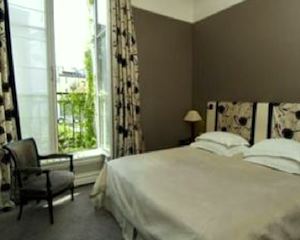 Relais Christine was one of the first boutique hotels in Paris; the walls, dating from 1231 or thereabouts know it all. If only they could talk. No restaurant here, just an elegant B & B; breakfast is served in what was once the kitchen, with the original fireplace still here, perfect service.
Wonder what V. Hugo would make of the fitness centre, newly launched spa and jacuzzi? Well, bet he liked a nice massage did Victor, there's even a Finnish sauna, with twigs!
Upstairs, 51 suites and rooms are little gems, each individually decorated, some with Toile de Jouy, and nice antiques. Try and get a room with a terrace, or overlooking the courtyard—pure magic, darling. Right outside the wrought iron gates you've got Yves Camderborde (I know, but book ahead), Jacques Cagna, Relais Louis XIII and the Michelin-1* restaurant at L'Hotel, another gem.
If you want state-of-the-art go to the Murano, but if you want to feel part of the real Paris, come to Christine.
3, rue Christine, Paris 6th
Métro:Odéon
Margaret Kemp is a Cordon Bleu graduate who spent a year traveling the world, working and watching in the kitchens of top chefs from Sydney, Australia via Bangkok, Hong Kong, California, New York and France. She reports for BonjourParis on the latest European trends, restaurants and hot spots. Please click on her name to see her weekly stories dating back to 2003.
Subscribe for free and never miss a story. Search our library with 7,200+ stories and 50 original stories published monthly. BonjourParis has been a leading online France travel and French lifestyle site since 1995.

Thank you for using our direct link to Amazon.com, everytime you shop the world's largest online retailer.
View our Top 100 Bestselling Amazon.com Items. (Wait for Amazon.com widget to load)
Want more? View our recommended France-themed books & items. Most recent listings at last pages.