Recipe: French Chestnut Dressing for Turkey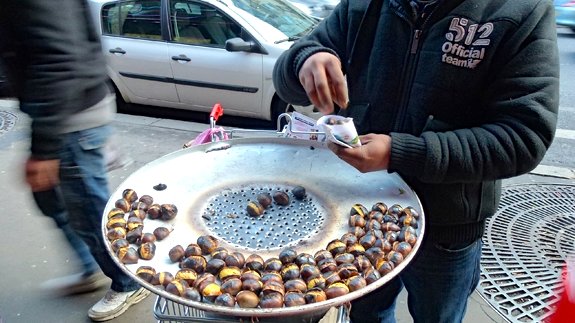 Vendors sell hot chestnuts on Paris streets, an autumn tradition. Photo by Jacqui Guglielmino On every street corner in the busy areas of Paris vendors sell marron chaude (roasted chestnuts). The smell wafts through the air as you emerge from the Métro station and you know Christmas will be here soon. When you purchase some from a sidewalk vendor he constructs a cone of newspaper and fills it with hot chestnuts for you to enjoy. Their warmth stays with you as you walk along enjoying the delights of Paris. These humble little morsels have been part of French culture and history for a long time. King Louis XIV's chef wrote about "Le parfait confiturier," (The Perfect Jam) which is believed to be the first marron glace (candied chestnut). Chestnuts are a great source of protein and they saw the French through times of famine at the end of World War II. Chestnuts can be bought in several forms: fresh from the green grocer in the shells that should roasted before eating. I have made the mistake of not piercing them before putting them in the oven. What a disaster! The hot chestnuts exploded in the oven spewing shells all over the place, so remember to pierce them before roasting. Some people do this with a fork, others makes a slit or a cross with a knife. You can also buy chestnuts in a jar preserved in brine, known as marrons entiers, which saves you the trouble of roasting and peeling. If your tastes run more royal, buy the marron glacé for a dessert in which the chestnut meat is coated in candied sugar. Chestnut dressing. Photo by Jacqui Guglielmino One of my favorite recipes is chestnut stuffing for Christmas turkey, which the French serve as part of their Christmas tradition. I have included the recipe so you can add a little French touch to your Christmas meal. French chestnut dressing for turkey~Français farce marron pour la dinde Yield: enough to stuff a 12- to 14-pound turkey with extra to bake on the side. Preheat oven to 400 degrees INGREDIENTS 6 cups torn small pieces of baguette 2 onions, chopped 4 stalks of celery, chopped 1 cup (250 grams) fresh chestnuts, shelled and peeled, chopped coarsely, or 2 cups vacuum-packed or jarred whole chestnuts, chopped coarsely 7 ounces (200 grams) cubed lardons (pork fat), fried until crispy 1/2 cup finely chopped fresh parsley leaves 3.5 tablespoons (50 grams) unsalted butter 2 tablespoons chopped fresh sage 2 tablespoons chopped fresh thyme leaves 1 tablespoon chopped fresh parsley leaves PREPARATION With a sharp knife cut a slit on the roundside of each chestnut or pierce with a fork. Spread chestnuts in one layer on an oven tray and bake in a hot oven at around 400°Funtil skins break open, usually in about 10 minutes. Remove the chestnuts a handful at a time. Shell and peel while still hot. In a shallow baking pan arrange the bread pieces in one layer, bake in the oven, stirring occasionally, for 10-15 minutes, or until they are golden, and transfer to a large bowl. In a large pan, fry the lardons until crispy then remove. In the same large pan, melt butter and cook onions, celery, sage and thyme over moderately low heat, stirring, until the onions are softened. Add chestnuts to the large pan mixture and cook for 1 minute, stirring constantly. Add the chestnut and vegetable mixture to the bread pieces in the large bowl and toss the mixture well. Stir in the parsley. Add salt and pepper to taste, and let the stuffing cool completely. Stuffing may be made one day in advance and kept covered and chilled. To prevent bacterial growth do not stuff turkey cavity in advance. Photo credits: all photos by Jacqui Guglielmino
Jacqui Guglielmino
is a lifelong Francophile with what she calls "an overwhelming" love for Paris. Please click on her name to read her profile and find more recipes at her blog,
Everyday Cook in Paris
.
SUBSCRIBE
ALREADY SUBSCRIBED?
BECOME A BONJOUR PARIS MEMBER

Gain full access to our collection of over 5,000 articles and bring the City of Light into your life. Just $60 a year.

Find out why you should become a member here.

Sign in

Fill in your credentials below.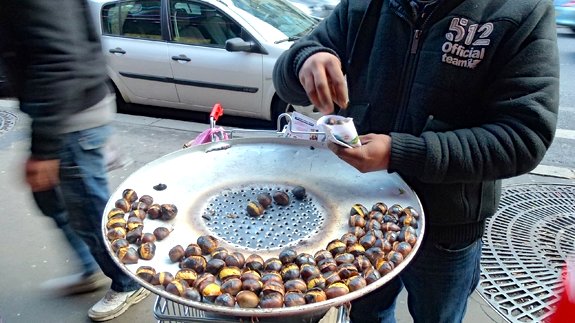 Vendors sell hot chestnuts on Paris streets, an autumn tradition. Photo by Jacqui Guglielmino
On every street corner in the busy areas of Paris vendors sell marron chaude (roasted chestnuts). The smell wafts through the air as you emerge from the Métro station and you know Christmas will be here soon. When you purchase some from a sidewalk vendor he constructs a cone of newspaper and fills it with hot chestnuts for you to enjoy. Their warmth stays with you as you walk along enjoying the delights of Paris.
These humble little morsels have been part of French culture and history for a long time. King Louis XIV's chef wrote about "Le parfait confiturier," (The Perfect Jam) which is believed to be the first marron glace (candied chestnut). Chestnuts are a great source of protein and they saw the French through times of famine at the end of World War II.
Chestnuts can be bought in several forms: fresh from the green grocer in the shells that should roasted before eating. I have made the mistake of not piercing them before putting them in the oven. What a disaster! The hot chestnuts exploded in the oven spewing shells all over the place, so remember to pierce them before roasting. Some people do this with a fork, others makes a slit or a cross with a knife.
You can also buy chestnuts in a jar preserved in brine, known as marrons entiers, which saves you the trouble of roasting and peeling.
If your tastes run more royal, buy the marron glacé for a dessert in which the chestnut meat is coated in candied sugar.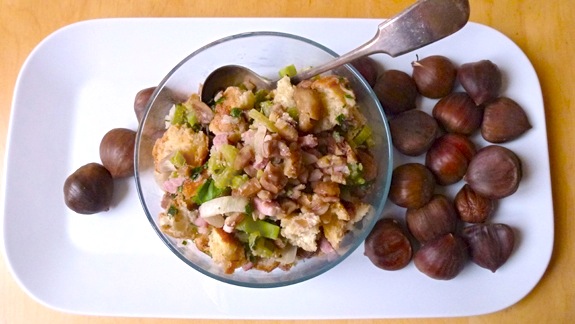 Chestnut dressing. Photo by Jacqui Guglielmino
One of my favorite recipes is chestnut stuffing for Christmas turkey, which the French serve as part of their Christmas tradition. I have included the recipe so you can add a little French touch to your Christmas meal.
French chestnut dressing for turkey~Français farce marron pour la dinde
Yield: enough to stuff a 12- to 14-pound turkey with extra to bake on the side.
Preheat oven to 400 degrees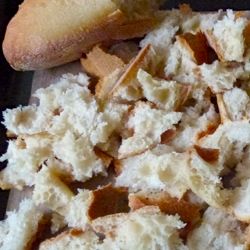 INGREDIENTS
6 cups torn small pieces of baguette
2 onions, chopped
4 stalks of celery, chopped
1 cup (250 grams) fresh chestnuts, shelled and peeled, chopped coarsely, or 2 cups vacuum-packed or jarred whole chestnuts, chopped coarsely
7 ounces (200 grams) cubed lardons (pork fat), fried until crispy
1/2 cup finely chopped fresh parsley leaves
3.5 tablespoons (50 grams) unsalted butter
2 tablespoons chopped fresh sage
2 tablespoons chopped fresh thyme leaves
1 tablespoon chopped fresh parsley leaves
PREPARATION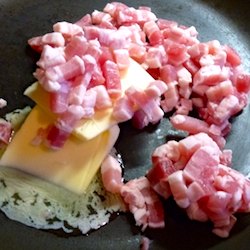 With a sharp knife cut a slit on the roundside of each chestnut or pierce with a fork.
Spread chestnuts in one layer on an oven tray and bake in a hot oven at around 400°Funtil skins break open, usually in about 10 minutes.
Remove the chestnuts a handful at a time. Shell and peel while still hot.
In a shallow baking pan arrange the bread pieces in one layer, bake in the oven, stirring occasionally, for 10-15 minutes, or until they are golden, and transfer to a large bowl.
In a large pan, fry the lardons until crispy then remove.
In the same large pan, melt butter and cook onions, celery, sage and thyme over moderately low heat, stirring, until the onions are softened.
Add chestnuts to the large pan mixture and cook for 1 minute, stirring constantly.
Add the chestnut and vegetable mixture to the bread pieces in the large bowl and toss the mixture well. Stir in the parsley.
Add salt and pepper to taste, and let the stuffing cool completely.
Stuffing may be made one day in advance and kept covered and chilled.
To prevent bacterial growth do not stuff turkey cavity in advance.
Photo credits: all photos by Jacqui Guglielmino

Jacqui Guglielmino is a lifelong Francophile with what she calls "an overwhelming" love for Paris. Please click on her name to read her profile and find more recipes at her blog, Everyday Cook in Paris.
More in Bonjour Paris, France, French recipes, Neighborhood, Paris, recipe, recipes, Shopping
---
---