Recipe: Chickpea Pancetta Soup – Potage aux Pois Chiches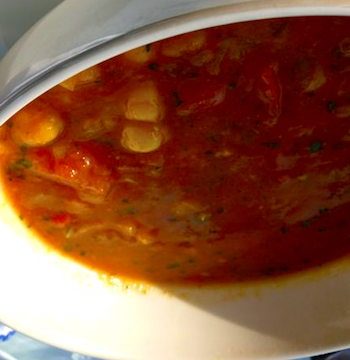 I like this heartwarming soup to be thick, but if you want it a little soupier, add a bit more broth.
INGREDIENTS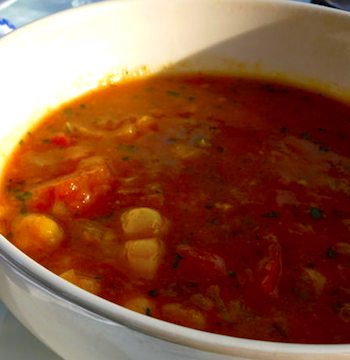 4 oz. pancetta, chopped

5 cups chicken broth

3 cups garbanzo beans, drained and rinsed

1 can tomatoes, drained

1 onion, peeled and chopped

1 garlic clove, minced

2 Tablespoons olive oil

Salt and pepper
PREPARATION
Soup
In a large stockpot over med-low heat sauté the pancetta about 5 minutes.

Stir in the chopped onion and minced garlic and cook until the onion is translucent, about 5 minutes.

While the onion and garlic are cooking, cut 4 of the canned tomatoes in half and gently squeeze out the seeds. Discard seeds and chop the tomatoes.

Drain and rinse the chickpeas and add to the chopped tomatoes and chicken broth to the pot of onions and garlic and cook for 20 minutes.
Garnish
While the soup is cooking, prepare the garnish. Remove the seeds from the rest of the canned tomatoes and chop. Stir in the olive oil and set aside until the soup is done.

After the soup is finished cooking, remove it from the heat and purée the soup with a stick blender.
TO SERVE
Ladle the soup into 4 bowls, top with some of the chopped tomatoes in olive oil and serve.
Et voilà!
Debra Fioritto contributes delicious French recipes to Wednesday issues of BonjourParis. Click on her name to read more about her Tour de Forks culinary tours or to collect the many recipes she has shared here.
NEW:
Subscribe for free
to our weekly newsletters with subscriber-only stories.
Thank you for using our link to Amazon.com…your purchases support our free site.
Click on image to view these favorites with recipes, Paris dining & markets, entertaining tips and more..
Leave a reply
Your email address will not be published. Required fields are marked *