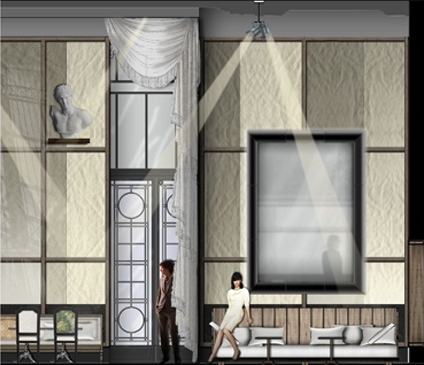 The re-vamped Mini-Palais with atelier d'artiste décor by architects Gilles & Boissier (ex-Christian Liagre) is a great location, with magnificent terrace, handy for the must-see expos at The Grand Palais. The menu's by Eric Frechon (3 Michelin stars at The Bristol). www.minipalais.com
Alert readers will know that Jeanne A just opened next door to Astier, our favourite  restaurant. A hip spot for a glass of wine, charcuterie, a good hot meal. Open from breakfast until late, check it out ASAP.
Of course, unless you were on the moon, you know about Spring, launched on 14th July by Daniel Rose, Chicago-born improv maven chef, chou-chou of the Parisiens, near Les Halles. Bouillon for lunch is a steal at 23€. No choice 6-plate improv dinner from about 64€ + wine. Some kvetch his price for dinner is too high, especially when you add  wine, but Rose knows you gotta have chutzpah in this business.
Climb the stone steps into the handsome Artcurial auction house and library located at the Rond Point des Champs Elysées.  Café Artcurial is perfect for light lunch and a stroll through the beautiful building where there are always interesting exhibitions and auctions. There's an inner courtyard and garden, one of Paris's best-kept secrets.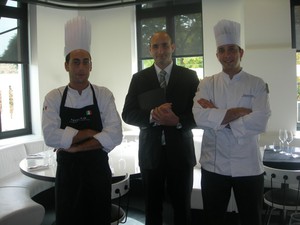 If you like cars you'll love Nolita with décor by Jean-Michel Wilmotte, read Little Italy comes to Paris.  Nolita gastro is located on the second floor of the shiny new Espace Motor-Village. Expect excellent Italian food by Milanese-born Vittorio Bletramelli (ex-Ducasse & Gualtiero Marchesi) who also directs the ground-floor La Terrazza where you can nosh pizza and drink Bellinis all day. Or just swing by and check out the latest Fiat/Alfa/Maserati, whatever, it's 100% Italiano at its best cara. 
At the Arc de Triomphe end of the Champs Elysées, work's underway at Le Drugstore where L'Atelier de Joel Robuchon Etoile will open, when? When it's ready, darling! Robo's got 26 Michelins. Let's hope his Drugstore concept brightens up a really boring location—the brasserie's eye-wateringly overpriced, the merchandise badly displayed, the staff rude.  Hard enough to buy a newspaper there, let alone a Michelin-star meal.
Staying within the Golden Triangle, guess what?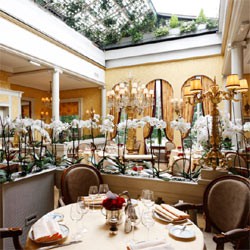 Jean-Louis Nomicos has left the kitchens of Lasserre, the plush resto on Avenue Franklin Roosevelt with the amazing opening roof. Say welcome to the adorable and brilliant Christophe Moret, who you remember from Spoon and more recently Alain Ducasse au Plaza Athénée. Taking care of pâtisserie is Claire Heitzler, who comes via Beige, Tokyo and The Ritz Paris.
So who's at the Plaza?
Christophe Saintagne, until now Executive Chef of Alain Ducasse Enterprises and who's worked with Jean-Franҫois Piege. Piege just married Elodie Taveres and that's why his gastro Thoumieux first floor is not yet open—give them a break, in the meantime what's wrong with Thoumieux? And meanwhile where's Nomicos off to? No one's confirming that he's taking over at Chez Catherine— watch this space.
If you're shopping on the boulevard (Saint Germain bien sûr darling) and your final port of call is the fragrant Diptyque Boutique for your candles in the wind at number 34, look no further than next door for a good qualité/prix lunch (oeuf mayo, confit de canard, tarte Normande) or dinner at Bistro 34. The former Moroccan restaurant was re-launched in August by two resto pros Jean and Bruno with quick service, and from the terrace you'll be able to spot Birkin, Elton, Catherine D, John G and Manolo B nipping in next door.
And if you like le froid, Kube, the state-of-the-art boutique hotel in the 10th, has changed the décor of Le Ice Bar. Everything's ice carved—the furniture, walls, glasses, doudounes provided brrrrr.
Philippe Conticini and Thierry Teyssier launched La Pâtisserie des Rêves in the 7th. Now they've moved uptown to rue de Longchamp in the 16th, transformed a maison particulier, as you do, into a somewhere over the rainbow for Conticini's spin on Paris-Brest, Eclairs, Saint Honorés, all displayed with contemporary art-gallery chic. Eat on the terrace, or take away, but guarantee you'll scoff it all before you get home.
And what about the new Palace Hotels?
Raffles Royal Monceau should be re-opening soon with décor by Starck, Laurent André, Executive Chef and Pierre Hermé in charge of the creation of new desserts.
Le Shangri La, avenue Iéna, once home to Prince Roland Bonaparte, carefully restored under  the direction of architect Richard Martinet, with décor by Pierre Yves Rochon, is scheduled for a December 2010 opening. The management have tempted the talented and truly original chef Philippe Labbé (ex-Chèvre d'Or, Eze) to take over the kitchens.
Le Mandarin Oriental, rue Saint Honoré, has design by architect Jean Michel Wilmotte and decorator Sybille de Margerie. It should open by year's end and will have Thierry Marx as Culinary Director, playing the pianos in all the restaurants. The avant-garde Marx was ten years at Chateaux Cordeillan Bages, in the Gironde region, where he won two Michelin stars.
Le Peninsula, avenue Kléber, ex-Le Hotel Majestic Kléber, is not scheduled to open until 2012, plans 200 rooms and Alexander Allard (of the Royal Monceau) is working with Quatari Diar.
And finally don't miss pop-art superstar Takashi Murakami's controversial exhibition at Château de Versailles. It's an interesting juxtaposition of two art world celebs—Murakami and Versailles. Jean-Jacques Aillagon, President of the National Site of Versailles, says that The Hall of Mirrors, where "Flower Matango" Murakami's outsize psychedelic sculpture takes pride of place, is "a kind of manga, a comic strip for the glory of the King's reign". Go figure. Go for it. Through 12 December. 
If you're coming to France (or for that matter anywhere) you can reserve your hotel here. To rent a car, Bonjour Paris recommends Auto Europe.