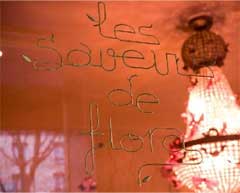 Well summer's over and we're getting ready for Thanksgiving/Christmas/USA Elections!. To take your mind off it all BUZZ once again brings you the best of Paris in a basket. Some brand new, some favourites that you'll want to return to, all you need to know. And talking elections, the Hotel Concorde-Lafayette bar, Paris 17th launch "Le hamburger partisan". Two versions, The O'Burger with a taste of Hawaii & The Elephant Burger, after the you know what party (McCain) which my man behind the bar tells me is tasteless! 22€ a burger until 4 November. Bah humbug!
Our President, Mme Fawcett, seemed to enjoy her soiree chic at the launch of Le Guide Hachette des Vins 2009. (see photo, hairpiece by Mister Gadget www.tontongadget.com ). This year 36,000 wines were blind-tasted for inclusion in this worthy tome. We understand Mme Fawcett did not taste them all, whatever else you read in Le Parisien. Philippe Faure Brac, Meilleur Sommelier du Monde is delighted his wine is included. Taste the excellent biodynamic Domaine DuSeigneur at Bistro du Somelier, Faure-Brac's chic bistro. 97 Boulevard Haussmann, 8th.
T: 01 42 65 24 85. "Grappe d'Or is awarded to the excellent Pic Saint-Loup grande cuvee 2005 from Domaine de l'Hortus, Languedoc
www.hachettevins.com (26€)
BITES:
Eric Briffard is the new toque on the block at The George V's Le Cinq since the departure of Philippe Legendre. First tastings are excellent, will he win back the 3rd Michelin *? Lunch 75€ Dinner 136/360€ T: 01 49 52 71 54
I'm not paying those crazy George V prices! OK dear, calm down. Just opposite, the lovely and talented Flora's Menu Express lunch is 32€. Main, dessert and glass of wine, and don't hold back on the home made breads. If you hang around there's often visiting chefs like the delicious, doux, Meyriam Cherkaoui (La Maison du Gourmet, Casablanca) who's cooking in duet with Flora later this month.
www.lessaveursdeflora.com 36 avenue George V T: 01 40 70 10 49 Shut Sat lunch-Sun
Remember Lulu at L'Assiette? Love it or loathe it, Lulu's hung up her coppers and handed over to young talent David Rathberger (ex-Ducasse, Benoit). So who's minding the store chez Benoit? Alain Souliac, another gorgeous Ducasse protégée.
L'Assiette – 181 rue du Chateau, 14th T:01 43 22 64 86. Benoit – 20 rue Saint Martin, 4th
T : 01 42 72 25 76
Strange scene on the Champs Elysees, have you spotted La Paiva ? Magnificent town house, desperately seeking an identity. First it was a men only, members only, club, magnificent decor by Uncle Jacques Garcia now it's a night-club/ restaurant run by an ex-Fouquet's type. Open from 8am-2hrs in the morning. 25, avenue du Champs Elysees, 8th. T: 01 53 53 25 25
If you adored Claude Colliot's Oyster Ice Cream at Le Bamboche, but hesitated when he went to L'Orenoc in the Hotel Meridien, can catch up on his news at Velvet (from 1st October) 25 rue de Pontieu, 8th.
2 years of transformation at Baboto, 12 rue de la Ferronnerie, 1st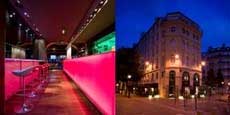 T: 01 40 41 11 41 is a hit. It's want you really really want. Open all day, terrace in the middle of the beating heart of Les Halles and the brilliant shopping. Menu is Sud-Montpelier/Mediterranee by two young chefs and Angela Agricole a talented patissier. Fine wines, reasonable prices and stunning techno decor make this a must for your address book.www.baboto.com Closed Sundays.
Actress/Chanteuse Mimy Mathy and chef husband Benoist Gerand sold La Grange Bateliere to Celine and Brice Canal. Madame en salle, Brice, a real fish maven (ex-La Cagouille, Port Alma) in the tiny kitchen. It's bursting midi et soir. Decor's a bit sombre, although they kept the antique pigeonholes where regulars once placed their serviettes, and the bar. Dishes of the day on the blackboard, and there's plans for Soirees Bouillabaisse, rare in Paris, so check it out. 16 rue de la Grange Bateliere T: 01 47 70 85 15 Open Mon-Fri lunch. Dinner Tues-Wed-Thurs. Average spend 25€ including a glass of wine.
Benoit Reix's oddly named Jeu de Quilles (opened July) does great beef, he's right next door Hugo Desnoyer the Balenciaga of Paris butchers. "I've created an excellent epicerie-fromagerie where you eat, drink and make merry at wooden tables", he says. A blackboard announces the specials. Come late morning, faire a few courses and stay for lunch. After 4pm it's charcuterie, cheese and wine. Convivial.
45 rue Boulard, 14th. T: 01 53 90 76 22
When your name is Buitoni it figures you're not short of a few lire to open a chain of pasta trats in Paris. Since June, no playing with the Ferrari for Lorenzo (Buitoni) but four canteens newly opened, someone tell the Pope when he comes to Paris. Tell him, Ben, try Family Affair, 24 rue Montorgueil, 1st T: 01 40 26 40 73. But never on Sunday (obviously Ben) or Monday. Anitpasti, tapas, charcuterie, formaggio, a tour du monde in 30 pasta based recipes. Mama-mia it's good. Average spend about 20€ + the chianti cara.
If you're looking for a treat outside the city of lights. Le Third Festival des Jeunes Chefs should light your fire. Grand Hotel de Saint Jean de Luz 15-17th October. www.luzgrandhotel.fr
Also watch this space for news of the re-launched Beauvilliers, new owner Antoine Heerah is calling it Chamarre, Montmartre, 52 rue Lamarck, 18th. It'll be open 7/7 from mid-October. Le Cap Vernet, Avenue Marceau 8th and many more.
Bon Appetit. Bon Rentree.