Quiche aux Poivrons Rouge, Poireaux et Chèvre — Red Pepper Quiche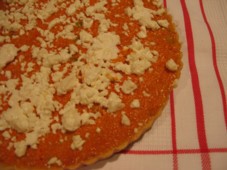 It's time to rediscover quiche, one of the most versatile dishes I can think of. Of course it's hard to beat the classic Quiche Lorraine made simply with bacon, eggs and cream—no cheese. Quiche is easy to make, and you can let your creativity blossom using up your leftover meats and/or vegetables. The basic part of the recipe is called the migaine, the eggs and milk or cream. After you mix that together you can add just about anything that appeals to you: tomatoes, onions, crab, spinach, ham and the list goes on. This Saturday at my local
farmers market
, multi-colored peppers were spilling out of the baskets and I couldn't resist buying quite a few for this recipe and for a few others this week. Along with some local goat cheese we feasted on Roasted Red Pepper Quiche along with a bottle of rosé from
Mas de la Dame in Provence
. Et voilà: Quiche aux Poivrons Rouge, Poireaux et Chèvre — Red Pepper Quiche Roasted red peppers are pureed along with eggs and cream. The puree is poured over braised leeks and baked. When the quiche is almost set, sprinkle on the goat cheese and allow it to gently melt. Serves 4 to 12 depending on how you slice it!   INGREDIENTS: 4 medium leeks with 2″ of light green 2 Tablespoons unsalted butter 2 Tablespoons water 2 medium red peppers, roasted and peeled 2 large eggs 2 extra large egg yolks 1 cup cream For the topping: 4 oz. mild goat cheese 1 Tablespoon fresh thyme leaves 1 partially baked 9-inch pie shell   PREPARATION: Roast peppers. Clean and slice leeks. Preheat oven to 350F. 1. Melt the butter over medium heat and add the leeks and water. Season with salt and pepper. 2. Reduce heat, cover and braise until the water has evaporated, about 8-10 minutes. 3. While the leeks are braising, put the peppers, eggs, and egg yolks in a blender and blend. 4. Add the cream and blend until smooth. Season with salt and pepper. 5. Place partially baked pie shell on a rimmed baking dish. Fill with the leeks. Pour the red pepper purée over the leeks and place in the oven. 6. Bake 30 minutes. 7. When the filling is almost set, sprinkle the goat cheese and thyme on top and bake for another 5 minutes.   TO SERVE: Remove from oven and allow to rest about 3-5 minutes before slicing. Serve hot. For an authentic taste of France delivered directly to your door, try
zChocolat
's exclusive selection of handmade French chocolates.
SUBSCRIBE
ALREADY SUBSCRIBED?
BECOME A BONJOUR PARIS MEMBER

Gain full access to our collection of over 5,000 articles and bring the City of Light into your life. Just 60 USD per year.

Find out why you should become a member here.

Sign in

Fill in your credentials below.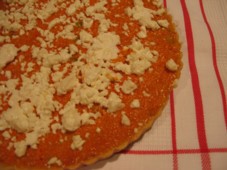 It's time to rediscover quiche, one of the most versatile dishes I can think of. Of course it's hard to beat the classic Quiche Lorraine made simply with bacon, eggs and cream—no cheese. Quiche is easy to make, and you can let your creativity blossom using up your leftover meats and/or vegetables. The basic part of the recipe is called the migaine, the eggs and milk or cream. After you mix that together you can add just about anything that appeals to you: tomatoes, onions, crab, spinach, ham and the list goes on. This Saturday at my local farmers market, multi-colored peppers were spilling out of the baskets and I couldn't resist buying quite a few for this recipe and for a few others this week. Along with some local goat cheese we feasted on Roasted Red Pepper Quiche along with a bottle of rosé from Mas de la Dame in Provence. Et voilà:
Quiche aux Poivrons Rouge, Poireaux et Chèvre — Red Pepper Quiche
Roasted red peppers are pureed along with eggs and cream. The puree is poured over braised leeks and baked. When the quiche is almost set, sprinkle on the goat cheese and allow it to gently melt.
Serves 4 to 12 depending on how you slice it!
INGREDIENTS:
4 medium leeks with 2″ of light green
2 Tablespoons unsalted butter
2 Tablespoons water
2 medium red peppers, roasted and peeled
2 large eggs
2 extra large egg yolks
1 cup cream
For the topping:
4 oz. mild goat cheese
1 Tablespoon fresh thyme leaves
1 partially baked 9-inch pie shell
PREPARATION:
Roast peppers. Clean and slice leeks. Preheat oven to 350F.
1. Melt the butter over medium heat and add the leeks and water. Season with salt and pepper.
2. Reduce heat, cover and braise until the water has evaporated, about 8-10 minutes.
3. While the leeks are braising, put the peppers, eggs, and egg yolks in a blender and blend.
4. Add the cream and blend until smooth. Season with salt and pepper.
5. Place partially baked pie shell on a rimmed baking dish. Fill with the leeks. Pour the red pepper purée over the leeks and place in the oven.
6. Bake 30 minutes.
7. When the filling is almost set, sprinkle the goat cheese and thyme on top and bake for another 5 minutes.
TO SERVE:
Remove from oven and allow to rest about 3-5 minutes before slicing. Serve hot.
For an authentic taste of France delivered directly to your door, try zChocolat's exclusive selection of handmade French chocolates.
More in French recipes
---
---