News flash: Nov. 3, 2011:
The rights to turn French Lessons into a movie were just purchased by Unique Features, a company run by Bob Shaye and Michael Lynne (founders of New Line Cinema). Ellen has stated she'd like to see George Clooney as Jeremy, Emma Stone as Josie and Natalie Portman as Riley.
Introduction
Ellen Sussman's second novel, French Lessons, was released in summer 2011 by publisher Ballantine. Her first novel, On a Night Like This, was a San Francisco Chronicle Best-Seller translated into six languages. She is also the editor of two anthologies, Dirty Words: A Literary Encyclopedia Of Sex and Bad Girls: 26 Writers Misbehave, which was a New York Times Editors Choice and a San Francisco Chronicle Best-Seller. She has published numerous essays in anthologies, including The Other Woman, and a dozen of her short stories have appeared in literary and commercial magazines.
Ellen was named a San Francisco Library Laureate in 2004 and 2009. She has been awarded fellowships from Atlantic Center for the Arts, Ledig House, Ucross, Ragdale Foundation, Writers at Work, Wesleyan Writers Conference and Virginia Center for the Creative Arts. She has taught at Pepperdine, UCLA and Rutgers University.
She now teaches through Stanford Continuing Studies and in private classes out of her home. She has two daughters and lives with her husband in the San Francisco Bay Area.
Q&A with Author Ellen Sussman:
Q #1:
Several publishers bid at auction for the rights to publish French Lessons. People Magazine [US] gave it four stars and Entertainment Weekly added it to "The Must List." Soon it will be published in the UK and Germany. Just a week after it was released, BonjourParis readers and independent bloggers were already posting compliments. Congratulations, that's an impressive start; and yet you've said in other interviews it was a tough story to pitch to publishers. Tell us more about that process and why was it so difficult to pitch and sell a book that's pleasing so many so quickly?
A #1: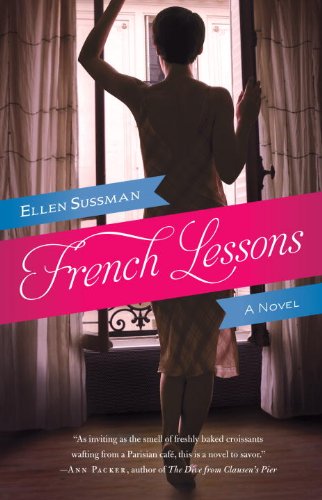 It's an unconventional novel in many ways. Three Americans spend the day wandering the streets of Paris with three French tutors. The book opens and closes with the stories of the French tutors. The heart of the novel tells the stories of the Americans. Everyone is somehow transformed on this hot summer day, but it's quiet conversation, surprise revelations and the power of love that creates those changes. When I sent the novel to my agent, she loved it, but she knew that it would be hard to describe to editors. Just read it, she told them. And when they did, they all wanted to buy it!
I've had so much fun with this book. Yes, the response from readers and reviewers has been fantastic. It has taught me something important as a writer. I have to write from the heart. I have to believe in myself. There were so many times when I might have given up while writing this novel because it didn't follow the "rules of fiction." Now I know that there are no rules!
Q #2:
Paris has forever attracted writers and artists. What about the city initially attracted you?
A #2:
I moved there in my first marriage for my husband's job. But the truth is, we were both ready for a change in our lives. We talked about moving abroad and so he created the job in Paris. I did not know how much living abroad changes a person. I'm so glad I had that experience—and, in fact, I'd like to do it again sometime soon! But it's especially true for writers. When we're someplace new, our eyes open wider. Our senses are sharper. New experiences keep us on edge. All of that makes for a more observant writer. Yes, Paris is a dream for all artists and writers. But, in truth, I think that any new city and new culture will affect writers in positive ways. We need to leave home to learn more about ourselves and to learn more about the world. Then our writing becomes richer and deeper.
I remember when I lived in Paris, with two babies (my younger daughter was born there), I would walk the streets with pure joy. Paris offers a visual feast in every moment. That kind of alertness, that kind of sensory delight, was very good for me. Years later, when I started to write French Lessons, the world of Paris poured onto the page. It was all recorded vividly in my memory.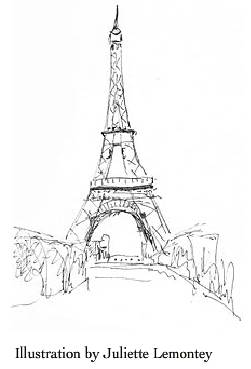 Q #3:
Your website for the book includes a map that shows the book's settings. How did you research the various Paris settings?
A #3:
In the first draft, I used my memory of Paris to create the walking tours. I wanted my characters to visit some of my favorite haunts of Paris. I wanted to make things happen in those scenes. For instance, if they go to the Eiffel Tower, the tower has to matter to the story. It's not just part of the scenery.
After I finished a draft of the novel, my husband and I planned a trip to Paris so that I could make sure I got the walking tours right. We took one tour each day—we walked the exact route that my characters walk. I went into each museum and each site to make sure that I had described them correctly. Lucky thing—I had the Natural History Museum wrong! I hadn't been there since they renovated the museum—my scene was all wrong. I rewrote the scene using the gorgeous new museum.
Q #4:
You lived in Paris from 1988-1993. Many of our readers dream of doing the same; have you any "reality check" advice to share?
A #4:
My reality was real life at its most complicated! I moved with a baby and the second one growing in my belly. So I never played tourist in Paris—I was Mom and writer and teacher and always busy. I'm glad for that. I was immersed in real life, especially through my daughters. I spent days in the parks and playgrounds. My girls went to French school. I had to learn French in a hurry! So many people told me I was crazy to live abroad at such a challenging time of my life. But I think it was a great time to be in Paris. Paris is very kind to moms. And very good to children.
So I don't really have "reality check" advice. Reality in Paris might be the challenges of finding a doctor or someone to fix your sink – it might be that it's hard to manage on the metro with a baby and a toddler – but all of that is real life. And real life in Paris is still better than real life anywhere else!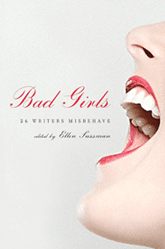 Q #5:
"Bad girls" is a recurring theme in books you've edited. How do you define "bad girls" and how do you think French "bad girls" differ from American "bad girls?"
A #5:
I think bad girls are bad girls are bad girls.
Q #6:
What are your favorite books about France written by other authors?
A #6:
I love Diane Johnson's books and Cara Black's mysteries—both writers use Paris in a very real way. They both know the city well and make it matter in their novels.
Q #7:
What are the first three places you visit when you return to Paris and why?
A #7: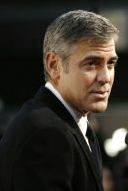 I love the Luxembourg Gardens. I always take a long walk along the Seine, on both the Left Bank and the Right Bank. And one of my favorite spots is Parc Monceau. My daughters went to school there and the park brings back wonderful memories.
Q #8:
Surely a movie deal is ahead for French Lessons. Who would you cast in lead character roles?
A #8:
I have so much fun casting my novel! We actually almost had a film deal with Nathalie Portman but it just fell through. I thought she would make a wonderful Josie, but she actually wanted to play Riley! I'd be happy if she played any role she wanted! For Jeremy, I'd cast George Clooney. Of course. Though Daniel Craig would do.

Q #9:
Many BonjourParis readers are unpublished writers. What are your thoughts about current publishing options and do you have advice to share with those who'd like to be published?
A #9:
I think the publishing world is changing so quickly that I'll probably disagree with myself in about a year. But right now I think traditional publishing is still the best option. Self-publishing online is great, but it's very very difficult to market your own novel. You hear success stories but they're actually pretty rare. All of that will change soon enough.
As far as advice for writers, I'd like to share two things. One: it's really important to find a writing schedule that works for you and to keep to it. Daily writing is best—if that doesn't work, try to find at least a few days a week for writing time. And turn off the Internet while you're writing. (I actually use a software program called "Freedom"—it blocks the Internet!) Discipline is so important for a writer. Yes, creativity and inspiration count – but you've got to sit your butt in a chair on a regular basis if you want to get that novel written.
The second bit of advice that I'd like to share is to find a writing community. Writing is such a solitary and crazy-making act—we need each other! Take a class or find a group of other dedicated writers and start your own writers group. That community will help support you through the tough times, and will celebrate with you when you have success.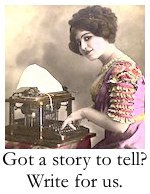 ©Dali Wiederhoft 2011

Dali Wiederhoft is the executive editor of BonjourParis. Please click on her name to read more of her stories published in BonjourParis.

Subscribe for
FREE

weekly newsletters with subscriber-only content.
BonjourParis has been a leading France travel and French lifestyle site since 1995.
Readers' Favorites: Top 100 Books, imports & more at our Amazon store


Update your library…click on an image for details.
Thank you for using our link to Amazon.com…we appreciate your support of our site.