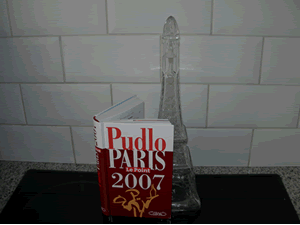 Smaller and more compact for 2007 Pudlo Paris is at kiosques and bookstalls. The immaculate Gilles Pudlowski probably visited the 1,600 restaurants from haut gastronomie, via the terroir, the ethnic, the bistrots and the chic tables à la mode. "He probably has starters, mains, cheese and dessert in four different places, that's the only way he can get through everything", assume some of his readers.
Our tireless Don Quixote of the tables no doubt has the cells of the 290 rendez-vous agreeable, bars classique, bars à vin ou à biéres, cafés and salons de thé. "Not all", he admits. "I have a fantastic team working with me, and I also take note of the passionate gourmets who write and tell me when an address is going up or down. I value their opinions".
And it's true, Pudlo always replies, he may be in darkest Poland, searching for the perfect dumpling for his newspaper Le Point. "But he always gets back to you, he's surgically attached to his computer", thinks Alain Neyman of (www.lesrestos.com).
"This year we have 2340 addresses which include 223 new, 131 eliminated and 29 promoted", said Pudlo at the guide's delicious launch bash at The Park Hyatt, Vendome.
Pudlo uses plates to indicate the standard of the restaurant. So, three plates is top, a cracked plate means what you would assume. A stew-pot means good quality/ price, the pig with a curly tail means less than 30€. Knives and forks also feature, in red it's the tops, although Helene Darroze, Chef of the Year, wins three plates she only gets three black knives and forks!
Bernard Pacaud's L'Ambroisie shares top billing with Darroze, but he not only gets three plates, he also wins four red knives and forks. Joel Robuchon's L'Atelier goes up to two plates and 20 chefs win one plate. Such as? Senderens, Thierry Burlot, Mori Venice Bar and Le Relais du Park with chef Romain Cobière elected Pudlo's Young Chef of the Year. "Not easy to work with the dishes of Robuchon and Ducasse and create your own", reflects Pudlo. But what Romain does matches his two maestros, who are rightly proud of their boy.
So who gets demoted then?
Drouant, Le Violon d'Ingres and La Grande Cascade.
Strange! Maybe a mis-print Pudlo? La Maree loses two plates, probably because Georges Trompier has sold it to the Freres Blance, who promise not to change it, but that's not good enough for our Pudlo.
You many not agree with all Pudlo's decisions, don't forget, "one mans' meat"….
But you need to buy this little tome for some great addresses, not only restaurants and bistrots, but also for the addresses of artisan butchers, bakers and candlestick-makers. And also to do some homework, try and find next years' winners. Let Pudlo know, tell him like it is. You can find him on [email protected]
Pudlo Paris 2007,
Editions Michel Lafon,
18€.