It's been three days in a row and this makes it four, and I'm wondering what I'm doing here. This is not my kind of place, not at all. The tourists make it too busy and loud for any locals to establish themselves in comfort. You wonder what they're looking for, all the Americans and Germans and Italians. Do they think Hemingway is going to show up and get drunk and tell stories or start a fight—or was his café the one down the street? Have they ever read Hemingway? Anyway, he's not coming today and didn't the last three days either. Maybe tomorrow? I don't think so, but you could try down the street.
I wandered in four days ago because it was cold out, and I was cold inside, and hot chocolate sounded good, and here it was, with a table far enough from the door to beat the draft and far enough from the service bar not to get stepped on. She was there then, the pretty woman, and she's back today, four days running now, and I keep wondering what she's doing here. Is she a tourist and maybe hoping for a glimpse of Jean-Paul and Simone, unless I got it wrong and their café is across the street? But you'd think that a tourist would take the tour—that's what tourists do—of all the ancient Saint Germain cafés and score a trifecta with Camus, then go for broke a kilometre to the south and put her money down on Picasso and Man Ray.
She's sitting not far from where I perched the first day I came in from the cold, also away from the draft of the door and the trample of the bar, by herself, coffee in front of her. I think her clothing is expensive, but I'm not the best source to consult about that. It doesn't matter to me any more than her jewelry and her handbag. It does matter that she is very pretty and that she did something that might actually pass for a breach of etiquette in a parisienne. When I came in the first time, she looked right into my face, into my eyes. The French, especially Frenchwomen, don't do this, not with strangers. In a café everybody looks: why else go to a café since there's nothing else to do if you're there alone and without a book or a paper to read? But the look is, by rule and regulation, passing, never quite coming into the eyes. If there's an invitation there, it is subtle—to me, obscure, following a rule that must be absorbed with French mother's milk, like knowing the precise moment to start saying tu instead of vous. So maybe she's not French and doesn't know better to than to stare at a strange man in an atmospheric café.
Today she looks at me same way again, then adds a smile. I smile at her and wonder if I have really come four days in a row to a café that's not my kind of place just to look at her looking at me. I'm a sucker for a woman's smile, but hers tells me nothing: this could be the invitation after four patient days, or it could be amusement, I'm not sure. And anyway as if planned, we look away from one another and I find a place to sit a few tables down from her. If she was inviting me, would she have turned away? Well, I did too, and I guess I should not have, but I did. If not, why is she amused?
Perhaps we knew each other once, and I have forgotten, and she thinks it's funny, after all these years, that her former lover (why not that?) who was so ardent, who could not stop looking at her, can't remember her, just looks and smiles at a stranger like a frontier Yank, not a well-bred Frenchman. And still more amused that despite all my time with her and our circle of friends, hers and mine, in our café nowhere near here, I've forgotten everything, her face, our ardor. À part le ciel je n'ai rien reconnu, that poignant song of Lemarque's, so sad: Except for the sky, I didn't recognize a thing… not even you? Could that be?
Or maybe she thinks it's funny that someone else has come four days in a row to the same stop on the tourist trolley, expecting something to happen, someone famous—alive or dead would make no difference, she concludes—to show up and make my day, change everything, show me at last the authentic Paris. Or maybe she too has forgotten me and is wondering where has she has seen that face, older now, but still familiar, the same, and puzzled by the coincidence that I have forgotten her. It wouldn't say much for either of us or our past, but better to smile and be amused than to cry over her coffee cup. Better that than the faux pas of saying, Pardon monsieur, est-ce que nous nous sommes connus autrefois? And even if she thought that, excuse-me-but-haven't-we-met-before is just too tired a line to pass her lips—or mine. Or maybe she looks at all the boys the same way.
From where I'm sitting today I can see her pretty clearly, for the first time in four days. Before, the line of sight was crooked, and the few times someone bent or ducked out of the way, I got a moment's look, and saw nothing, not one way toward me, not the other toward the occasional single man walking in the door. Today, the hell with it, I watch her, sometimes from the corner of one eye or the other, sometimes full frontal, but trying not to stare or show that I am staring, watching her like a hawk. She does look up when someone new comes in, but only for a moment, then goes back to her coffee, a second one now.
Maybe it is me, something about me, not a past, not an amusement, but just me here and now and in the flesh. What's not to like about this best of all possible maybes? I begin to compose my words and myself: your nose intrigues me… when you look at me like that… do you think it was accidental we both came here four days in a row… I wanted to speak before, but… your place or mine?… I'm getting lost in tangled-up possibilities and have lost track of her. I stare again. She is looking toward the door with the look I thought belonged to me, but holding it, holding the smile.
A man comes toward her, bends down as she half rises, and they kiss on both cheeks. But she holds his head with her hand and whispers to him. He smiles and turns toward me. He is also expensively dressed as far as I can tell and he's wearing a tie: must be a politician—they go about their business not far from here, some of them anyway—or a TV newsman. Nothing remarkable, except he looks like me—not exactly, but like a barely younger brother, the millimetre of difference in the cheekbone or the lip or the hairline being barely there, but enough to avoid the utter confusion that identical twins love to play with long after they have outgrown other toys. Two sisters years ago played that trick on me and thought it was hysterical that I didn't know who was who—while I thought it was smart to keep my mouth shut and go to bed with both of them. But she wasn't confused, just startled or surprised or probably happy each time I walked in until the recognition tapped her on the shoulder and she looked away, having to wait a little longer for the real man in her life, not his stunt double.
It's time—it's too late. I get up to go. I can walk by their table on the way out. Maybe I'll wink at the pretty woman, wave, and say something, intimate, cheery. Or pinch him and ask, "Come here often, sailor?" Or I can walk out the side door.
Scroll through the ads and leave a comment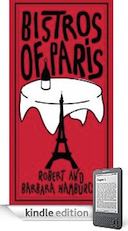 Popular guide to Paris bistros and wine bars updated and released on Kindle in November 2010. Classified as either traditional or modern, entries are divided by arrondissement and rated for their quality and specialities. Glossary of French-to-English menu translations, nearby landmarks, wine suggestions and more. Click here and you'll have your Kindle version in about a minute: Bistros of Paris
Leave a reply
Your email address will not be published. Required fields are marked *