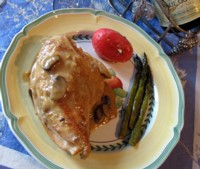 In this chicken recipe from France, chicken breasts are quickly sauteed and then simmered in champagne. You can use cream in this recipe but it will take longer to reduce. When I made it with cream it took about 35 minutes to become thick. Either way, c'est délicieux!
I used a very inexpensive sparkling wine to cook the chicken and then drank an expensive one with it!
INGREDIENTS:
4 bone-in chicken breasts
4 shallots, chopped
1/2 – 3/4 cup butter
1/2 bottle sparkling wine (cheap champagne, or other sparkling wine)
2 cups of chicken broth
2 – 2-1/2 cups crème fraîche (or heavy cream, but see note above)
salt and pepper
Optional: 8 oz. mushrooms, sauteed in butter
PREPARATION:
1. Rinse and dry the chicken breasts and season with salt and pepper.
2. Melt about 1/2 cup butter in a skillet large enough to hold the chicken.
3. When the butter is melted, add the chicken, skin side down. Brown on both sides, about 5 minutes, and remove to a platter. Keep warm.
4. Add a bit more butter, melt it, then add the chopped shallots and cook for about 5 minutes.
5. Return the chicken to pan breast side down. Pour in the sparkling wine and cook for 10 minutes.
6. Add the chicken broth and continue to cook for another 15 minutes.
7. Remove the chicken, cover and keep warm. Add the crème fraîche to the pan, bring to a boil and cook to reduce the sauce.
8. In the meantime, sauté the mushrooms.
9. When the sauce has reduced, stir in the mushrooms.
To serve:
Place the chicken on serving plates and enjoy.
If you're in Paris:
City Segway Tours are great for seeing Paris in a different light. You'll see more, have more fun, and not feel tired at the end of it. These are highly recommended and truly a great thing to do during your stay.
Fat Tire Bike Tours are another great way to see the city. You'll get the company of an expert guide, the use of a super-comfortable bike, great tips and advice about what to do while in town and an exciting, informative and educational experience.