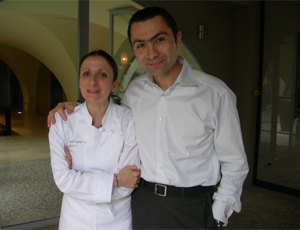 It's a funny old world. "Man planning to become woman, fired", was the theme of a recent Larry King Live telecast. Steven Stanton, husband and father was fired after 14 years as Largo, Fla, city manager, when he announced he was about to become "Susan".
Meanwhile in Valence, France, a woman who could have been a man won three Michelin stars. Anne-Sophie Pic, daughter and grand-daughter of three- star chefs had to fight to be accepted but, unlike Steven/Susan, Anne-Sophie has always been happy with her gender.
"I had no formal training, apart from the fact that my bedroom was above the kitchen at Pic", she says. "It took me ten years to reach technical perfection, putting up with the sarcasm, sexism, and testosterone flying around in male dominated kitchens ", explains Anne-Sophie, only the fourth woman to win the top award. And she's only 37!
After the sudden death of her father, Jacques, in 1992, Anne-Sophie knew her place was in the kitchen, "I wanted to continue the family dynasty", she says. To-day Anne-Sophie and her husband David Sinapian (he deals with all the administration) have created a chic-contemporary auberge and a hip bistro annexe. The couple met at Business School, Anne-Sophie is a graduate of the prestigious Insitut Supérieur de Gestion, Paris. 
A delicate, fragrant warm woman, looking more ballerina than 3-star chef, she says: "Women have a different sensibility from men in the kitchen, but we all have one thing in common, the same goal of excellence". Before Anne-Sophie, in France, three stars were awarded to Eugéne Brazier, Marie Bourgeois and Marguerite Bise, the "Lyon Meres" of the 1930's-50's. "Their stars were probably awarded because so many chefs of that generation were fighting in the war", thinks Anne-Sophie. 
In France Anne-Sophie is the only 3-star. Eight women in the UK have a single star. There are five women chefs with three stars in Italy and Spain. "It's a triumph for women in the male-dominated world of French cuisine", she observes. "The old school French chefs thought women were as out of place in haute cuisine as at the controls of an aircraft, a TGV, or on battle front-lines". And, across the Atlantic Steven still wants to become Susan.
Le Monde said Anne-Sophie's 3-stars were highly symbolic because she'd broken with  traditional methods that had made PIC a legend for travellers on the "holiday road" the Route Nationale 7. Out went the signature gratin d'ecrivisses in came Crème Brulee de foie gras et pomme and Velay sweetbreads roasted in frothy butter, caramelised Cevennes onions, black truffles. Out went the stuffy décor, in came a young (woman) designer filling the airy spaces with bright colours, designer furniture, must-have objects and an inspired installation of Michelin Guides displayed in a long glass and wood table. 
A specialist in fish, Anne-Sophie steams wild sea bass over wakame kelp, pairs with Gillardeau oyster bonbons, cucumber chutney and vodka lemon butter sauce. "I prefer to mix textures and flavours rather than alter ingredients". Or try "Le Loup au Caviar" created by Jacques Pic in 1971. With 20grammes of Oscietre Golden caviar d'Iran (260€). 
In the cellars 25,000 bottles, 1,700 references. Cotes de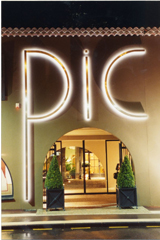 Rhones, Burgundy and Bordeaux taking places of honour. Sommelier Denis Bertrand joined PIC in 1973, says he has a notable Latour Chateau Corton Grancey 1929 among his prizes (don't ask!). In her cooking Anne-Sophie makes considerable use of flavour, doesn't want the wine to overwhelm what is on the plate. Saint Peray 2001 Pic Chapoutier and Crozes Hermitage 2005 from Y. Chave go down well with the menus. 
Desserts are by Philippe Rigollot, delicate to match Anne-Sophie's tender cuisine. The talented Rigollot became Champion de Patisserie in 2005, so expect fireworks as in: La Pomme Granny smith et le Champagne. L'Omelette Norvegienne Version 2007 and a delicate nouvelle version of Les Profiteroles. "the Maison Pic of to-day looks to the future, but if my father returned to-day he would certainly feel at home", insists Anne-Sophie.
Anne-Sophie and David attach great importance to wine, their friends are the likes of Michel Chapoutier, Nicolas Jaboulet, Christine Vernay and Jean-Louis Chave. "For wine and cooking, the approach is similar, we are guidied by gentle evolution rather than sudden fads of fashion", says David. In the 1930's grandfather Andre Pic had planted vines, which were left untended for years. A few years ago, at Payrolles, right opposite the Auberge du Pin, where the Pic legend began, 1400 Marsanne vines were planted by Michel Chapoutier, with a little help from Anne-Sophie and David, and now it's strictly biodynamic.  "We plan huge celebrations for this year's harvest, although the Pic Chapouter 2001 is drinking nicely now", says David. And buy the wine at Caves de Pic wine boutique located in the centre of Valence, a few meters from Place Jacques Pic.  
So how does Anne-Sophie cope with the stress of being a 3-star chef? "I'd much rather you called me a cook, that's what I am", she says modestly. "I cook special dishes for my two-year old son Nathan, I'm trying to educate his palate, in case he wants to follow the family tradition later on", she smiles. "Two hours with Nathan and any problems just disappear", she grins. Could young Nathan be the reason Anne-Sophie and David are building a state-of-the-art cookery school right near the restaurant!
And Steven/Susan Stanton announces he will not sue the city of Largo for his lost job, but will "go somewhere I feel comfortable". Valence? Watch this space. Larry?
Maison Pic, Relais & Chateaux,
285 avenue Victor-Hugo, Valence
T: 04 75 44 15 32
Shut Sunday night & Mon, Wed lunch.
Weekday Lunch 79€ + wine
Menu Actualities – 185€ + wine or A La Carte.
12 rooms and 3 suites from: 200/285€
RN 7 Bistro – T: 04 75 44 15 32 –
Menu 30€ – A La Carte 33/51 + wine
Read the book:
Like Father, Like Daughter by Anne-Sophie Pic,
Editions Glenat