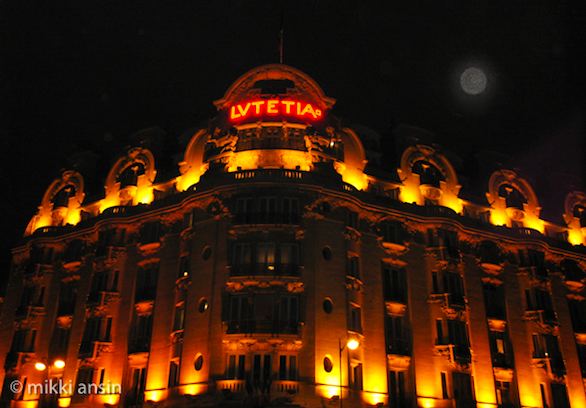 Full moon over Hôtel Lutetia by ©Mikki Ansin 2011
Mikki says:
Hôtel Lutetia has a rich and colorful history.
Soon after it opened in 1910, the grand Art Nouveau hotel was home to artists and celebrities Matisse, Gide, Saint-Exupéry, and Picasso. General de Gaulle stayed there on his honeymoon; and James Joyce wrote part of Ulysses while living there.
In 1940, when the Germans occupied Paris during WWII, Hôtel Lutetia was seized by Nazis who used it as their headquarters.
Ironically, when WWII ended in 1944, Hôtel Lutetia became a repatriation center for rescued Jews and prisoners of war. Relatives hoping for reunification went to the Lutetia every day to read the lists of those saved, which is noted on a commemorative plaque outside the building.
On a lighter note, today Hôtel Lutetia is a great place to stay when traveling with children: the breakfast buffet is immense and divine. There are huge serving bowls of fruit with freshly cut mint on top, and all sorts of cereals, pastries and cheeses abound.
Mikki Ansin is a photojournalist and Francophile who loves the colors of France. Watch for her photos every other Wednesday. Click on her name to read her full profile and to see more of her photography published by BonjourParis.