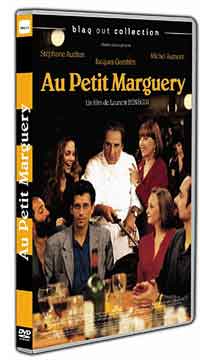 French movies, don't you just love 'em. Boy meets girl, they move in together, split, get back, celebrate at a restaurant like Au Petit Marguery, you leave the cinema wishing you'd waited for it on TF1. Laurent Benegui's cute 1995 Au Petit Marguery does, often! Actually filmed sur place it's a delicious romantic comedy about restaurant owners, chefs and their friends.
Nicholas Marguery superchef of the late 1800's, created Sole Marguery and the eponymous bistro, still there to-day with the same wonderful movie-set red velvet décor,  big mirrors, zinc bar and some of the staff look like….
The new owner (Pascal Mousset) keeps the "bistro" atmosphere along with chef Marguery's concept of fresh seasonal products and excellent game. Some of the diners look like they're pretty handy with a hunting rifle, a big party in the back room were clinking glasses of claret, "vive le Senat" they cheered.
Whatever, you'll eat well Au Marguery. Starters include, Oysters "Perles Blanches" Terrine de Faisin, Foie Gras with figs, Grouse Mousse, creamy, well hung, flavoured with juniper berries a touch of foie gras, delicious with warm toast, salad leaves gleaming with olive oil. Ravioli of petoncles or what's on the blackboard. Drink with White Burgundy Mercurey Chamizey 2004 (48€) or 6€ a glass.
There's three fish mains, including plump St Jacques d'Erquy in the shells, 5 game including, lievre à la Royale, 5 meats and abats (gizzards, innards, still pulsing!). Lalande de Pomerol Chateau Haute Goujon 2003 (41€).
And desserts! Perfect Grand Marnier Souffle, Pruneaux Armagnac ice creams, sorbets, chocolate cake, and listed as "giant chocolate profiterole maison with hot chocolate sauce". Frankly pass on that, but the souffle, worth the shlep to the 13th!
In a quiet street where you should really buy now because it's a petit coin qui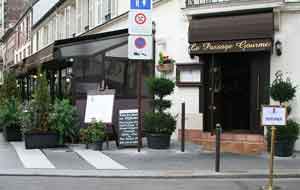 monte, Jean-Marc Perrain recently opened Le Passage Gourmet, cosy in winter, large terrace for warmer days.
Perrain, who also creates the menu for Le Platine, restaurant/spa has a philosophy for the ladies who don't. "If you combine properly you can eat everything".
He should know, it's in his blood, being as how he's the 9th generation of chefs who hail from the Savoy region.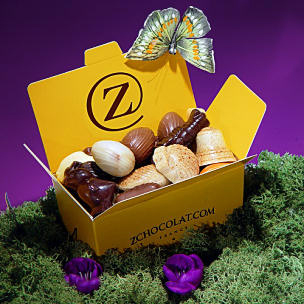 Start with Mikado de légumes, the ladies will adore the crisp just steamed vegetables, spiked with a little parmesan. Cocotte de Lentilles du Puy au Vieux Xeres, Magret Fumé (merci Grand-Pere) needs a fresh fruity Sancerre Chateau de Crézancy (32€).  Perrain's signature Mi cuit de Foie Gras with 5 peppers, cappuccino de truffe, fig and raisin chutney is matched with  Saint Julien Huits Clos 2003 (32€).
Continue with the wines for the mains, mostly revised and corrected family recipes which include a tasty turbot, roasted with vanilla, forgotten vegetables. Dos d'Espadon is grilled with confit of lemon, emulsion of coconut milk, fennel and fresh coriander.
Perrain thinks highly of algue (seawed) for it's rejuventating and health aspects, which he brings from Japan, serves alone or with, say, Pissaladiere of Red Mullet, a dab of truffle oil. Lamb is roasted with fresh rosemary, mint, comes with a purée of sweet potatoe, a twist of turmeric. Ris de Veau aux Morilles, purée aux Truffes, another family recipe circa 1901 – merci Grandmere!
Or, come for Just Desserts. Le Paris-Brest de mon Enfance – Merci Georges.
Veritable Profiteroles Glace Vanille, Chocolate Guanduja – Merci Maman. Ministrone de Fruits Frais, Diabolo Grenadine. Il est Fou ce Chef. The skyscraper millesfeuilles, warm flaky pastry layered with plump strawberries and lightly whipped cream. And, when you think you're done, here's Perrain, sitting at your table, beckoning the waiter over with a Chocolate Souffle – just to taste – because it's fun and "friendship is the most important thing in life". After a great meal!
And why not visit Perrain's just-open epicerie en face. Then you can take home his delicious foie gras and cooked dishes and say: "Of course I made it".
By the time you read this superchef Ghislaine Arabian will be back in business, let's hope she's got those fat frits on her menu. Made from Charlot de Noirmoutier spuds, Arabian fries them twice in olive oil. The fat will fly, it always does with GA. "Tensions, tantrums, seduction", that what you need in a kitchen". Good on you Ghislaine – welcome back.
Address Book:
9 Boulevard de Port-Royal 13th
(Metro: Les Gobelins),
T: 01 43 31 58 59
Lunch 23€- 2 dishes 26€-3 dishes
Menus at 30€ or 35€ with pudd
Closed Sun-Mon
Restaurant – Lounge – Salon de thé
Open 7/7
Average Spend 29/41€ + wine
Lunch 2 dishes 13€ 50
126 rue de l'Abbé-Groult, 15th
Metro: Convention
T: 01 48 42 40 6
Ghislaine Arabian (ex-Les Petites Sorcieres)
12 rue Liancourt, 14th (Metro: Denfert Rochereau)
T: 01 43 21 95 68