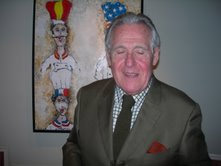 At Michelle Villemur's pre-Perigueux Book Festival lunch, held at Castille, Paris, Christian Millau was happily discussing works of literature, admiring Jean-Pierre Duriez's brilliant paintings of Paolo Le Chef (see photo) and eating delicious food. "All chefs are nuts," observed Duriez, with an affectionate sigh. "They lead such strange lives and that's what I've tried to show on my paintings. Millau nodded agreement: "I've just returned from the Cotswolds, had a wonderful English wine, do taste it, it's called Bacchus, you can get it from Philippe Faure Brac (who was there too). It's like nothing else I've ever tasted, fresh and fruity 100% Bacchus grapes", he sighed. "Dreadful weather, awful impatient drivers, lovely food, it's almost like Paris over there".
Every two years Le Salon International de Livre Gourmand, read Cookbook Fair/Workshop (this will be the 10th) and the powers that be at Perigueux (Dordogne) organise competitions for chefs and a competition with a prize for the best fiction describing "la gastronomie" or "la gourmandise". 2006 winner of La Prix Mazille was Trish Deseine for "Ma Petite Robe Noire et Autre Recettes".
Darroze, Laurent Pourcel, Pierre Herme, Apollonia Poilane, Herve This, Jacques Le Divellec they'll all be there and part of the jury. It's the time of truffles in Perigord, expect to eat well and hang around because the prize-winner is announced on the last day of the Salon. Emile Jung is President of Honour this year www.lecrocodile.com
How will I get there? Take the "Train de Saveurs" Paris-Perigueux, along with lots of French chefs and food mavens.
Iconic French singer Michel Sardou recently sold ARTHUR the bistro where the likes of Jane Birkin, Isabelle Huppert and Josiane Balasko (Aznavour was also a regular) dine before going to, or appearing in, the theatres opposite: The Splendid St Martin and Theatre de la Porte Saint Martin, which Sardou owns.
The three guys who bought it call themselves "trios hommes et un coup de faim". "We decided to buy a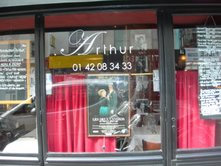 restaurant after lunch one day, made some enquiries and fell in love with ARTHUR", say wine maven Julien Renault, foodie George Blache and ex-Chez Francoise, Invalides directeur de salle, Thierry Lewandoski.
The room is wonderful, looks like a theatre set, no wonder luvvies love it. Framed photos of actors, all is as it was when ARTHUR opened 50 years ago, but revised and corrected, lots of red velvet, lovely zinc bar. Blackboards announce the dishes, the daily 3-course specials changes daily. The welcome is warm, everything market fresh, wonderful wine list: Pic-St-Loup Mas Foulaquier 2006 "Le Rollier" (27€) or a white Crozes Hermitage "Les Jalets" (P.Jaboulet Aine) 2006 (30€) or a suggestion by Emmanuel the sommelier will do you nicely.
So what about the food?
Begin with lobster salad, Feuillete of veal sweetbreads with graine de moutarde, Poelee d'escargots a la forestiere, Creme brulee au foie gras, Mushroom ravioli with white truffles and crème de basil. Veloute ou potage du moment, parmesan chips. Nice bread for mopping.
Mains could be Daurade in a sesame crust. Penne with Saint Jacques, sauce crustaces. Cassolette du Pecheur (Saint Jacques, Salmon, Rouget, Lobster) baby vegetables. Rib of Beef. Marmite de supreme of chicken a l'ancienne, sauce herbs and armagnac. Duck Burger Rossini style or ….Ostrich steak, sauce Roquefort. Cheese and wonderful desserts of the Baba, nougat, millefeuille, macaron, chocolate tart, crumble, fresh fruit with tagada variety. ARTHUR doesn't get a standing ovation, but it's playing to packed houses and is the romantic, atmospheric sort of place you'll only find in Paris, elsewhere it gets lost in translation.
Address Book:
Salon International du Livre Gourmand,
14-16 November 2008
Le Palace, 15 rue Bodin,
24000, Perigord
Arthur,
24 rue du Faubourg St-Martin, 10th
Metro: Strasbourg St. Denis
T: 01 42 08 34 33
Starter + main + dessert 40.50€
Lunch formula 26€ + wine
Shut Sunday
Leave a reply
Your email address will not be published. Required fields are marked *