The Perfect French Holiday


I've always felt that no matter what route you drive along in France, you'll always discover something exciting. I've tried so many but one of my favorites is the trip along the Dordogne River valley from Bergerac to Beynac (where 1920s jazz dancer Josephine Baker lived) Sarlat and beyond. Of course it depends on the time you have and how long you want to spend in each place. Here's a perfect week or more of wandering in the Dodogne Region in Southwest France.
Bergerac sits at a wide part of the river which was once a flourishing center mainly because of the wine trade. A city of winding streets and half timbered houses offer outdoor eating in the shadow of Cyrano's huge and colorful figure of Cyrano de Bergerac. Here you can see the 16th century Chateau, visit the Musee du Vin and taste the sweet Montbazillac white wines of the town just to the south. There are other things to do and historic places to spend the night. Contact the visitor information site on rue Neuve d'Argenson TEL: 05 53 57 03 11.
From here you head east through miles of vineyards along route D 31.
A turn south onto D 17 will take you to the hamlet of Couze-et St. Front. This was once a center of paper manufacture, using ancient methods that can be still seen today . (Check opening hours at Moulin Du Larrogue, Tel. 05 53 53 85 50.)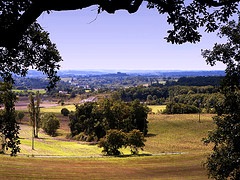 Not far east is the peaceful bend in the river at ancient Tremolat. Aside from an old Romanesque church, there is nothing here except a place to rent a canoe and drift along the narrow river. But there is a spectacular place to stay where you can rent a room with a four-poster or a small self contained apartment. The dining is as you would expect in this 400 year old building and eating with a view of the garden is not to be forgotten. It is called Le Vieux Logis and I recommend that you reserve in advance at 05 53 22 84 89. It is well worth the cost.
Just east of the town past St Front, when you cross the river, you can get a wonderful view high above the great bend in the river, "Cingle de Tremolat." Continue past Urval for a view of the 12th century fortified church, past the 17th century chateau at Siorac-en-Perigord through the market town at St. Cyprien towards Beynac, with its wonderful chateau. If you have time, stop at the Chateau les Milandes. Here the great twenties star Josephine Baker attended her children that she adopted from various countries. The story of Josephine and the twelve children is worth studying. The chateau now has a falconry display (Tel: 05 53 59 31 21…closed Nov.-Jan.)
The last stop before Sarlat, one of my favorite places is the mountain city of Domme. This well preserved town affords one a different view of the river. Domme boasts a covered marketplace in a cavern built as a defense during the Hundred Year War. Information at TEL: 05 53 28 37 09. Lunch on the Belvedere de la Barre above the city is breathtaking and worth the trip. But on to a larger gem, Sarlat.
This city was the first to be rebuilt and protected after 1962. The main street separates two narrow street areas with great truffle shopping and a long list of restaurants. My favorite is Criquettamu's in an old timbered house just off Rue De La Republic. Insist on the typical Sarladais foie gras.
My choice of hotel is Hotel De Selves at 93 Ave. de Selves a short walk north from the center. Here you have a quiet oasis with lovely gardens and semi indoor protected pool. It's a modern family run hotel that satisfies all your needs at a moderate price. If you want to find the restaurants ask at the desk. They do not serve dinner at the hotel.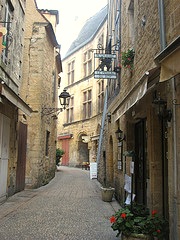 Wander around old Sarlat, especially on market Saturdays when the whole downtown core is teeming with food, souvenirs and objets d'art. Try the foie gras and the truffles. They are the best here as is the unique truffle oil. You'll want to spend two or three days here.
After Sarlat, depending on your interests and free time, I suggest a southern drive to Rocamadour, perched on the cliff over a gorge of the Alzou River. There is a staircase to the shrine and St Amadour's tomb. This is one of the most popular visiting sites in all of France.
Bring your camera.
But if your choice after Sarlat was to head north, be sure to visit Lascaux II, the Sistine Chapel of prehistory. It's well lit, air conditioned and led by knowledgeable guides. People lived there over 17, 000 years ago and their paintings still exist.
Info at 05 53 51 95 03.
For lunch, dinner or a nice hotel you are only a few kilometers from Montignac, a charming town on the River Veyzere. Try the Relais de Soleil D'or on the main street. They have a beautiful dining room and through the window you will see a welcoming swimming pool.
# # #
Photo credits:
"Bergerac Landscape" ©ben.gallagher
Want to take a driving trip to Bergerac, the Dordogne or anywhere else in Europe? Auto Europe offers BonjourParis readers special perks—bonne journée!
Leave a reply
Your email address will not be published. Required fields are marked *