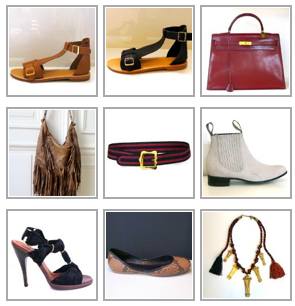 Paris shopping on a budget—think it can't be done? With all those tempting department stores and flagship boutiques from French fashion houses Sonia Rykiel, Chanel, Hermès, et al, you might think not . . . but have you considered vintage? A fine crop of secondhand stores have sprung up in the Marais neighborhood over the last decade, with amazing, one-of-a-kind vintage apparel and accessories—many of them designer. Want a big deal? One store has bin overflowing with garments priced for €1, for those willing to climb a ladder and dig.
Odetta Vintage (or Odette)
Odetta's is perfect for fashionistas who want a mix of the best vintage finds and new buys under one roof. With past-collection pieces from the likes of YSL, Lanvin, Balenciaga, Chanel, Chloé and more, rubbing shoulders with the shop's simple 'n stylish own-label shoes and bags, you can walk out with something old and something new and still look the business. A clean, minimal approach to the shop's design, as well as the occasional stunning piece of antique furniture (all up for sale) makes the space itself feel as cool as the stock.
Tél: 01 4887 0861
76, rue des Tournelles, Paris 3rd
Métro: Chemin Vert
Open: Tuesday-Saturday 2-7:30pm; Sunday 3-7pm
La Jolie Garde-Robe
Small, exclusive-feeling and known mainly among designers and fashion-lovin' locals rather than the tourist-flooded stores in the Haut Marais, La Jolie Garde-Robe is one-of-a-kind. As with its garde-robe (antique wardrobe), the clothes you'll find here are delicate and refined designer pieces from a mix of French labels including Chanel, YSL, Céline, Charles Jourdan and Hermès. There's a special emphasis on '60s bits, so if you've a hankering for a shift dress or cat's eye sunglasses, here's your chance.
La Jolie Garde-Robe [no website]
Tél: 01 4272 1390
15, rue Commines, Paris 3rd
Métro: Filles du Calvaire
Open Tuesday-Saturday 1-7:30pm
Yukiko
Yukiko is like your most stylish girlfriend's closet, filled with bags, shoes and accessories by classic designers like Dior and Chanel. Owner Yukiko also has her own line of new clothing. If you walk out dressed head-to-toe in Yukiko's wares you'll turn heads for your on-trend threads rather than for wearing anything obviously "from the past." Beautiful basics are the thing here, with that added, secret thrill of owning a bit of fashion history. Currently the site shows a nice collection of vintage Chanel and Gucci accessories.
Tél: 01 4277 7395
97, rue Vieille du Temple, Paris
Open: Tuesday-Saturday   11am-1pm; 2-7pm
Métro: Saint-Sébastien-Froissart

La Belle Epoque
Opened in 1996 (back when vintage shopping in Paris meant second-hand bins at flea markets), La Belle Epoque sells designer pieces from owner Phillippe's beautifully-curated collection. With clothing and accessories dating from 1900 to the 1980s, and Phillippe on hand to provide an encyclopedic run-down of details about every garment (i.e., material, date, designer, country of origin), your chances of finding something special are high with this one.
La Belle Epoque [no website]
10, rue de Poitou, Paris 3rd
Métro:  Filles du Calvaire, Saint-Sébastien-Froissart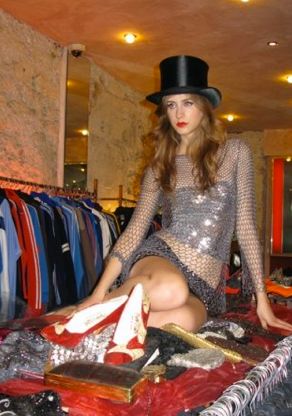 Free'P'Star
Crazy cheap prices like those at cult store Free 'P' Star come with a compromise: you have to be ready to roll up your sleeves and hunt for those gems. The shop's layout is almost gleefully messy, with rails bursting with dresses, blazers, fur coats and leather skirts ranging from 10-30 euros and vintage shoes, luggage and handbags for around the same prices piled high around the sides. Not cheap enough? Climb up the metal stepladder to a mezzanine level to dig deep for clothing gold in €1 bins.
Free 'P' Star (3 stores)
8. rue Sainte-Croix de la Bretonnerie, Paris 4th, Métro: Saint-Paul
Open daily Monday-Sunday 10am-10pm
61, rue de la Verrerie, Paris 4th, Métro: Hotel de Ville
Open Monday-Saturday 11am-9pm; Sunday 2-9pm
20, rue de Rivoli, PARIS 4th, Métro: Saint-Paul
Open Monday-Saturday 10a-9pm; Sunday 11am-9pm
Online route maps for Paris Métro, RER, bus, SNCF (Transilien)
Vélib' bike rental station maps
Arrondissement-by-arrondissement guide to Paris
Publicity photos were used for this story courtesy of the businesses mentioned.
Isabel Clift is a travel writer living in London and this is her first article for BonjourParis. We like that she describes herself as a vintage clothing and tea addict—what better qualifications could one possibly possess for writing about Paris shopping?

Subscribe for
FREE

weekly newsletters with subscriber-only content.

BonjourParis has been a leading France travel and French lifestyle site since 1995.
Readers' Favorites: Top 100 Books, imports & more at our Amazon store
We daily update our selections, including the newest available with an Amazon.com pre-release discount of 30% or more. Find them by starting here at the back of our Shops + Spas section, then work backwards page by page in sections that interest you.
Shopping in Paris requires a plan of attack…build your strategy with these books.
Please support our site by clicking on this banner for all your Amazon.com browsing. Merci!