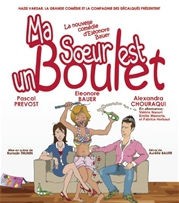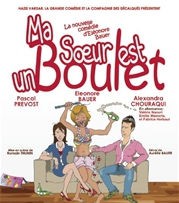 BilletReduc.com offers a comprehensive list of activities throughout Paris and France. The well-organized site offers a database of "Spectacles", "Concerts", "Public and Free Performances", "Sports", "Night Life", "Kids" and a category "Loisirs" that includes Readings, Conferences, Meetings, and Master Classes. You can further narrow down to location, type of presentation, most reserved, best reviewed, and most reasonably priced. Under the "Spectacles" section are sub-categories Théâtre, Café Théâtre, Comédie Musicale, Dance, Circus, and Festivals, each with a dizzying array of entertainment options.
The Comédie République theater (Paris 3e) is an intimate setting with seating for 200 and a stage arm's length from the front row audience. Furnished with comfortable 1950s-era red velour seats, its intriguing black and white wall murals depict some of France's favored comedians (Coluche in the prime position on the left front wall). As spectators settle in their seats, the ambiance reaches a pleasing rigorous pitch until the hidden microphone voice of the announcer booms "Bonsoir Mesdames et Messieurs!" presenting this evening's show, "Ma Soeur est un Boulet". ("Boulet" literally is an iron manacle around the ankle and is slang for a fool). This amusing three-person performance is the story of a long-absent wanderer who returns to Paris to visit her sister, who is living with a man she believes to be her one true love, but who is in fact only after her money.  Jokes fly fast and, without a good comfort level with French, some of the language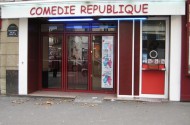 may elude. However, the time is still worth the 15 euros (17H) thanks to wonderful acting that also includes wild and inventive repartee, glares and pouts, and expressions of love, lust, and resentment requiring no translation. Written by Eléanore Bauer and directed by Romain Thunin, the show runs through April.
Based on this experience, a few words of advice! If you want a good seat and possess a 'première catégorie' ticket, you would do well to arrive 40-45 minutes in advance, as entry is first come first serve. Also, with an online reservation, you do not necessarily need to pre-print your reservation, as is requested on BilletReduc. Explain (as I did very politely!) that you are without printed copy but have come prepared with the reservation number. The booth attendant was quite ready to accommodate me and I was escorted to the fourth row, some 15 feet from the acting. Another option is to wait until the last minute (not a bad choice for late afternoon performances) and get in for half price, but seating will be from back to middle in that case! The theater is small enough to still enjoy the performance.
Kathleen Comstock is a writer and lover of France who lives in Paris and Massachusetts. Her most recent book on France is Vieilles Filles and Other Tales from France.
See more of Paris! Here are some of our favorite tours:
Medieval Churches of Paris: Discover some of Paris's most beautiful and lesser-known churches in the company of a medievalist.
Louvre French Masters: Escape the cold and the crowds in the Italian wing of the Louvre by learning about the evolution of French art from the late Gothic period to the monumental 19th century paintings of David and Delacroix, accompanied by an art historian.
Leave a reply
Your email address will not be published. Required fields are marked *