Paris Past: Les Grands Magasins Dufayel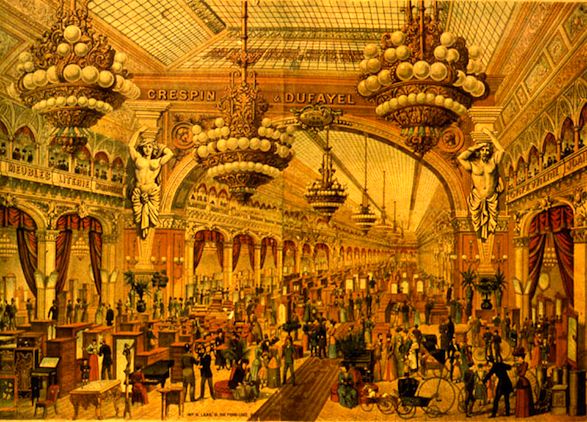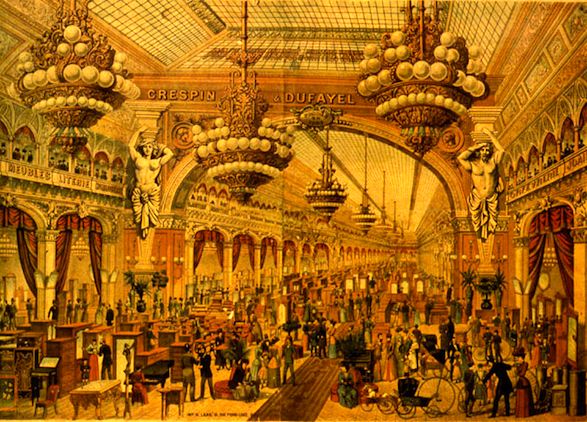 Dufayel's Dream Department Store
Tucked away down rue de Clignancourt stands a grand entrance. Although it is now blocked off, it is clearly a relic from a more opulent bygone age. It was a retail palace grander than le Bon Marché and Samaritaine, Galeries Lafayette or Printemps of today. Beside it stands the Histoire de Paris plaque, which tells the story of what used to be there and of an extraordinary man who elevated the commonplace into a magical playground. We go back to 1856, in Chapter 26 of Paris by Plaque, and peer inside the entrance, to behold a scene of bustling activity.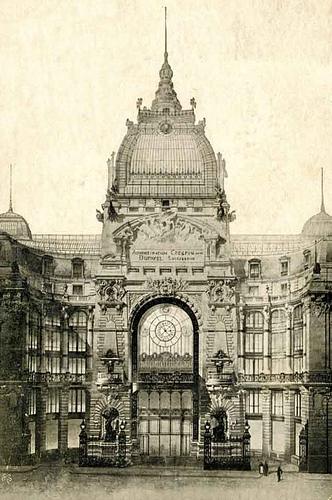 Glittering crystal chandeliers hang from the high ceilings, their light reflecting in huge mirrors and illuminating the interior of what appears to be a palace of ancien régime. It is decorated with over 200 statues, countless paintings, pillars, rich stucco, a vast elegant central staircase and huge caryatids who seem to hold the whole store upon their shoulders, such is their size. From inside a towering 180-foot high central glass roof a revolving ten million candlepower light sweeps across Paris, summoning everyone to the cinema and theatre, which are also housed here. In a Winter Garden on the upper levels, little birds sing in cages as customers stroll between exotic plants and ferns, listening to an orchestra play as they browse. Goods are piled high all around, from glass and china to furniture and toys. In the bicycle department customers are trying out bikes on a cycling track, and in between purchases the new science of the X-ray is offered as an amusement, allowing shoppers to have an X-ray taken of their hand or foot as a souvenir. As each lady leaves the store she is presented with a tiny posy of seasonal flowers. In this "Palace of Consumption," the customer is king.
Monsieur Georges Dufayel realised a dream here. He opened a department store to rival all others, and it was soon a tourist attraction in its own right. No visit to Paris was complete without a trip to "Les Grands Magasins Dufayel," even though it was in the working-class area of Goutte d'Or in the 18th arrondissement, far away from the grand locations of the Galeries Lafayette, Le Bon Marché, La Samaritaine or Printemps.
Georges Dufayel was born into a humble family, and he never lost sight of his roots. He was sympathetic to poor working-class Parisians and, driven by the desire to see them included in the new consumerist craze that was sweeping Europe, he introduced the idea of buying goods on cheap credit. This revolutionized both business and society. By the turn of the century it is estimated that three million customers had been served.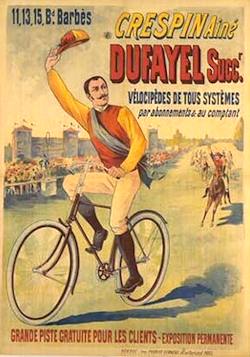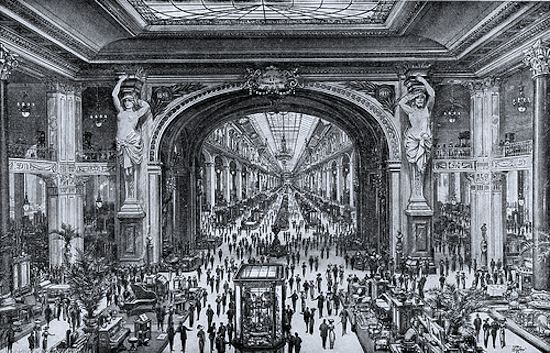 Dufayel was unapologetic about the creation of the mass consumer. "I am blamed for my Palace, but who is blaming me? Only the jealous and the rich! I myself have known the harsh conditions of life. I have given back to the "have-nots" courage, confidence and serenity. The humble will thank me." The trappings of wealth were available to all, over time, and this "democratization of consumption," as it has been termed, was the beginning of a new age. Dufayel's strong social conscience saw a substantial proportion of his profits directed into philanthropic works, particularly for the poor and sick.
Dufayel was a master of the retail business, introducing returnable goods, "sales," and fast stock rotation for the first time. His flair for novelty and generating excitement brought customers through the doors in droves. It has been estimated that three out of every seven households in Paris were doing business with Dufayel at one time. The logistics of keeping the store stocked were mind-bending. Dufayel developed an underground railway system and vast stables of horses to draw his delivery vans. Even they were well catered for, with their own equine exercise pool. Everything about Dufayel was dynamic, with his ideas brought into being one after another.
Dufayel's 300 credit men became a familiar sight around the streets of Paris. Their uniforms were smart navy and they were as common a sight as postmen, with their big sacks for collecting money. Even Victor Hugo had a job as one of Dufayel's credit men for a while.
Now, sadly, only part of the shop façade on rue de Clignancourt remains. Designed by the architect and sculptor Aimé-Jules Dalou, it stands full of quiet dignity, a memorial to a glorious era long passed. Georges Dufayel died in 1916 and subsequent owners stripped the beautiful building of its splendor. But I am sure if you use your imagination you could just about hear the orchestra, amid the sound of delivery horses hooves on the cobbles outside.
Suggested Further Reading
Rosalind H. Williams, Dream Worlds: Mass Consumption in Late Nineteenth-Century France, University of California Press
Judith G. Coffin, Consumption, and Images of Women's Desires: Selling the Sewing Machine in Late Nineteenth-Century France, French Historical Studies, Vol. 18, No. 3 (Spring, 1994)
PHOTO CREDITS: 

Public domain antique images supplied by author.
Anna Meakin is the author of Paris by Plaque – Montmartre Vol 1 (The Complete Guide to the Historic Plaques of Paris) and she's now writing her next book. Please click on her name to read more about her and her past stories published by BonjourParis, and order her book at Amazon.com.
Subscribe for free and never miss a story. Search our library with 7,200+ stories and 50 original stories published monthly. BonjourParis has been a leading online France travel and French lifestyle site since 1995.
Featured selections:
Paris by Plaque – Montmartre Vol 1 (The Complete Guide to the Historic Plaques of Paris).
September 2011:
First installed in 1993, the famous Paris history plaques can be found all over the city. Now, in the only published translations, you can discover the stories they tell. The first book of the series begins in Montmartre where we uncover the story of an escape from besieged Paris by hot air balloon, the donkey who fooled the art establishment, and the man who walked through walls. We take you to Picasso's first studio, to the famous Elysee Montmartre, the Moulin Rouge, the Chat Noir and the house where Renoir lived.
Elliott Erwitt Paris.
Who better to capture Paris in all its moods than the inimitable Elliott Erwitt? With a keen eye for the real city, Erwitt sees beyond the tourist cliches. Whether the mightiest of monuments or the charm of la vie quotidienne this master photographer chronicles it all. Alternating intimate details with grand vistas, Erwitt captures the true flavor of la metropole.
Walks Through Lost Paris: A Journey Into the Heart of Historic Paris.
When he discovered that the city he lived in for many years was actually entirely rebuilt during the mid-1800s, Leonard Pitt plunged into Paris's history and began photographing what he learned had changed. Eventually, he led tours and gave lectures on the demolition and reconstruction that changed the city forever. Walks Through Lost Paris chronicles Paris's great periods of urban reconstruction through four walking tours. With a special focus on the work of Georges-Eugene Haussmann, this book provides a history of each site along with the motives behind the urban redesign and the reactions of Parisians who witnessed it. Detailed maps take you through a city whose changes were captured by photographers and artists in each stage. Hundreds of color photos, diagrams, and engravings splendidly survey the massive transformation that resulted in the Paris of today.
Paris by Bistro: A Guide to Eating Well by Dennis Graf.
All 5-star reviews from buyers. Explore the haunts of Henry Miller, the hangouts for Hemingway and Fitzgerald, the watering spots for Richard Wright and James Baldwin. In Paris by Bistro, you enter the neighborhoods of the tiny narrow streets, pass the smoky clubs and steamy little restaurants. You learn the character of each district and encounter a Paris that you might think no longer existed.
Want more? View our recommended France-themed books & items. Most recent listings at last pages.
Leave a reply
Your email address will not be published. Required fields are marked *