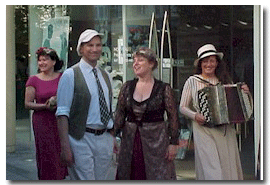 For four years, my husband and I lived on rue Saint-Honoré in the 1st arrondissement.  We moved there from the 5th, where we lived in one of the proverbial villages that make up the lovely city of Paris.  Though we were paying only a fraction more for rent, our apartment was 50% larger than the one we left on cité du Cardinal Lemoine.  But the neighborhood left something to be desired – there was no open air market.
I had been spoiled by the proximity of rue Mouffetard and the markets at place Monge and Maubert-Mutualité, and drove back to my old neighborhood every Sunday to do my shopping.  My husband complained bitterly when the city decided to build a huge glass office building on the place du Marché Saint-Honoré, which originally bore a Balthard-style structure that housed a proper neighborhood market.  Once the structure was completed, he christened it the Gare Saint-Honoré, so mammoth and rigid it was.
I too, was disappointed, and fervently wished that the city planners had conceived of a marketplace instead of a commercial space devoted to finance and furniture.  Because our quarter had no market, I felt that it had no soul.
So even though I moved back to my beloved 5th arrondissement five years ago, I was very pleased to learn that the Mairie of the 1st arrondissement finally decided to bring a market back to the place du Marché Saint-Honoré.  When lunching at the Pain Quotidien on the square, a server confirmed that a new market would open in May 2003.  And when I read about the program that Lyne Cohen-Solal, deputy to the mayor of Paris in charge of artisanal commerce, independent professions and artistic professions created to celebrate Paris' markets, I eagerly sought information about Saint-Honoré.  I wasn't disappointed – the market does now exist, and it is one of only two in Paris to have afternoon hours (Place Baudoyer in the 4th arrondissment is the other).
The new Marché Saint-Honoré was officially inaugurated on Wednesday, June 11 at 6 P.M., with Jean-François Legaret, mayor of the 1st arrondissement and Bertrand Delanoë, mayor of Paris, presiding.  Both men gave warm, encouraging speeches about what the re-establishment of an open air market will mean to the quartier.  Mayor Delanoë was particularly passionate as he described how the establishment of marketplaces in areas where they are currently lacking can only help to improve the quality of life for Parisian citizens.  He even mentioned Les Halles as a possible candidate for a new market, and noted that this would be more than appropriate given the location's long history as the "belly of Paris".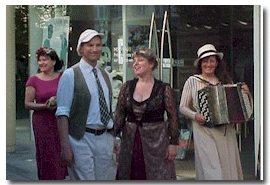 Itinerant singers punctuated the festivities with lively songs and accordion music, and vendors hawked their wares.  Along with the traditional fruit and vegetable, fish and dairy stands, there were vendors of Italian and Lebanese products, wines and flowers.  A charcuterie gave away samples of roasted ham, artisanal sausages and pork ribs prepared with spices.  A large table laden with olives, nuts, pita triangles, cheeses and spreads added to the carnival spirit, and champagne, whisky and soft drinks were free for the asking.
Thus, the place du Marché Saint-Honoré has regained its historic function as a market.  And despite the fact that I am no longer a resident of the quarter, I am happy that my old neighborhood has been, in a sense, reborn.
—
Monique Y. Wells is co-owner of Discover Paris; – Personalized Itineraries for Independent Travelers as well as the author of Food for the Soul – A Texas Expatriate Nurtures her Culinary Roots in Paris
Leave a reply
Your email address will not be published. Required fields are marked *