Paris for Couples: Touring Together and Separately

I enjoy being a lone traveler occasionally, even though my husband Phil is an almost perfect travel companion. He has an unerring sense of direction; whenever we come to a crossroad, he knows instinctively which way to go.  He keeps us on time, so we never miss a connection. He's an adventurous diner who never balks at my restaurant choices, the follies as well as the fabulous.
He's walked literary trails with me all over Paris. Though unmoved himself, he was by my side as I stood in homage before 74, rue du Cardinal Lemoine, where Ernest Hemingway lived when he was young and poor and honing his writing skills in an unheated flat. He shared my disappointment when Hemingway's chair, marked with a brass plaque, was already occupied when we got to La Closerie des Lilas, where the struggling writer hung out for warmth and inspiration. He's suffered the insolence of waiters at Les Deux Magots and Café des Flore because so many literary legends of the twenties had sat at these tables and I wanted to sit there, too.
I've made concessions to his passions, too. I've sat with him in the Luxembourg Gardens, a piece of heaven on earth for Phil. When I've had enough of the bird-chirping and the butterfly-flitting, I leave him there knowing he enjoys the park so much more without me. An artist himself, he gives every bereted street artist we encounter his full attention, while I stand by, eager to move on to lunch. An avid photographer, he doesn't click the shutter until he sees just what he wants in his viewfinder. On tour, he's held up the bus while he calculates his precise settings. We endure each other's travel idiosyncrasies when we have to.
But we both readily admit that some of our best travel moments have been spent apart, when we eagerly go in different directions to explore on our own, to satisfy a need that the other doesn't have. One time, Phil spent a glorious sunny afternoon on a floating café moored on the banks of the Seine, while I went alone to Shakespeare & Co. and inhaled the dust of literary history. I always go to La Grande Épicerie de Paris alone because Phil gets itchy there and I can spend hours deciding how many delicacies I can stuff into a suitcase and which raw-milk cheeses I might slip through customs if the dogs aren't sniffing the luggage that day. Another time, Phil searched the Latin Quarter for the hotel he had stayed in many years ago when he came to Paris as an art student, while I searched for 7, rue de Grenelle, the hôtel particulier where The Elegance of the Hedgehog takes place. I didn't need to see his hotel, he didn't need to see mine. Going our separate ways gave us time to satisfy both our needs.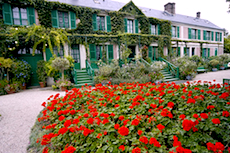 Though Monet's gardens at Giverny had something for both of us, we split up there, too. It was spring; the gardens were in full bloom. In front of the house, hundreds of pink and white tulips stood tall above lavender flowered borders. Purple iris and red oriental poppies, side by side, were a painting in themselves. Pansies, everywhere, created a colorful carpet beneath bushes and trees. Phil was entranced and needed to be alone to drink in this splendor.
I left him on a bench under a flowering crabapple tree and set out to explore the passions that Monet and I have in common: family and food. I found them in his house, its familiar pink stucco façade and green verandah as inviting in life as they are on canvas. Entering, I felt I was in a home, not a museum. I could almost feel his large presence presiding at table, surrounded by family, copper pots simmering on the stove. A favorite color combination in his gardens is repeated indoors, as well. Yellow tulips rising from beds of bluebells, blue delphiniums and yellow day lilies edging a pond – these may have been the inspiration for the dominant yellows and blues in the kitchen and dining room, and for the china Monet designed for his family. On the bus back to Paris, Phil and I had very different visions dancing in our heads. He had the serenely happy look of a gardener plotting the next season's plantings. I was in my kitchen, my own personal haven, and all I could see was yellow and blue.
Most of our married friends don't separate when traveling. They think we have a problem. Au contraire, we have a solution. Though we married into the togetherness movement spawned by the Good Housekeeping Seal of Approval for couples who faced the world two-by-two, we found that didn't work for us. By giving each other space to develop our individual interests, we enjoy our time together so much more. Some things simply must be done alone.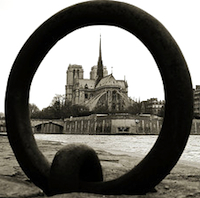 Then there are the times when one needs a companion to be fully immersed in the moment: A walk along the Seine's embankment when Notre Dame's spires are framed in the yellow-budded branches of the chestnut trees along the way. The breathtaking views of this most beautiful city on every level of the climb to Sacré Coeur. Sitting on a secluded bench in Square du Vert Galant, the pocket park on the tip of Ile de la Cité. Ducking into the Cluny Museum to get out of the rain and discovering the stunning medieval tapestries. Coming upon the Eiffel Tower when, without warning, thousands of tiny white bulbs flick on and set the evening sky aglow with enchanting bursts of light.
This is the magic of Paris. And it must be shared.
Photo credits:
Monet's Giverny home by ©Bruce Tuten
For Walking Tours & more:
Context Travel of Paris can show you the Gardens of Paris on a pleasant walk led by an architectue or art historian expert. Start in the Tuileries, the historical gardens adjacent to the Louvre Museum, where you'll learn about its integral role in French history and landscape architect Andre LeNotre. Cross rue de Rivoli to the Gardens of the Palais Royale, once home to the Cardinal de Richelieu and a young Louis XIV. To join a small group limited to 6 or fewer intellectually curious travelers, please review the many walking seminars offered by our partner, Context Travel of Paris.
Leave a reply
Your email address will not be published. Required fields are marked *