Famous Paris Bistros and Restaurants: L'Os a Moelle, Cafe Moderne, Aux Lyonnais, Grand Colbert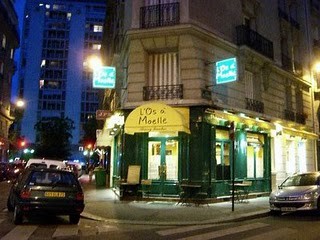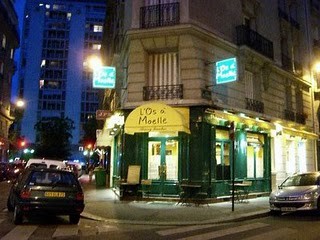 No trip to France is complete without sampling French cuisine, and there is no place better to taste it than at a Paris bistro!
As if it was ever in any doubt, Forbes Magazine once famously classified Paris as one of the most beautiful cities of the world. There are many ways to travel through this cosmopolitan city, but exploring Paris on foot is the best option for an intimate, more personal experience. A carefully planned itinerary including the classic landmarks, such as the Eiffel Tower, Arc de Triomphe and Louvre Museum can help you get the most out of your holiday. However, no trip to France is complete without exploring French cuisine. Walking through the different neighbourhoods of Paris, you will spot inviting local bistros that serve authentic French cuisine at a fraction of the price charged by city restaurants.
L'Os à Moelle, Paris 15th
After visiting the Eiffel Tower, walk toward the L'Os à Moelle in the adjoining 15th arrondissement. Few foodies who have walked through the doors of this bistro have left disappointed. This bistro has a rustic country charm, and the daily menu is scribbled on the blackboard. The unpretentious facade of this eatery hides delicious, value-for-money food—especially from their fixed-price menu. Take care not to go to their other restaurant across the street with "Cave" before the name—it's an entirely different vibe.
Tél: 01 45 57 27 27
3, rue Vasco de Gama, Paris 15th
Métro: Lourmel
Café Moderne, Paris 2nd
If you are exploring the business district around Bourse in Paris, make a quick detour to Café Moderne for a contemporary twist on classic bistro fare. Bistros also usually serve a robust wine list with bottles from some of the best wine-producing regions of France. Very popular with locals entertaining business associates and friends; chic with very good wine list.
Tél: 01 5340 8410
40, Rue Notre Dame des Victoires, Paris 2nd
Métro: Bourse
Open: Mon-Fri 12-2:30pm; 7:30-10:30pm…Sat 7:30-11pm
Aux Lyonnais, Paris 2nd
To indulge in a spot of time travel into a 19th-century bistro, keep a moment aside to head to chef Alain Ducasse's Aux Lyonnais. The cement-tiled floors and the smoke-stained walls are guaranteed to transport you back a couple of centuries. The food served here makes the trip worth the time taken out for this food adventure.
Tél: 01 4296 6504
32, rue Saint Marc, Paris 2nd
Métro: Quatre-Septembre
Open: Tues-Sat 12-2:30 pm; 7:30-10pm (closed Sun & Mon)
Le Grand Colbert, Paris 2nd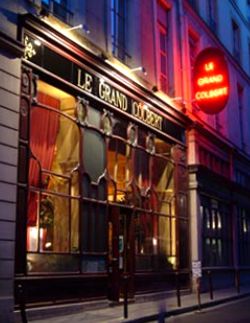 The fame of bistros such as Le Grand Colbert has spread far and wide through literature, guidebooks, film (most notably "Something's Gotta Give" with Jack Nicholson, Diane Keaton and Keanu Reeves)  and word of mouth, attracting tourists from across the world. Loyal customers claim that there are few restaurants that serve quality food at the price that bistros charge. These days, you might notice more international tourists frequenting some of the better known bistros than locals.
Don't be surprised if you meet foreign students—it seems that the people that take French courses in France spend most of their time eating and drinking – practising their language skills. Learning French while discovering the marvels of French cuisine is becoming very popular. For tourists keen to learn French, France-based schools offer culture appreciation courses at these bistros. The bistros of France are what pubs represent culturally to the British, although it's probably best not to suggest this to the bistro owners.
Tél: 01 4286 8788
2, rue Vivienne, Paris 2nd
Métro: Pyramides
Restaurant open daily 12pm-1am (last order at midnight)
Tea room (hot chocolate is a specialty) open 3-6pm daily.
NEW:
Subscribe for free
to our weekly newsletters with subscriber-only content.
Update your travel library, DVDs & French imported goods: current recommendations.
Thank you for using our link to Amazon.com…your purchases support our free site.
Click on image for more info about these selections.
Leave a reply
Your email address will not be published. Required fields are marked *