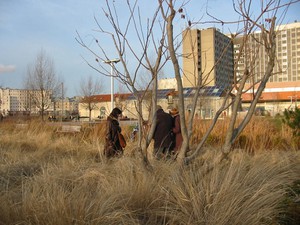 From what were formerly warehouses and stockyards, the organizers of Parc Martin Luther King have already rebuilt 4 of over 10 hectares. The renovation project will eventually include lodging, business space, underground parking, and public transport access. The Parc, open for almost three years, is a favorite of residents of the Clichy-Batignolles area, already home to a charming two-hundred-year-old park and not far from Parc Monceau. This newer green space, however, declares itself uniquely attractive. Construction priorities include emphasis on carbon usage approaching zero, solar panel and wind turbines, rain water recycling, waste management, and low-maintenance regional plants and shrubs. There are play areas for very small children and others for older kids who enjoy activities like roller-blading or basketball. Walkways made of reconstituted waste material align with attractive ponds while rivulets display water fowl and fish. Tall wispy cattail reeds succeed at times in hiding some of the surrounding high-rises, thus engendering a feel of rustic and rural.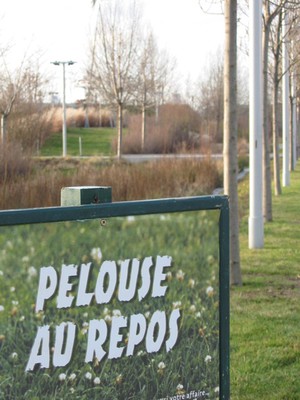 Care was taken to appreciate all seasons and the statistics alone bear witness: 624 trees, 5600 shrubs, 47,000 bulbs, 200 climbing plants, and 8400 m2 of lawn. In spring and summer, magnolias, cherry trees, apple trees, dogwoods, and Judas trees exude their particular scents. The effects of autumn daylight and sunsets will come into play with crimson oak trees that are soon to line several walkways planned for a later phase. Soon, too, an overall feel of a forest will impress once hardwoods are planted. Water also is a major player and evinces as life source, ecological component, and support to sport and physical well-being, to say nothing of its decorative and reflective qualities. Along one artery, the biotope basin of more than 3,000 m2 collects rain water to render it drinkable or to be used to nourish plants. Water jets, too, amuse and add to the playful quality of the space.
The sound of children at play on a sunny afternoon adds a quintessential feel to any city park, and on this score Parc Martin Luther King will hold its own. Here, however, the concept of renewal, reuse, and preservation poses a keen, contemporary option for those who desire a stroll, lunch break, or simply hanker to exit for a time the hubbub of everyday Paris. The central goal, to quote Paris's mayor, Bertrand Delanoë, is:
Pour revenir à l'essence même de ce que c'est un espace vert: un coin de nature belle, fragile, foisonnante au coeur de la ville.
To emphasize the essentials of what a green space really is: a corner for nature in the heart of our city, one that is beautiful, fragile, and productive.
http://www.didierfavre.com/MairieParis-ClichyBatignolles.htm
The Parc is located on rue Cardinet, Paris 17e (Métro Brochant Line 13)
Hours vary with the seasons but run generally from 8-9 AM until 6-8 PM.
Kathleen Comstock is a writer and lover of France who lives in Paris and Massachusetts. Her most recent book on France is "Vieilles Filles and Other Tales from France.
See more of Paris! Here are some of our favorite tours:
Medieval Churches of Paris: Discover some of Paris's most beautiful and lesser-known churches in the company of a medievalist.
Louvre French Masters: Escape the cold and the crowds in the Italian wing of the Louvre by learning about the evolution of French art from the late Gothic period to the monumental 19th century paintings of David and Delacroix, accompanied by an art historian.