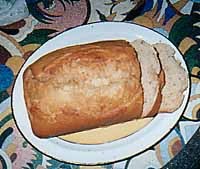 Pain d'épices is a speciality of the Burgundy region of France, especially the city of Dijon. Honey cakes or biochet, probably introduced from Asia and possibly by Ogedei Khan who got as far as Vienna in the thirteenth century, formed the base for pain d'épices. As spices were introduced during the Middle Ages, cooks experimented with adding various spices to biochet and modern-day pain d'épices was born. The cakes or bread became closely associated with Dijon during the 1700s when M. Brottier, a member of the pain d'épiciers guild in Champagne, moved to Dijon. His shop became an instant hit, selling his version of pain d'épices which were made into a variety of shapes. The family Mulot took over his shop and they are still in business today as Maison Mulet et Petitjean.
In many regions pain d'épices is made with a combination of flours, such as rye and whole wheat, but in Dijon only wheat flour is used. A basic flour mixture is made and then milk, eggs and spices are added. Aniseed is a particular favorite in Dijon and other spices such orange, lemon, or ginger and cinnamon are also found in the various recipes.
Pain d'épices translates literally as "spiced bread" and you'll find the festive flavors of cardamom, anise, cloves, nutmeg, ginger and rum. Some recipes also call for a mixture of flours while others are flavored with oranges and honey. Et voilà, la recette:
Pain d'Épices (pronounced: pah(n) / deh pees)
INGREDIENTS:
3-3/4 cups flour
1 cup sugar
2 tsp. baking powder
1/2 tsp. salt
1 TBS ground ginger
1-1/2 tsp. ground cinnamon
1 tsp. ground coriander
1/2 to 1 tsp. aniseed (to your taste)
1/4 tsp. ground nutmeg
1/4 tsp. ground cloves
2 large eggs, lightly beaten
1/4 cups honey
1 cup warm water
1/3 cup dark rum (Stroh's is my favorite, if you can find it)
Butter & turbinado sugar for pan
PREPARATION:
1. Butter a loaf pan and sprinkle in the sugar. Preheat oven to 400°.
2. Mix the dry ingredients in a bowl and form a well in the center.
3. In a small bowl, whisk the eggs, honey, water and 2 TBS. of the rum together.
4. Pour the liquids into the well. Stir into the dry ingredients until well combined. The batter will be smooth and very thick. Spread the batter into the prepared pan.
5. Bake for 15 minutes. Turn the oven to 325° and continue baking for 40 to 45 minutes. Tester should come out clean when done. Turn the bread out onto a rack to cool. Use the remaining rum to brush on the warm bread.
Serving Suggestions
Grill a piece of the bread, place a poached egg on top and eat for breakfast.
Cut thin slices of the bread, spread on a thin layer of Dijon mustard and top with a slice of chorizo sausage.
Serve as an hors d'oeuvre.
Slice a piece of bread, top it with a thick slice of Roquefort and serve with a glass of banyuls. Sublime!
Croque Monsieur au pain d'épices: On a piece of pain d'épices put some Fourme d'Ambert and a thin slice of ham. Cover with another slice of bread, butter the outsides and fry 3-4 minutes on each side. Serve with a salad dressed with a lemon vinaigrette. Quel plaisir!
Façon profiterole: Steam a piece of the bread until it is soft, top with a scoop of chocolate ice cream.

Subscribe for
FREE

weekly newsletters.
BonjourParis has been a leading France travel and French lifestyle site since 1995.
Readers' Favorites: Top 100 Books, imports & more at our Amazon store
We update our daily selections, including the newest available with an Amazon.com pre-release discount of 30% or more. Find them by starting here at the back of the Travel section, then work backwards page by page in sections that interest you.
Current favorites, including bestselling Roger&Gallet unisex fragrance Extra Vieielle Jean-Marie Farina….please click on an image for details.
Click on this banner to link to Amazon.com & your purchases support our site….merci!