Osmotheque Perfume Museum in Versailles and ISIPCA Perfume University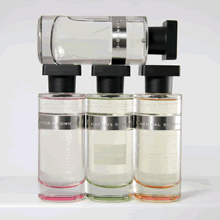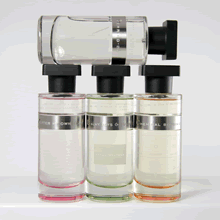 Outside of Paris there is a small, relatively unknown school where one trains to become a perfumer, or what the French sometimes call "un nez."  The school, ISIPCA, is located in Versailles and when you visit, you can feel (well, smell) the years of perfumery on the grounds.  It is here that about twenty perfumers are trained each year at the only university-level school in the world to teach the creation of perfume.  Though some people try to learn perfumery on their own, a rigorous study of the fundamentals is seen as essential to work in the fragrance supply industry.  As a result of their studies, graduates can recreate perfumes with just their noses, even though modern equipment can potentially make copying scents much easier.
At the school, students first develop the ability to discern basic fragrance raw materials that fall into categories like: citrus, green, aldehydic, marine/ozone, fruit, floral, spice, wood, amber, vanilla and musk.  In these classes, called "Education Olfactive" and taught by Isabelle Doyen (chief perfumer at Annick Goutal), you start by discerning up to 400 individual raw materials.  Next you learn the most common fragrance structures and study how real perfumes are created.  For example, in studying the eau de cologne (citrus) structure, students start by recreating the earliest-known eau de cologne, Jean-Marie Farina by Roger&Gallet (18th century), moving on to 20th century classics like Christian Dior's Eau Sauvage, and finally the modern structures like Bulgari's Eau Parfumée and CK One.  With just their noses and expert guidance by master perfumers, students learn how to recreate these accords. Following two years of formal education and another two to three years of apprenticeship at a fragrance house, students are ready to start creating perfumes with their own style and signature.
When we lived in Paris, Ineke worked at Quest International, one of the major fragrance houses (suppliers), and went through this extensive education and training to become a perfumer. She now has combined this training with her previous fragrance marketing background to create her own line of eaux de parfums. Usually perfumers are hidden away in the lab and not given public credit for their creations, in favor of the brand property being promoted, be it a fashion designer or celebrity. Having the perfumer go directly to consumers, like Ineke has done, is still rare in the perfume industry. 
If you are interested in smelling vintage fragrances, there is a fragrance museum called the Osmotheque at ISIPCA in Versailles.  They hold sessions for the general public several times per month, for which you must reserve in advance.

Subscribe for
FREE

weekly newsletters with subscriber-only content.
BonjourParis has been a leading France travel and French lifestyle site since 1995.
Readers' Favorites: Top 100 Books, imports & more at our Amazon store
Chanel, Dior, Christian Louboutin…choose your fashion icon and click on an image for details.
Thank you for using our link to Amazon.com…we appreciate your support of our site.
Leave a reply
Your email address will not be published. Required fields are marked *