Nougats—The Forgotten Aphrodisiac?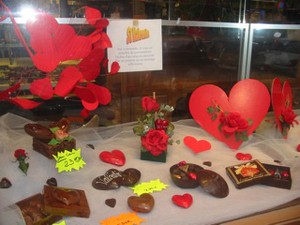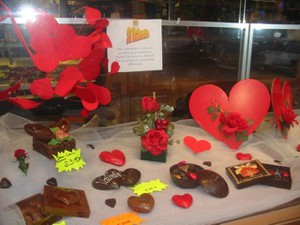 Throughout Paris and the world right now, boutique windows flaunt red boxes, red bouquets, red ribbons, and messages of romance and love. In my Paris neighborhood the efforts to lure were in full force, including my 'made to order' chocolatier who happily helps clients with unique creations for loved ones. On rue de Levis nearby, always a venue for myriad goodies, Jeff de Bruges's display caught my eye as well (see photos). At home following my photo journey, I sat amidst my red curtains, red tablecloth, red walls, and found myself tempted not by nearby vendors but by a journey to the south of France last year and the purchase of a handful of luscious chocolate-covered nougats.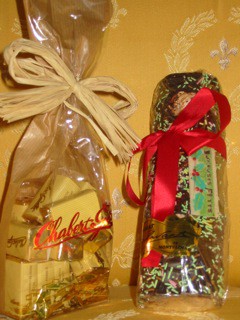 Following this visit to the Drôme département and Montélimar, the capital of French nougat production, I fell in love with these 'pop-in-your-mouth' fancies made principally of almonds, sugar, and honey. Down there as well, creative and gourmand nougat concoctions abound in bars, twists, candied with fruits and other types of nuts, as well as drizzled with flavorings including dark or milk chocolate. The dark chocolate covered ones had the effect of an aphrodisiac not unlike champagne and oysters. On returning to Paris, I assumed that chocolate-covered nougats would be as easy to find; however, many nougat shops or vendors offered the simple plain nougat and not much more. So I resorted to the web and settled on a Montélimar firm, Chabert et Guillot, vendors of fine nougat selections, 'un univers dédié au plaisir des papilles et des pupilles' (a universe dedicated to the pleasure of the palate and of the eye). Their online products included various packages of small squares of the base flavorings, or covered in chocolate, or with dried fruits. But it was the fabulous 10-inch dark-chocolate log dressed with a big fat red bow that stole my fancy. Ordered, paid for and delivered to my door within two business days, I had the perfect surprise for my husband, and of course me too!
Kathleen Burke is a writer and lover of France, who lives in Paris and Massachusetts. Her most recent book on France is "Vieilles Filles and Other Tales from France".
Please visit our Amazon affiliate store for your shopping. Bonjour Paris has hand-selected some of our favorite travel gifts and gadgets for our readers… plus many Paris- and France-related books for children, travelers, scholars, and dreamers.
If you're coming to France and want to remove the stress out of any and all planning, dynamo Lisa Buros-Hutchins of www.YourParisExperience.com can arrange anything and everything, including planning your honeymoon and/or making dinner reservations. Nothing is beyond her.  Say Bonjour Paris referred you and put her to the test of making your stay in France perfect.
Leave a reply
Your email address will not be published. Required fields are marked *