News: SNCF Transit Strike Notice Filed for December Weekends Starting Dec. 9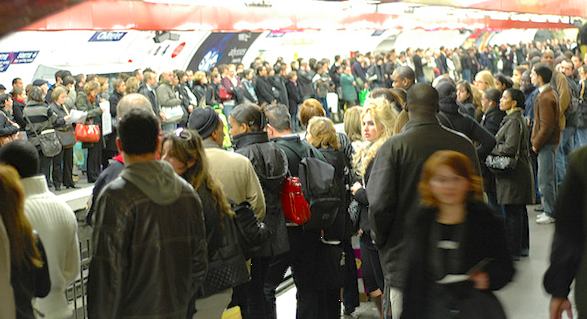 Commuters waiting on Châtelet Métro platform during a 2009 SNCF strike. Photo: CourtneyPo.
Paris Transit Strike Notices Filed for All December Weekends
Related content: Tips for Travelers Visiting Paris During Labor Strikes
Photo Credit: Courtney Po
Dali Wiederhoft is the executive editor of BonjourParis. Please click on her name to read her bio and more of her stories published in BonjourParis.
Would you like to submit a story or request a story topic? Your stories & ideas welcome.
NEW: exclusive content for subscribers in every newsletter. Subscribe for free.
Click on image for info about these books & "Midnight in Paris" DVD or Blu-ray coming soon!

Direct airport transfer service
PARIS SHUTTLE is a leading Paris airport transfer service. Book your airport transfers in advance online for direct to-your-door service and check the current discount available to BonjourParis readers who book using our link.
Save an additional 5% on Auto Europe car rentals:

Auto Europe is your best choice for car rentals in France and Europe. Most competitive rates, no drop fees.
Bookmark & use our link for a 5% code discount here:  Auto Europe Car Rental
Don't overlook Auto Europe for international flights, click Auto Europe Flights
Leave a reply
Your email address will not be published. Required fields are marked *