News: CDG rated world's most hated airport in international survey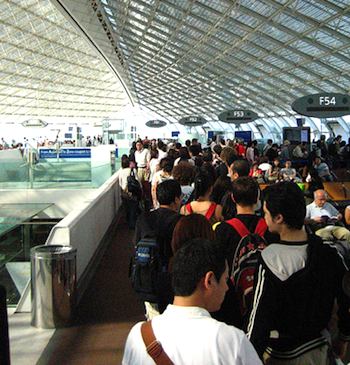 BonjourParis France News
Paris, November 21—Paris-Charles de Gaulle (Roissy-CDG) airport was recently rated the world's most hated airport by CNNGo.com, a CNN international website.
The travel and lifestyle website surveyed reports posted at travel websites, blogs and message boards to create a list of 10 of the world's most hated airports.
CDG: rude staff, unsanitary restrooms, bad restaurants
The CNNGo.com article noted many problems at CDG, such as: rude or indifferent airport staff, unsanitary public restrooms, long waits at security checkpoints, a lack of directional and flight information signs, and a shortage of what they called "Paris-worthy" bars and cafés.
French newspaper Le Figaro published more criticisms found at French travel websites and in other media reports.
CDG management defends staff, notes improvements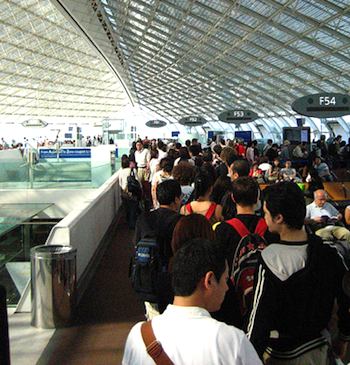 Le Figaro reported that the unnamed manager of the airport (employed by airport authority, Aéroports de Paris or ADP) denounced the survey and defended its 90,000 employees, saying delays and other noted problems are actually caused by airline employees.
The CDG manager was quoted as saying that ADP has invested three billion euros on airport improvements that include passenger entertainment areas with PlayStation games, massage stands and cooking classes at the airport.
He acknowledged that CDG restaurants fall short, a problem he expects will be resolved when Starbucks, Illy Coffee and a total of 50 new food and beverage outlets open over the next two years.
Le Figaro also reported that ADP plans to invest €750 million on improving service quality.
We'll be watching.
Photo credit: Airport crowd photo by Luisavilla
Dali Wiederhoft is the executive editor of BonjourParis. Please click on her name to read her bio and more of her stories published in BonjourParis.
What do you think? Is CDG truly the world's worst airport? Please post your thoughts below.
Subscribe for free and never miss a story. Weekly newsletter has bonus content for subscribers only plus search our library with 7,200+ France travel and Paris events/activities stories.

Thank you for using our direct link to Amazon.com every time you shop the world's largest online retailer.
Leave a reply
Your email address will not be published. Required fields are marked *