Natalie Clifford Barney: Host of Left Bank Literary Salons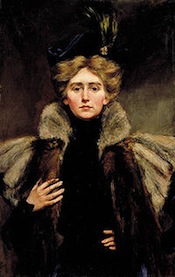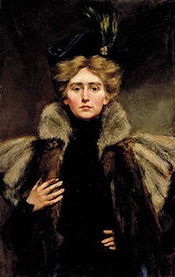 Natalie Clifford Barney was a woman of note who led Paris society in many ways and always slightly ahead of her time. Born in 1876 to a wealthy and prominent Ohio family that can be traced back to the 1600s, at the age of eleven she was sent to a French boarding school. She returned to the States but continued to travel to Europe and came by her artistic interests through her mother, who at one time studied with Whistler in Paris. Like her mother, Natalie was a free spirit, but rather defiant and willful, especially when it came to outmoded Victorian values.
She was soon to let her hair down and her general demeanor was a godsend to the gossip columnists. She was witty and outgoing, with long blond hair and clear blue eyes.  She could ride a horse better than most, play the violin, write poetry and understand French and German. Nathalie was wealthy, bold and uninterested in men except for their brains or talent. She preferred women and had a number of lesbian affairs with fashionable women of her time.
During the period of the great flowering of the Paris literary salon movement in the early twentieth century, Nathalie moved into an elegant house at 20, rue Jacob. It was a quiet retreat on a tiny street very near the Latin Quarter, protected by a wall and deep courtyard. The garden contained a Doric temple that boasted the words à l'amité (to friendship) carved into the stone. Like Gertrude Stein, she hosted a literary salon every Friday between 4:30 and 8 PM. No liquor was served as titled visitors and ordinary folk gathered mostly to talk.
Natalie's salons were true literary gatherings, with great names performing to crowds of famous and talented literati. Her guests included a Who's Who of the arts, such as: Colette, Joyce, Edna St Vincent Millay, Gertrude and Alice, TS Eliot, Isadora Duncan, Ezra Pound, Nancy Cunard, and Peggy Guggenheim, as well as Adrienne Monnier and Sylvia Beach, F Scott Fitzgerald, Caresse and Harry Crosby, Sinclair Lewis, and Janet Flanner. Soirées were organized around readings or concerts and continued for almost 60 years. Truman Capote and Françoise Sagan were even guests. George Antheil previewed his First String Quartet, Paul Poiret and Colette performed Colette's La Vagabonde, Gertrude read from her Making of Americans, Virgil Thompson played and sang his own compositions, and the famous harpsichordist Wanda Landowska performed. There is evidence that the infamous (and naked) Mata Hari once rode through one of Natalie's gardens on a white horse.
People were drawn to her soirées because of her charismatic personality and her connections. She was an "amazon" who carried herself like a fashionable lady. She was arguably the most candid and daring lesbian of her time. Natalie was a tiny woman with great presence; it was her reputation and aura that made her look tall. She had many lesbian lovers whom she wrote about and who wrote about her. She had a talent for the correct word who often made her guests feel small in her company–but if you had the chance, you returned to be surrounded by some of the most talented people in Paris.
Her lesbian love affairs were infamous. Renée Vivienne actually committed suicide for her. Others among her lovers were Liane de Pougy and painter, Romaine Brooks, whose portrait of Natalie was one of her greatest works. Natalie's was an unusual mind of the best quality; she supplied an atmosphere where people met and became intimate quickly. Her life was like that of a character from a Henry James novel.
While she was intimate with some, witty and charming with others, Natalie was extremely difficult to really know. Her friends used her as heroine of their books. She was known as someone who shattered and defied tradition.  She professed a vocal anti-Semitism during the Second war even though her family had a Jewish heritage. She was a contradiction who was denied nothing during her long life. She ruled the roost in a period of salon women. To some, she was a big help. To others, she was interested only in herself, but this was Paris when people wanted freedom to be themselves. She was like so many of her generation but there was only one Natalie.
Natalie died in February 1972. She was almost 100 years old.
Among her many works: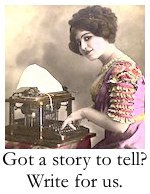 * Pensées d'une Amazone (Paris:Emile-Paul Freres. 1920).
* Poems et  Poemes; Autres Alliances (Paris: Emile-Paul Frères: New York: George H. Doran. 1920).
* Selected Writings, edited by Miron Grindea. London: Adam Books, 1963.
* A Perilous Advantage: The Best of Natalie Clifford Barney (Anna Livia. Ed.)  This book offers selections of Natalie's own writing with selections from Pensées, Cinq Petits Dialogues Grecs, Eparpillements, and other works translated into English.
# # # #

Subscribe for
FREE

weekly newsletters with subscriber-only content.
BonjourParis has been a leading France travel and French lifestyle site since 1995.
Readers' Favorites: Top 100 Books, imports & more at our Amazon store
The early days of Literary Paris…click on an image for details.
Thank you for using our link to Amazon.com…we appreciate your support of our site.
Leave a reply
Your email address will not be published. Required fields are marked *