"We are a team who get on really well together but I wish you didn't have to have music on all the time in the kitchen", complains Nepple, "I can't concentrate." "Well too bad, I can't concentrate with the sound of silence", parries Le Pape, and they give each other a look that says, "OK. We'll put up and shut up, we work so well together and MusicHall is playing to packed houses, it has since the launch last February." And after all guys, it is called MusicHall!
MusicHall is the neat nouvelle-generation concept of Valério Berkovics, the young hip entrepreneur, a handsome creature of the night who created this space as his m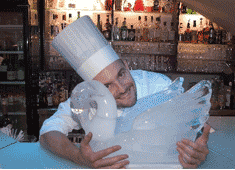 odern cabaret. "No dancing girls, the clients are the cabaret", he explains. The décor is stunning, with soft computer programmed lighting that changes colour, and contemporary art-works punctuate the walls. The centre-piece of the 200-seater space (with bar, summer terrace and private dining area) is a magnificent John Lennon style white piano;  Le Pape tells me he is creating a White Piano Cake for New Year's Eve.
At night there's a DJ. "And that's when it's tough to stay in the kitchen", admits Le Pape the pâtissier. "Well I don't do drugs, I work hard, I just love to get high on music, without my I-POD I'm lost!" he admits. "Yes, I love music too, but not during the service", laughs Nepple. They're off again!  They're both thin as the rolling pins they use. How come? "There are no miracles", admits Le Pape. "I eat all the time, but I dance to my music and work out whenever I can. Nepple says his form comes from his family in Brittany, who are all thin. "My father is a fisherman, and when he comes home, he eats not only his catch, but also everything my mother has cooked plus litres of ice cream!" They both agree; eat regular meals, but not between.
"At MusicHall we've tried to create a provocative menu because, when people come for the first time they probably expect the usual rubbish you get at most restaurants de la mode", explains Nepple. "I came to work with Valério because he gave me carte blanche for the menus, gave me my head." And nobody's complaining. "If this food was presented in a "palace hotel", Nepple would have two stars", remarks food maven Alain Neyman (www.lesrestos.com).
Start with Blanc à manger d'oeuf au Caviar Osciètre (26€) or Rouleaux de thon rouge en impression d'herbe, crème soufflé au wasabi, julienne de radis blancs croquants (17€), there's crunchy Cromesquis et tempura de crabes à la noix de coco (16€), very nice with a glass of Sancerre. From a choice of 6 fish mains, and 5 meats, interesting

choices are the Daurade royale à la plancha, petals de fenouils, artichokes (27€). Pastilla de poulet aux èpices, abricots secs, râpée de courgette à la menthe (24€) soothing Quasi d'agneau confit, poèle de cèpes et chataignes or pavé de foie de veau laqué au balsamique, croustillant pommes de terre (25€). The presentations are creative and colourful, never distracting from the product. The wine list covers everything you want including a fine Lalande Borie 1999. St Julien (48€) and a Fairview Pinotage 2002 from South Africa (30€).
Ah! And le crazy Le Pape's desserts (from 13€). Save room! Get an "Avalanche" for generous tastings of a seriously fabulous repertoire. There's Havane (Le Pape's signature dessert, inspired by beautiful cigar-maker Maya Selva) with subtle cigar notes. (Coming soon, Havane chocolates which Le Pape will sell to selected favourite customers. "I'm just waiting for the boxes"  Hurry up puhleese). Fôret d'emeraudes (chocolate and mint fantasy). Kermesse (nougat based), Les Cents Ciels (Chocolate from Tanzania with praline), Fantasia (hot lavender soufflé). And more. Of course you could have cheese!
"Without music, life would be a mistake", wrote Nietzsche in 1889. Without MusicHall, Paris would be a far duller city.
MusicHall
63 avenue Franklin Roosevelt, 8th
T: 01 45 61 03 63
Open 7/7
(Metro: Franklin Roosevelt),
Valet Parking
Lunch starter-main-dessert 21€ + wine Dinner – from about 50€ + wine