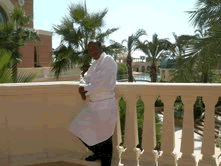 Marcel Ravin was born on the French Caribbean isle of Martinique where he graduated from Hotel School with flying colours. In France his brilliant culinary career began at Chateau Isembourg, Alsace, continued, through the vineyards, to Eastern France and Lyon. In Brussels, at L'Epicerie restaurant, he met Sergio Mangini. Mangini was well impressed with Ravin and, when he became Director of the awesome "made in Las Vegas"  Monte Carlo Bay Hotel & Resort, invited Ravin to head the state-of-the-art kitchens and restaurants. With Ravin's talent The Blue Bay restaurant is the address for Monaco's culinary elite. Ravin lives at Cap d'Ail with his French wife Sandrine and their 5-year old son Matheo. And yes, of course he watched Alonso win the Monaco Grand Prix, even fed the teams. "Although I was rooting for Lewis", he grins.
"I developed my style not with the greats, but in small restaurants all over France. That training taught me to respect products and realise perfection is not always easy. Since Blue Bay opened I haven't had a great deal of time to eat out, but have bonded with the local chefs who share my passion for our craft. When I first arrived in Monte Carlo I didn't really know anyone. Joel Garault,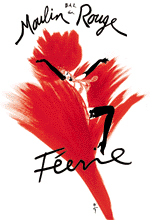 of The Vistamar at The Hermitage Hotel, was the first to welcome me, said "if you need anything let me know". I really appreciate his kindness and admire his concept of cooking the freshest fish, often caught, at the crack of dawn, with the Rinaldi family. 
Monte Carlo is a great place for foodies, lots of speciality shops cater to the taste of the sophisticated and demanding residents. The Hotel de Paris is a worldwide reference to excellence. My main man is Alain Ducasse who not only made a success of his own career, but encourages young chefs like me to reach for the stars. When I have a minute I pop over to see Frank Cerutti, Executive chef at the Louis XV, he'll prepare something we'll share in the Aquarium. This is really the chef's table, off the kitchen, where you see everyone working in perfect harmony, even watch it on closed circuit TV. Some guests prefer to eat here, the better to absorb what's going on kitchen-side. Cerutti also introduced me to his suppliers in the markets of Ventigmilia and Cours Saleya, Nice.
Bar Boeuf & Co. is another Ducasse concept I admire,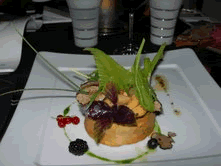 only open from May to September. Pascal Bardet continues to match wonderful products from the sea and land, cooked very simply, sometimes not cooked at all. Piece de veau dorée, tartinée d'une marmalade Crecy with the whites of soft blette. Saint-Jacques du Maine with asparaguis, beans and thyme flavoured baby mushrooms. Not forgetting the two star products le bar et le boeuf!  There's Olivier Berger's incredible desserts, it all washes down well with wines designed around Chardonnay and Syrah.
We go to Maya Bay for Shrimp and green leaf tempura: Peking Vegetable Salad:  Wok-fried noodles, ginger and baby leeks: or shrimp, calamari and Saint Jacques in Thai ragout, or grilled lacquered tuna. It's all good, and Maya Bay sits elegantly behind a contemporary art gallery, so we can take in a bit of culture before we eat.
The talented Yannick Prunier is at The Sporting, Monte Carlo, where so many of the Principality's concerts, festivals and galas are held. He brings a bit of hip, plus he knows what the clients want having worked in Paris, Moscow and Saint Petersburg. Yannick serves from 200 to 900 guests every night, and each dish must be perfection. He wants people to come, not only for the glittering soirées, but for his light bright cuisine.
Off to the beach for a bit of quality time with the family means Cap Marquet near our apartment.  Or, La Note Bleu, Larvotto Plage, where you can eat for between 30€-50€ according to your appetite, my favourite is a Caesar Salad and La Pastilla de Toblerone! Eat any time watching the DJ spin his stuff or listen to live jazz, which blends in well with the swish of the waves.
High above the waves, we are fascinated by Eze, the old perched village, so much history. Incredible, to discover Philippe Labe's contemporary food in a medieval chateau setting. His dining room has amazing views of the Cote d'Azur. The restaurant is expensive, but the Café du Jardin cheaper, eat on the terrace or round the pool. If I had time I'd pop up there for afternoon tea or a cocktail. Maybe one day Sandrine and I will reserve the Presidential Suite to celebrate our Mediterranean life together….I rather fancy La Vie de Chateau!
Address Book:
Marcel Ravin at
The Blue Bay,
Monte Carlo Bay & Resort,
40 Avenue Princess Grace,
Monaco.
T: 00377. 98 06 03 80
www.montecarlobay.com
Le Vistamar (Hotel Hermitage),
Square Beaumarchais, Monte Carlo,
T: +377 98 06 98 98
Le Louis XV, Alain Ducasse,
Hotel de Paris,
Place du Casino, Monte Carlo,
T: +377 98 06 76 23
www.montecarlomeeting.com
Bar Boeuf & Co,
Sporting Monte Carlo,
Avenue Princess Grace,
Monte Carlo,
T: +377 98 06 71 71
Maya Bay,
Rocabella Building,
24 avenue Princess Grace, Monte Carlo,
T: +377 97 70 74 67
Yannick Prunier at
The Monte Carlo Sporting Club,
26 avenue Princess Grace, Monte Carlo,
T: +377 92 16 36 36
www.mont-carlo.mc
Cap Marquet
Plage de la Marquet,
Cap d'Ail,
T: 04 92 10 10 17
La Note Bleu,
Larvotto Beach, Monte Carlo,
T: +377 93 50 05 02
www.restaurants-montecarlo.com
La Chevre d'Or,
Rue du Barri, Eze Village,
T: 04 92 10 66 66