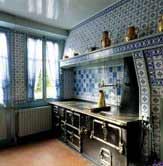 It's Spring and thoughts go to getting out of town. How about a visit to Monet's House?New York born Aileen Bordman, passionate about Normandy, is intent on bringing Claude Monet, Father of Impressionism, to your attention, if you're in the USA, France or Europe.
Her fascination for Monet and Normandy goes back a long way. "I grew up in the world of Claude Monet", she explains. "My mother helped restore the Giverny gardens". Helen Rappel Bordman is the first American to have lived in Monet's home since its' 1980 restoration, she is in residence each Spring, has lectured there for 27 years and there's a "thank you" plaque, recognising her work in the Claude Monet Museum.
One visit to Giverny and you'll realise why the Bordmans are so passionate. Look to enter, and check out, Bordman's world of Monet's Palate® "I want to bring a little bit of Monet, especially the cuisine he enjoyed, to everyone", she says. "Normandy has amazing ingredients, Camembert Cheese, Calvados brandy, apples, the best crème fraiche and butter in the world".
And that's not all, Bordman has written, and is executive producer of a 60-minute documentary, "Monet's Palate: A Gastronomic View from the Gardens of Giverny" – narrated by Meryl Streep. Thus was born AFB Productions Inc., the Indy film company which owns the Monet's Palate trademark, and which is Bordman's first voyage into film-making.
"The film illustrates the beauty of the region as well as the artist's relationship to the pleasures of the table, Giverny was his home for 40 years", says Ms Bordman.
"He cared about everything at his table, chose the flowers, created menus with his chef using vegetables and herbs from his garden. He even designed his own Limoges place settings. Above all Monet was a welcoming host, a serious food lover, who loved friends to bring recipes when they came to his house".
Presented by Las Vegas PBS affiliate KLVX, the film premiered March 27th. It then airs on April 20th on WNET New York City PBS before distribution by American Public.
The film takes viewers on a culinary and historical pilgrimage to Giverny, "the epicenter of Impressionism", located just 45 minutes north of Paris. Bordman's "palette to palate" journey features a tour of Monet's house and gardens, with emphasis on the relationship between food and art.
Monet's Palate includes commentary and food preparation from culinary and cultural icons,  including chef/author and restaurant owner Alice Waters: MOMA Curator Joachim Pissarro (great-great grandson of Camille Pissarro, a contemporary of Monet): Chef Daniel Boulud (Daniel, Cafe Boulud): Las Vegas Hotelier Steve Wynn, who allowed his vast private Impressionist collection to be filmed.
"They ate a lot. A three or four course meal was not unusual", says Professor Pissarro. "Monet was a total workaholic, yet nothing interfered with lunch, and he adored Veuve Cliquot champagne!"
Bordman says her vision for her integrated lifestyle brand is off to a dynamic start.
"We're actively seeking licensing opportunities with companies to create food and
beverage products in the spirit of Monet's Normandy and Giverny. Think teas, cheeses, pastries and liquors", she explains. Some delights are already available:  Monet's Palate Cabernet Sauvignon Wine® and "Chocolate Couture®" creamy Calvados flavoured candy wrapped in water-lily pond printed paper.
And, cherry on the gateau, watch out for special dinners created by celebrity chefs (in the USA) featuring food and wine pairings that re-create typical meals Monet and his guests enjoyed at Giverny.
Ms Bordman says her goal is to help people create a little bit of Claude Monet's world at Giverny, of their very own. "And do for Normandy what "A Year in Provence" and "Under the Tuscan Sun" did for those special places, she adds.
To view the film or order a DVD see
Fondation Claude Monet,
rue Claude Monet,
27620, Giverny,
Shut Monday
Open from 9.30 am – 6pm
April 1st-October 31st.
By train from Gare Saint Lazare to Vernon Station