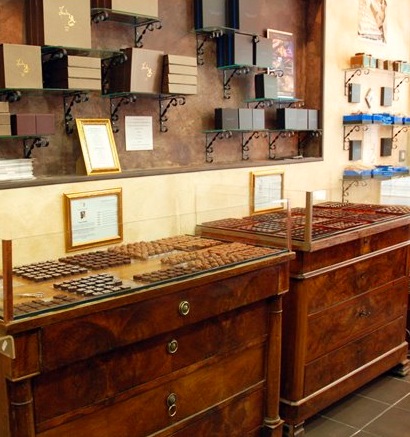 If you have a weakness for chocolate as well as for intimate chocolate boutiques, then you'll want to get over to rue Mouffetard for a visit to Mococha.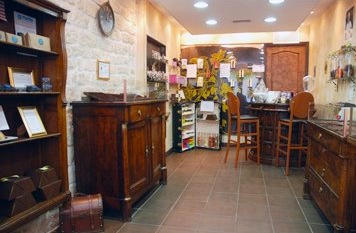 Open since the fall of 2009, this little shop is owned and operated by Marie-Hélène Gantois. Her passion for chocolate is only equaled by her knowledge of this delectable confection, designated by Mayans and Aztecs as a food for the gods! The name of her boutique is derived from a combination of the word "chocolate" and the name of a small town in the Yucatan in Mexico.
Marie has tested numerous products from various chocolate makers in France, and has settled upon featuring three of the nation's Meilleurs Ouvriers (MOF): Jacques Bellanger, Fabrice Gillotte, and Patrice Chapon. Mococha offers dozens of varieties of chocolate created by these master craftsmen.
Mococha is a veritable hive of activity buzzing around the subject of chocolate. In 2010 the boutique welcomed Fabrice Gillotte to meet the public and to represent his chocolates, hosted a chocolate cocktail event, held a champagne and macaron tasting in honor of Jacques Bellanger's new line of macarons, sponsored a cocoa bean plantation in Mexico, and hosted a book signing for Stephanie Zeitoun's book J'adore le Chocolat.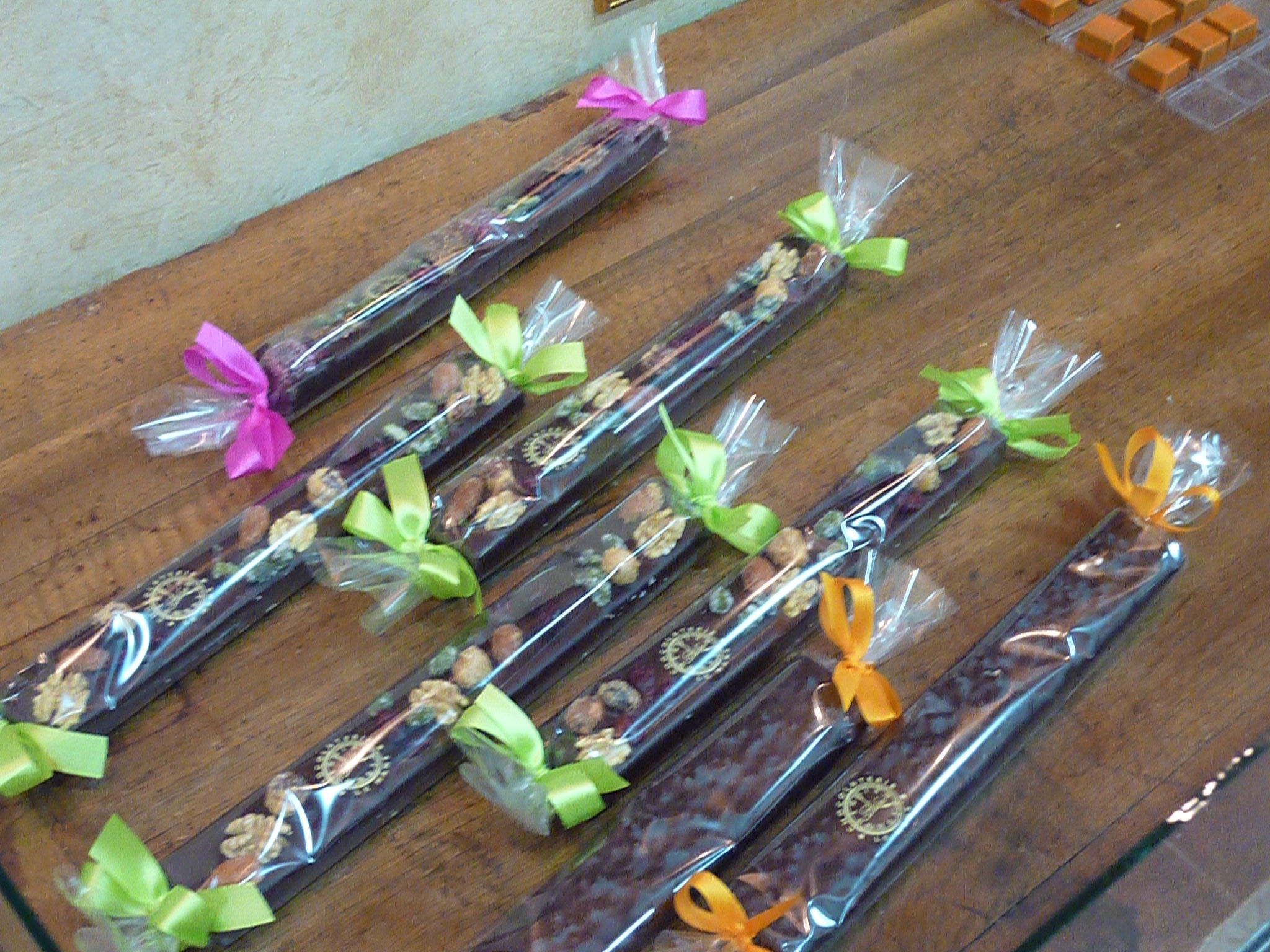 Mococha offers several products for chocolate lovers. From Jacques Bellanger, there are three types of crunchy bars:
Buggatise: crackly, crunchy pralines layered with tender caramel accentuated by "fleur de sel" (sea salt) and coated in dark chocolate
Sybille: the same praline, accompanied by almond paste elaborated with Sicilian pistachios, coated with dark chocolate and decorated with pistachios, almonds, cranberries, walnuts, and hazelnuts
Charlotte: praline with raspberry paste coated with dark chocolate and decorated with pistachios, dried figs, cranberries, and cubes of fruit paste.
"Les Barres de Jacques Bellanger" are 25 cm (roughly 10 inches) long and are beautifully presented in a transparent wrap bound by ribbons on each end.
Marie has also assembled three chocolate delights in a package that she calls the Mococha "Coffret Craquant."  It is comprised of chocolate-covered grilled almonds and chocolate-covered grilled hazelnuts from Maison Weiss, and chocolate dragées wrapped in gold paper from Maison Médicis.  There are also boxes of florentines and mendiants by Maison Weiss, chocolate-covered lemon peel and ginger by Weiss, chocolate-covered orange peels by Maison Corsiglia, and marrons glacés by Maison Corsiglia.
Marie has also created a box filled with a variety of chocolates by her three featured chocolate makers that she calls the Mococha "Coffret Garni Assorti." It is available all year round.
Even if you are not tempted by these sumptuous confections (and how could you not be?), you should visit Mococha to taste Marie's heavenly hot chocolate! Made from Venezuelan dark chocolate (72%), whole milk, crème fleurette, and sugar, it is thick, rich, and slightly fruity in flavor. Nothing warms the spirit so well after a cold winter's day of shopping on rue Mouffetard!
PRACTICAL INFORMATION:
Tél : 01.47.07.13.66
89, rue Mouffetard, Paris 5th
Métro: Censier Daubenton
Hours : Tuesday through Sunday 11 AM to 8 PM
Photo credits: Discover Paris!
Monique Y. Wells is cofounder of Discover Paris!—Personalized Itineraries for Independent Travelers and a freelance writer and editor. Please click on her name to read her profile and to learn more about her.

Subscribe for
FREE

weekly newsletters with subscriber-only content.

BonjourParis has been a leading France travel and French lifestyle site since 1995.
Readers' Favorites: Top 100 Books, imports & more at our Amazon store
We daily update our selections, including the newest available with an Amazon.com pre-release discount of 30% or more. Find them by starting here at the back of the Travel section, then work backwards page by page in sections that interest you.
Find the finest Paris chocolates or bake like a French baker with "Cooking with Chocolate" book & DVD.
Support our site by clicking on this banner for all your Amazon.com browsing. Merci!