Mix Business with Pleasure at Hôtel de Buci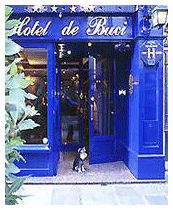 The 6th is touristy. We know this. You read about it in all the guidebooks while crouching on the floor in Borders too cheap to buy your own copy. You fantasize about the old Paris–the artists' Paris–the Left Bank. Saint-Germain-des-Prés, Montparnasse, Saint-Sulpice… And although by July Odéon is filled with T-shirt wearing Americans, they're not the only crowd that meets around the Danton statue in front of the métro. Here, crowded and hot, you'll find young French students from the Ecole de Medis, the store clerks from the many charming boutiques, and boyfriends awaiting their chéries for the 7:45 American movie showing across the street in V.O. The heart of Odéon is Rue de Buci and, despite the crowds and the 30-minute line for gelato, it is enchanting: flower shops, hand-made card shops, gelato, Bar du Marché–as "café" as Paris gets. Just a few paces up from a superb café crème, across the street from the fruit market, and catty corner from Paul's viennoise chocolats is the family-owned Hôtel de Buci. When you enter the Hôtel de Buci lobby, it's like the old standard "April in Paris" meets Sinatra's "I'll Remember April." If the Rat Pack were alive today and in Paris, this is where they would hang their hats. The lobby features low leather chairs, a green velvet velour antique settee, polished black and white (granite-looking) floor and of course an elite collection of green sculpture of lions, tigers and panthers made in the Limoges region during the 1930s. Colorful portraits line the walls, a touch of art deco shows in the low-lit lamps. Three smiling young men in uniform are at the desk; above them a greenhouse ceiling pours in natural light. Nearby is a small terrace with a garden. Uh huh…as it turns out I was right, and in front of the reservation desk, a little to the left, is a hat rack for the dapper clientele. Enter Frederic Lassalle Mayor, manager and son of the hotel's decorator. I must remember to get his mother's number, for use when I can afford furniture. Monsieur Lasalle is tall, intimidatingly handsome, and accompanied by Lily, his pet Schnauzer, who since Lasalle's mother has attempted to retire is now the first lady of the Hotel. Before showing me to my room, Frederic takes me for a café crème in the hotel bar–which couldn't be a more perfect place to practice my favorite sport of people-watching, with a view of Paul bakery, the market and its many eccentric shoppers. A group of lawyers from Leon finalize a contract. They have four computers open, all connected to the Internet via WiFi. Brilliant! Frederic has arranged the system so that it's possible to hook up four computers onto the same account. The man in the pinstriped blue shirt lights a cigar, balancing it between his lips while he scrolls down the screen. An elegant orchid in the window gives an air of femininity to the masculine surroundings. Frederic and I sit back in our brown leather chairs and chuckle at the unshaven passerby in the red-hooded sweatshirt and moccasins: "Prennez l'avion!" he cries. "Take the plane!" Frederic grew up at Hôtel de Buci. The hotel has been in his family since 1950; while his parents ran it Frederic went to school up the street. Spending most of his life in the 6th, he frequents Fish, the restaurant around the corner; Le Bar du Marché; and of course Amorino's gelaterie. And now, it's time to go to my room. There are 24 rooms in the hotel, all of which are decorated in beautiful 18th century fabric and carved wooden furniture. The carpet is yellow, with small flowers decorating it, and perfectly clean. The bathrooms are small but make great use of space–the bathtub is very inviting, framed by orange pin-striped walls. All rooms have air-conditioning, safe box, mini bar, hairdryer, bathrobes, slippers, TV with cable, Internet access on the television, magnifying mirror, electric shutters and WiFi. 64: Suite. Can sleep three, two adults and one child (on the bed that folds out of the wall in the sitting room). Two television sets (huge one in the bedroom). Two toilettes. Magnificent green and yellow materials drape the bed. Elegant. Tassels hang from the ends of fine materials. A few carefully selected art pieces decorate the walls, adding a splash of color. Tons of closet space. 54: Deluxe room. Precious. Exposed beams, fleur de lys cover the bedspread, great natural light. Beautiful polished armoire. 44: Single. Small, but lovely. Canopy bed covered in linen material that features a scene with a child and a mother–red and yellows. 21: Superior. Faces the street, but windows are sound-proofed so no need to worry about the noise. Linen material on the bed–red and blue flowers. 31: Huge suite. Perfect for business. A round table in the sitting room is surrounded by three large high-backed chairs. It is even possible to arrange a direct telephone line so that if you have people calling for business from London, for example, they won't have to be transferred through the reception. Long windows look onto the street. There are two toilettes. A pullout bed can sleep two. Canopy bed draped in 18th century fabrics. I'm staying here next time! I woke up the next morning, showered with the divine bath gel, compliments of the hotel (be sure to bring your own shampoo), then pulled on the oversized white terrycloth robe, and the slippers resting beneath it. I was supposed to turn on CNN while applying my make up at the vanity by the open window, but I was sucked into MTV. (Hey! I don't have a TV at home.) The breakfast room is très chic, with a glass bar holding whatever you desire. Colorful portraits line the walls, a red velvet couch rests against the wall, and a piano waits in the corner; the breakfast room reminds me of a lounge in a trendy Los Angeles club. At Hôtel de Buci, you'll have your choice between breakfast in the bar or at Paul bakery on the…
SUBSCRIBE
ALREADY SUBSCRIBED?
BECOME A BONJOUR PARIS MEMBER

Gain full access to our collection of over 5,000 articles and bring the City of Light into your life. Just 60 USD per year.

Find out why you should become a member here.

Sign in

Fill in your credentials below.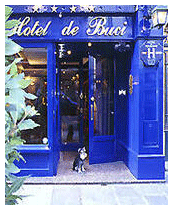 The 6th is touristy. We know this. You read about it in all the guidebooks while crouching on the floor in Borders too cheap to buy your own copy. You fantasize about the old Paris–the artists' Paris–the Left Bank. Saint-Germain-des-Prés, Montparnasse, Saint-Sulpice… And although by July Odéon is filled with T-shirt wearing Americans, they're not the only crowd that meets around the Danton statue in front of the métro. Here, crowded and hot, you'll find young French students from the Ecole de Medis, the store clerks from the many charming boutiques, and boyfriends awaiting their chéries for the 7:45 American movie showing across the street in V.O.
The heart of Odéon is Rue de Buci and, despite the crowds and the 30-minute line for gelato, it is enchanting: flower shops, hand-made card shops, gelato, Bar du Marché–as "café" as Paris gets. Just a few paces up from a superb café crème, across the street from the fruit market, and catty corner from Paul's viennoise chocolats is the family-owned Hôtel de Buci.
When you enter the Hôtel de Buci lobby, it's like the old standard "April in Paris" meets Sinatra's "I'll Remember April." If the Rat Pack were alive today and in Paris, this is where they would hang their hats. The lobby features low leather chairs, a green velvet velour antique settee, polished black and white (granite-looking) floor and of course an elite collection of green sculpture of lions, tigers and panthers made in the Limoges region during the 1930s.
Colorful portraits line the walls, a touch of art deco shows in the low-lit lamps. Three smiling young men in uniform are at the desk; above them a greenhouse ceiling pours in natural light. Nearby is a small terrace with a garden. Uh huh…as it turns out I was right, and in front of the reservation desk, a little to the left, is a hat rack for the dapper clientele.
Enter Frederic Lassalle Mayor, manager and son of the hotel's decorator. I must remember to get his mother's number, for use when I can afford furniture. Monsieur Lasalle is tall, intimidatingly handsome, and accompanied by Lily, his pet Schnauzer, who since Lasalle's mother has attempted to retire is now the first lady of the Hotel.
Before showing me to my room, Frederic takes me for a café crème in the hotel bar–which couldn't be a more perfect place to practice my favorite sport of people-watching, with a view of Paul bakery, the market and its many eccentric shoppers. A group of lawyers from Leon finalize a contract. They have four computers open, all connected to the Internet via WiFi. Brilliant! Frederic has arranged the system so that it's possible to hook up four computers onto the same account. The man in the pinstriped blue shirt lights a cigar, balancing it between his lips while he scrolls down the screen.
An elegant orchid in the window gives an air of femininity to the masculine surroundings. Frederic and I sit back in our brown leather chairs and chuckle at the unshaven passerby in the red-hooded sweatshirt and moccasins: "Prennez l'avion!" he cries. "Take the plane!"
Frederic grew up at Hôtel de Buci. The hotel has been in his family since 1950; while his parents ran it Frederic went to school up the street. Spending most of his life in the 6th, he frequents Fish, the restaurant around the corner; Le Bar du Marché; and of course Amorino's gelaterie.
And now, it's time to go to my room.
There are 24 rooms in the hotel, all of which are decorated in beautiful 18th century fabric and carved wooden furniture. The carpet is yellow, with small flowers decorating it, and perfectly clean. The bathrooms are small but make great use of space–the bathtub is very inviting, framed by orange pin-striped walls. All rooms have air-conditioning, safe box, mini bar, hairdryer, bathrobes, slippers, TV with cable, Internet access on the television, magnifying mirror, electric shutters and WiFi.
64: Suite. Can sleep three, two adults and one child (on the bed that folds out of the wall in the sitting room). Two television sets (huge one in the bedroom). Two toilettes. Magnificent green and yellow materials drape the bed. Elegant. Tassels hang from the ends of fine materials. A few carefully selected art pieces decorate the walls, adding a splash of color. Tons of closet space.
54: Deluxe room. Precious. Exposed beams, fleur de lys cover the bedspread, great natural light. Beautiful polished armoire.
44: Single. Small, but lovely. Canopy bed covered in linen material that features a scene with a child and a mother–red and yellows.
21: Superior. Faces the street, but windows are sound-proofed so no need to worry about the noise. Linen material on the bed–red and blue flowers.
31: Huge suite. Perfect for business. A round table in the sitting room is surrounded by three large high-backed chairs. It is even possible to arrange a direct telephone line so that if you have people calling for business from London, for example, they won't have to be transferred through the reception. Long windows look onto the street.
There are two toilettes. A pullout bed can sleep two. Canopy bed draped in 18th century fabrics. I'm staying here next time!
I woke up the next morning, showered with the divine bath gel, compliments of the hotel (be sure to bring your own shampoo), then pulled on the oversized white terrycloth robe, and the slippers resting beneath it. I was supposed to turn on CNN while applying my make up at the vanity by the open window, but I was sucked into MTV. (Hey! I don't have a TV at home.)
The breakfast room is très chic, with a glass bar holding whatever you desire. Colorful portraits line the walls, a red velvet couch rests against the wall, and a piano waits in the corner; the breakfast room reminds me of a lounge in a trendy Los Angeles club.
At Hôtel de Buci, you'll have your choice between breakfast in the bar or at Paul bakery on the rue de Buci, where you can get breakfast for about 7 euros, or take a coffee and croissant at Le Bar du Marché. But be sure to return to the lobby of the hotel in the afternoon so you can have your own private people-watching party. Lily will be waiting for you, so don't forget to bring her a biscuit.
Nearby Attractions:
*Luxembourg Gardens
*Musée D'Orsay
*Musée du Louvre
*Notre-Dame
*Pont Neuf
*Panthéon
*Les Mariage Frères
*Ladurée
Some of my favorite cafés in Paris (within walking distance):
*Le Bar du Marché
*Les Etages
*La Palette
*Le Danton
*Les Deux Magots
*Café de Flore
Special hotel pluses!
*Secretarial services
*DVD player upon request
*Remote controlled air-conditioning
Prices:
Prices range from 190-550 euros
Continental breakfast: 14 euros
Contact:
22, rue Buci – 75006 Paris
Métro: Odéon, Mabillon, Saint-Germain-des Près
Telephone: 01 55 42 74 74
Fax: 01 55 42 74 44
---
---