Let's hear it for Olivi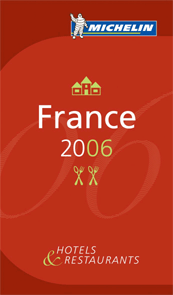 er Roellinger, the one and only Michelin *** for 2006. If you're passing near Cancale, Brittany, he's at Maisons de Bricourt together with his lovely wife Jane, in one of several houses scattered near the Bay of Mont St. Michel. "I was born in the first house," says a delighted Roellinger.  The building, dating from 1760, once belonged to The East India Company, importers of silks, porcelain, precious woods and spices. Roellinger, self-taught, trained as a chemist, immerses himself in the tastes of the five continents and adds exotic notes of spices that, once blended, take visitors to Bricourt on an unforgettable and fragrant journey.
Pierre Gagnaire keeps three stars for his eponymous restaurant, adds one for Gaya Rive Gauche, his recently opened chic left-bank fish parlour. Alain Ducasse keeps the star (and all the others bien sur) that burns so bright at Benoit, the classic brassserie he acquired last year. Alain Senderens is awarded two, although you recall, he returned all three when he decided to transform Lucas Carton into Alain Senderens and make himself available to the common man.   Ironic, n'est ce pas, when both Senderens and Robo made it quite clear they wanted out.  Guess they just don't get it at Fortress Bibendum.
There are 26 *** star restos in France; nine in Paris.  70 ** with six new toques on the ** block at: Le chateau de Beaulieu, Bethune. La Bastide de Capelongue, Bonnieux. Flocons de Sel, Mégeve. La Table and L'Atelier de Robuchon. Alain Senderens. Chez Ruffet, Pau.
And, if they play their cards right, The Meurice, Paris: Chateau Cordeillan Bages, Pauillac: Les Ambassadeurs, Paris: La Bastide St.Antoine, Grasse: L'Oasis, La Napoule: and Pic, Vallence will all go into the *** galaxy.
There are 424 * stars (50 new). In Paris they include Benoit (2nd), recently acquired by Alain Ducasse:  L'Atelier de Joel Robuchon (7th):  Pierre Gagnaire at Gaya Rive Gauche (7th): Stella Maris 8th (at long last): Chez Jean (9th). Is it because there's not much else to do, but the ski resorts seem to come out well? *Les Barmes de l'Ours, *Val d'Isere: *L'Oxalys, Val Thorens. In Nice Kei's Passion and Jouni "Atelier du Gout" win *.  And in Paris Stephane Garborieu hangs on to the * star at Le Pergolese (16th). Relais du Parc, now a friendly
collaboration between Ducasse and Robuchon get * and, outside Paris (in the region 43) Francois Gagnaire (no relation, but a disciple of Ducasse) wins *.
So what else then?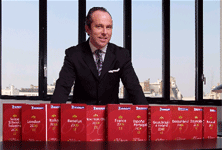 There are 26 *** 70** and 42* Michelin starred restaurants in France. The € will go further if you consult Les Bib: Bib Gourmand and Bib Hotels which are excellent value quality/price. Forty-something Michelin Director Jean-Luc Naret took over from the ever so English Derek Brown in 2004. He's the 6th Director in the Guide's 106 year history and has worked from Bora-Bora to The Bristol, Paris, where he was also Director.   Before joining Michelin he was head of operations for a group of hotels belonging to the Aga Khan and also took part in the "love it or loathe it" transformation of Sandy Lane, Barbados.

When asked how he could be so cruel and take away a star from La Tour d'Argent, who have made it quite clear they no longer wish to be included in the guide, Naret sniffed. "This is ridiculous, why is it always when an establishment loses a star they want out?"  For journalist Philippe Toinard (see his blog at: http://lesgourmandisesdephilippe.zumablog.com) it can only hasten the death of the legendary owner, Claude Terrail. "At 88 surely they could have shown some respect," pleads Toinard.When asked how he could be so cruel and take away a star from , who have made it quite clear they no longer wish to be included in the guide, sniffed. "This is ridiculous, why is it always when an establishment loses a star they want out at 88 surely they could have shown some respect," pleads

Guide Michelin France 2006
24€
Guide Michelin Paris and the Paris region 2006
12€50
Available everywhere from 1st March
C. Margaret KEMP