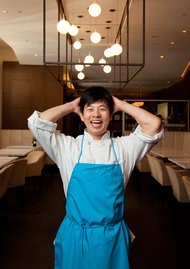 For 2014 Michelin awards one new restaurant two stars, TriBeCa's Jungsik. This Korean restaurant, moving up from its one star designation last year, offers its own distinctive reflection on that region's cuisine, highlighting the unmatched breadth of New York's diverse international dining scene. The city that never sleeps now has five two-star eateries: Atera, Jungsik, Marea, Momofuku Ko and Soto.
So, 67 New York restaurants received the coveted Michelin * rating, the most awarded since the famous French restaurant guide was first published for the city in 2005 under the guidance of Jean-Luc Naret.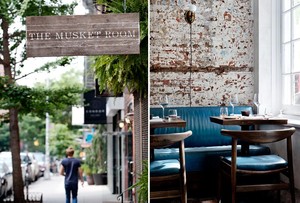 For 2014 nine restaurants earned their first *: Aska, Babbo, Carbone, Caviar Russe, Ichimura, Le Restaurant, Lincoln, the Musket Room and Telepan. Aska in Brooklyn represents the fourth Michelin star restaurant in that borough. One of the more exciting selections, the Musket Room, specializes in an enthusiastic and contemporary take on New Zealand fare!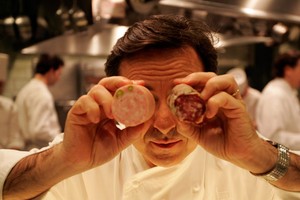 In addition, at the top of the gastronomic scene, all seven New York restaurants with three stars in the 2013 edition: Chef's Table at Brooklyn Fare, Daniel, Eleven Madison Park, Jean-Georges, Le Bernardin, Masa and Per Se: kept them. Phew ! Michelin three-star rating is considered the ultimate international recognition in the culinary world, one hundred restaurants in the world currently have this prize.
The mere inclusion in the MICHELIN Guide New York 2014 is an acknowledgment of excellence and quality. 930 restaurants are included, covering all five city boroughs. This year, Michelin inspectors embraced 61 different cuisines in the guide, reflecting New York's rich history of cultural diversity.
The release of Michelin New York 2014 comes one week after they announced their Bib Gourmand choices, which also includes the excellent "Under $25" category. In fact, throughout the guide there are helpful symbols for easy reference on price ranges, overall dining comfort, wheel chair access, late night dining, breakfast and brunch service, and notable wine, beer, sake, and cocktail lists. Eateries that serve dim sum are also listed.
New York is one of three cities in the U.S. where Michelin publishes an annual guide. Later this year, the Michelin Guide San Francisco Bay Area & Wine Country 2014, and the MICHELIN Guide Chicago 2014 will also go on sale. Watch this space!
Leave a reply
Your email address will not be published. Required fields are marked *