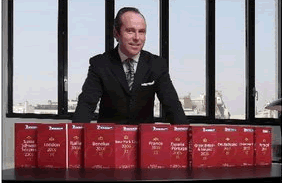 It's that time again, Michelin 2007 is in kiosks and bookshops from February 28th. Here you are then, the new all –singing- all- dancing Michelin. Note the new lay out, featuring two establishments per page, more detail on cuisine, ambiance, décor, photos. There are now 26 ***stars of which five are new. 65 ** stars (7 new) and 436 * (50 new). There are 19 "Rising Stars" and 489 Bib Gourmand, meaning quality/price excellent value. In the Paris Guide (14.50€) 10 Three Stars with 3 new. 13 Two Stars with one new and 42 One Stars 3 new.
5 NEW THREE STARS
YANNICK ALLENO. LE MEURICE
PASCAL BARBOT & CHRISTOPHE ROHAT, L'ASTRANCE PARIS
FREDERIC ANTON, LE PRE CATALAN, PARIS
ANNE SOPHIE PIC, VALENCE, NEAR LYON (3rd GENERATION OF 3 *'s)
LAMELOISE AT CHAGNY
DEMOTED
ANTON WESTERMANN, LE BUREHIESEL (THE SON'S TAKEN OVER)
PHILIPPE LEGENDRE, LE GEORGE V. PARIS
LE TAILLVENT (ALAIN SOLIVERES/JEANCLAUDE VRINAT), PARIS
MARC VEYRAT, MEGEVE (because he sold the restaurant & will open in Paris)
NEW PARIS TWO STAR
LES ELYSEES DE VERNET
NEW PARIS ONE STARS
DOMINIQUE BOUCHET (8TH)
AUGUSTE (7TH)
FABLES DE LA FONTAINE/CHRISTIAN CONSTANT (7TH)
BATH'S (17TH)
LES MUSES, HOTEL SCRIBE (9TH)
When it comes to wining and dining no one has a bigger job than Jean-Luc Naret. Since June 2004 Naret has been in the Directors' chair at Fortress Michelin, having taken over from the very British Derek Brown. "My vision is taking Michelin global, making the guides pictorial more user-friendly, the Paris and French editions are being printed in English this year". 
A dynamic perma-tanned Frenchman, Naret says he keeps in shape rushing around the world, catching planes. "It's easy when you only eat excellent food, although, when I'm in Paris I go everywhere on my bicycle, like Lance Armstrong", he smiles. After graduating from The Ecôle Hotelièr, Paris, Naret spent twenty award winning years in the luxury hotel industry, working in exotic locations such as Bora-Bora, Mauritius, where his twins were born, the Bahamas and Africa. He then managed the highly successful multi-million dollar transformation of Sandy Lane, Barbados and, subsequently, headed operations for a group of Hotels belonging to His Highness The Aga Khan. 
The only child of an insurance executive, Naret says."Hotels and restaurants are in my blood, I never remember wanting to do anything else. "As a child, when I  travelled with my parents, I would point to hotels

and say, "I want to own that one and that one".
Naret, adores gourmet food, tries to go to restaurants that don't know who he is. "For diversity, I'll take New York. For technique, Tokyo. For creativity, Spain and France". Paris based, he lives on the left-bank with his gorgeous wife Odile and their three children, holidays are spent on sunny Caribbean islands or their Normandy cottage. Weekends find him enjoying the city, filling baskets with organic products from Marché Raspail, spending quality time with his family. 
"Michelin was founded in 1900 , Naret is the 6th director, the first "outsider", he has never trawled the tough Inspector's trial. Of the losers, he comments. "Maybe they're losing interest, they're not consistent anymore, there's always a good reason, inside themselves the chefs know the reason!" So, what is the secret to his success? "My unfailing optimism, give me a job, and my first reaction is, "Yes, I CAN do it, I believe the key to this industry is teamwork; take the job seriously but not oneself". Certainly, looking through 2007, you'll definitely want it, Naret's doing a great job driving Michelin into the future, they've got a Formula 1 guy on board. Bravo! 
MICHELIN GUIDE FRANCE 24€
MICHELIN GUIDE PARIS OUT 28TH MARCH 14€50