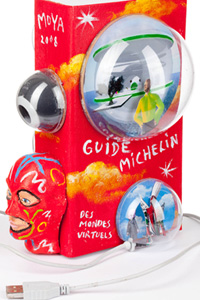 Michelin's 100th birthday with epic celebrations at the Musée d'Orsay (catering by Lenôtre) brings the annual debate "does anybody care?" The annual media leak means we knew Eric Frechon would notch-up his third star: Jean-Francois Piege would not, Michel Roth at The Ritz would get his second, the Jules Verne and Christian LeSquer at ETC. one. Also Marc Veyrat throws in the 3-star tea-towel along with Olivier Roellinger. Stripped of his star last year Eric Guerin of La Mare aux Oiseaux gets it back this year. Go figure they sold 1.2 million last year in 23 countries.  
The 100th edition, access it on your iPhone, iPod Touch or via iTunes from a computer, coincides with a counter-offensive by France to promote its' cuisine internationally. President Sarkozy has asked UNESCO to declare French cuisine part of world culture.  
How embarassed would Frechon have been if he had not won that third star? Yes, it's fashionable to criticise Michelin but fact is it's still No. 1 top of its' field. I have an e-mail from Chantal Fulci, of restaurant Les Terraillers, Biot.
Her son Michael Fulci (trained by Vergé and Ducasse) is now Executive chef at Les Terraillers, once a 16th century pottery, winning his first star in 2006. Mme Fulci writes, "We are thrilled and delighted Michael is noted as an "espoir deux etoiles" 2009. (Two-star hope for next year). It's a new challenge for 2010". Now Michael is motivated to keep his standards the highest possible to win that second star. Sometimes Michelin man keeps them waiting for years, but they never give up. Frechon waited 10 years for his 3rd * Watch this space for news of young Michael.  
www.guide-michelin-centieme.com
And now for something completely different. Les Tontons 2, a neo-bistro concept starring tartares. With the success of Tontons 1 and the chance to transform an atmospheric bar opposite the former Vaugirard abbatoir, owner Jean-Guillaume Dufour has created something unique, you've heard of tapas bars, oyster bars, singles bars, Tontons 2's a tartare bar.  
The décor has shiny black and white photos of "Les Tontons Flingueurs", The Crooks in Clover movie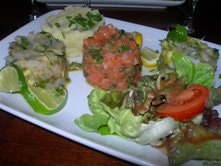 whose epic scene is set in a kitchen. If you're 4 or 5 flingueurs get the private banquette table in the corner, No. 69. Just have a beer on tap at the handsome wooden bar Dufour found in an "ancien maison des putes", rue Argentine in the 16th". Don't ask. A few tables outside, one occupied by the local loony old hag who sits, legs akimbo, and drinks coffee all day. It's that kind of a neighbourhood.  
The menu, on a blackboard and written, is a delight. Talk to Clary or Marion who'll help you with the wine to match say, tartare of cod, salmon and scallops, from 2.50€ a glass to a Pichon Longueville 1999 at 156€. Tartares are all freshly chopped, tell them to go light on the onions. "Dealing with raw food is as delicate as dealing with explosives", admits Dufour. (See photo) His best-seller, the traditional AOC Aubrac-Salers-Baviére beef tartare, is either flipped in the frying pan, or raw. "Le Ch'Ti", Maroilles cheese, cumin, beer. Le Grec, Feta, olives, peppers, olive oil from El Bierzo. Bread from Max Poilane, just along the road. Last weeks' bargain lunch was Tomates farci au thon. Soupe du chef. Tarte aux champignons. 3 Mains: Either tartare Bleu:Tradi:Poele. Filet de merlan, tarragon sauce, ratatouille. Croustillant de boudin aux pommes. Poulet fermier, sauce miel, purée maison. Pudd: Chocolate cake, Tarte aux Pommes, Fromage blanc, honey, coulis or chestnuts. Or tartare of bananas, coconut and eclats de chocolat. Tartare of mango spiked with Brazilian caipriana.  
Opposite, discover Georges Brassens Park, rue des Morillons, named for the poet and singer who lived nearby at 42 rue de la Villa Santos-Dumont. In the 19th century it was the Vaugirard abattoir, no signs of the bloody past now, except for bronze bulls' heads at the entrance, a campanile, from which selling prices were once shouted, and stones from the original building. Where horses were slaughtered, children now climb, roller blade and play tag. Les Tontons, en hommage to the horses, serve L'Authentique tartare de cheval, and lots of it according to Dufour. "We like to think of Tontons as a neighbourhood place where people can leave their keys, their wives, their secrets", grins Dufour. Whatever you do don't leave your horse!
In the park, a large children's play area, winding paths leading to secret gardens, one of which has Braille signs, flowers chosen for their fragrance. Further on the hexagonal Silvia Montfort Theater, a beehive sells honey the first week in October, a Pinot Noir vineyard, pony rides, swings and roundabouts. 
On Saturdays and Sundays, 2nd hand book-sellers set up stalls along the edge of the park bordering the Rue Brancion, just the place to find Babar books, Agatha Christies. Or a well thumbed Sir Walter Scott's "Rob Roy", in French.  
Les Tontons 2
73 rue Brancion, 15th (Metro: Convention)
T: 01 45 33 87 22
Open 8.30-1hr 7/7
Menus: Lunch 12.90€ 
Dinner 15.50€ (main & dessert) & 19.50€ main. Dessert, glass of wine, coffee
And:
38 rue Losserand, 14th (Metro: Pernety)
T: 01 43 21 69 45
No internet site! 
El Bierzo
20 rue de l'Ouest 14th 
Metro Pernety
T: 01 43 20 41 52 
Max Poilane
87 rue Brancion 15th
T: 01 48 28 45 90 
DIARY DATE – MACARON DAY 20TH MARCH
Free macarons at Pierre Herme's 4 Paris boutiques